闹闹漫画系列 Nao Nao Comic Series
Regular price
Sale price
$27.45 USD
Unit price
per
Sale
Share
Highly recommended Chinese comics for local primary school students!
We've reviewed these for a couple of weeks before sharing - and my 6 and 8 year old boys really enjoy it.
So many times I find them quietly reading and chuckling away… in the living room, on their beds, in the car!
My Primary 2 boy is especially loving these comics because

✅ it's funny
✅ content and scenarios are based on Singaporean primary school life, very relatable
✅ narrative stories that are long (a good thing according to him, because he gets to enjoy for a longer time. Some other comics stories we have are shorter)
✅ the stories contain lots of high frequency Chinese characters, and the pictures give contextual clues, so he can follow the storyline on his own. Confidence booster!
✅ simple language used, with good phrases and idioms sprinkled in 💪🏻 (mama likes the latter because it adds depth to the content, and we can learn more if kids are interested)
✅ at the end of each story, there's a Helpdesk section - list of slightly complex vocabulary with hanyu pinyin and English translation.
I love it when my 8 year old explains some of the concepts to my perplexed 6 year old. Little bit of induction going on before entering Primary 1 (:
One unexpected benefit I've discovered while reading through this set of comics - is that having many many books in a series builds their motivation, stamina and appetite for reading!
There are 3 Series for 闹闹 comics, here are some samplers of the topics:
1. 闹闹漫画乐园 Nao Nao Comics (Set of 5)
Published: 2016
《上学乐》 First day of primary school 
《闹新年》Chinese New Year
《白老师生病了》Teacher falls sick
《考试冲冲冲》Exam preparation
《童子军》Scouts volunteering activity 
2. 闹闹漫画街 Nao Nao Comics Street (Set of 4)
Published: 2018-2019
《闹闹说谎话》Telling lies
《闹闹的假期》School holidays
《课外活动》Co-curricular activities
〈体能测验》Fitness test
《手机惹的祸》Mobile phones 
3. 闹闹漫画村 Nao Nao Comics Village (Set of 3)
Published: 2019

《闹闹的志愿》Dreams and ambitions
《闹闹下象棋》Chinese chess
《闹闹不吃菜》Eating vegetables
《闹闹的一日游》Day tour 
《猴子闯祸》Monkey mayhem
Other topics discussed include:
Responsibility and civic-mindedness
Roles of a class monitor
What to do in times of emergency - dial 995 for ambulance
Calling each other names
Cheating in exams - sharing is not caring here
Forgetting to prepare for spelling 听写 😱
and more!
Some terms we've learnt from reading these series
天才 tiān cái - genius
系好安全带 jì hǎo ān quán dài - buckle seatbelt
小气 xiǎo qì - petty
作弊 zuò bì - cheat
Learning is stress-free and their self-motivation is high 😍
What are the similarities and differences between these 3 series?
Same main character 闹闹, with his family, friends and neighbours
Each book contains 3 stories
Differing number of books in the set - 5, 4, and 3 books per set respectively
Different storylines and topics covered
For the Helpdesk section: 2 out of 3 series have page numbers indicated next to the vocabulary for ease of finding!
Only for 闹闹漫画乐园 Nao Nao Comics (Set of 5), at the bottom of each page, there's a little character with some food for thought. I find it a lovely touch! And helps us reflect on what we read
Suitable for ages: 6-12
Format: Softcover
Number of Pages: About 124-138 per book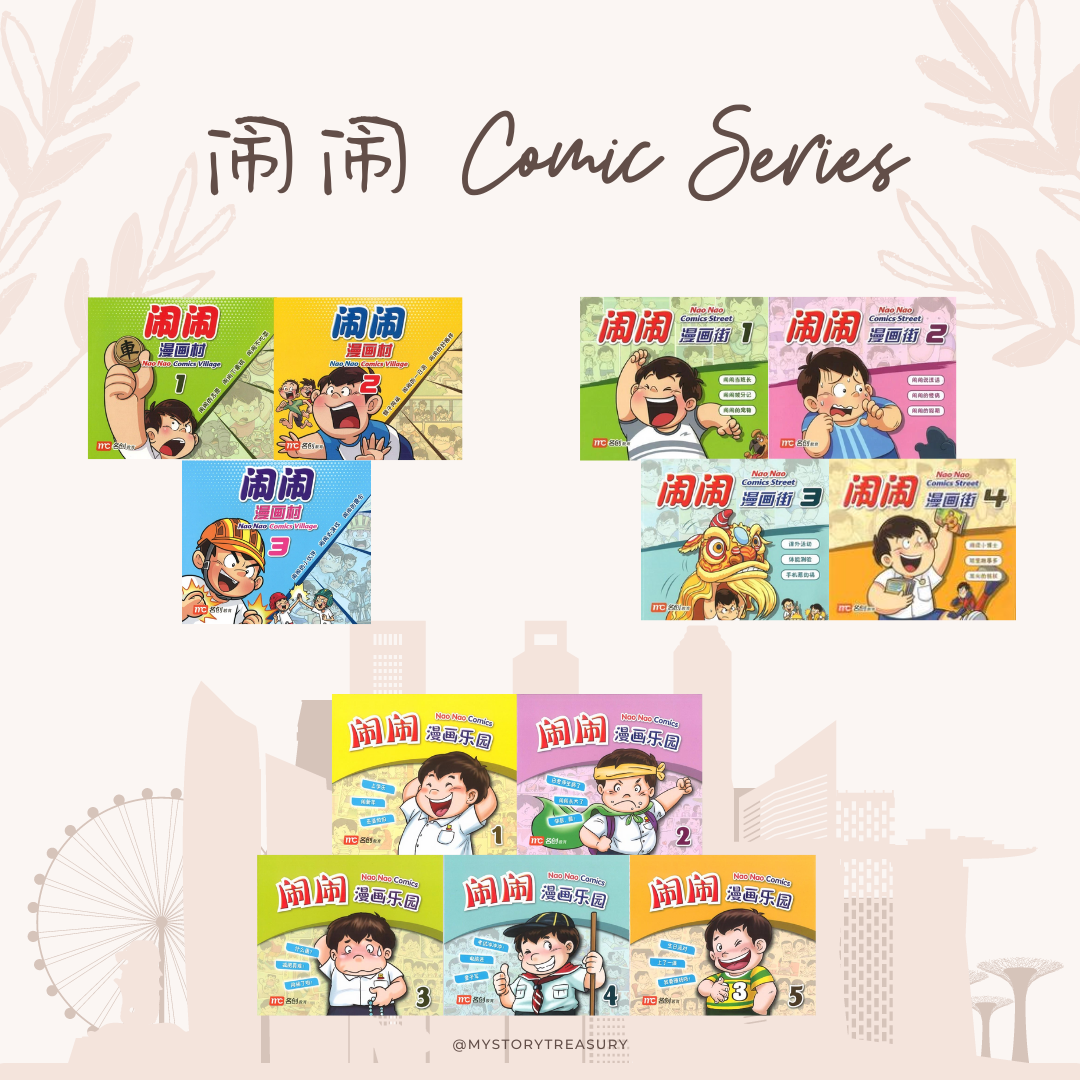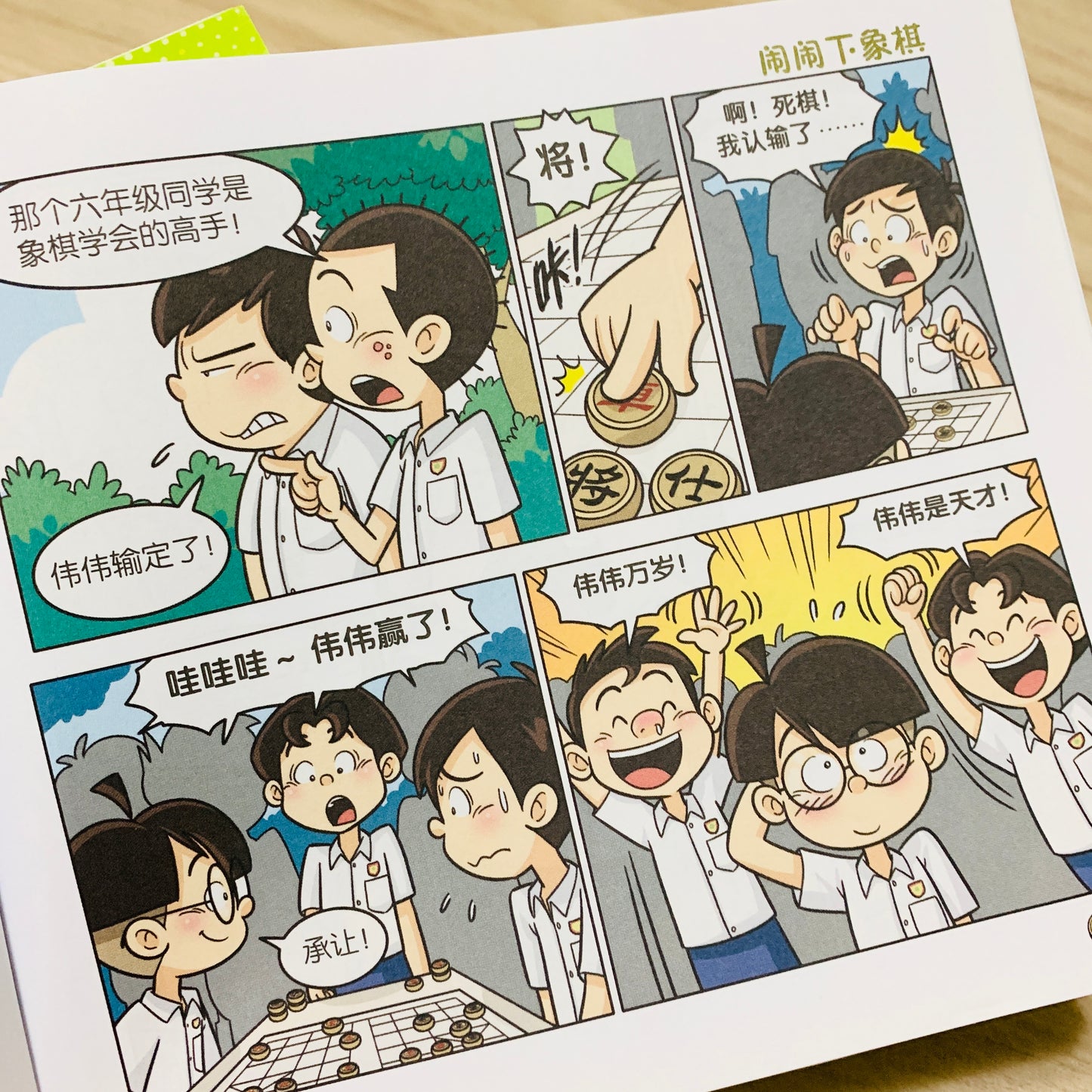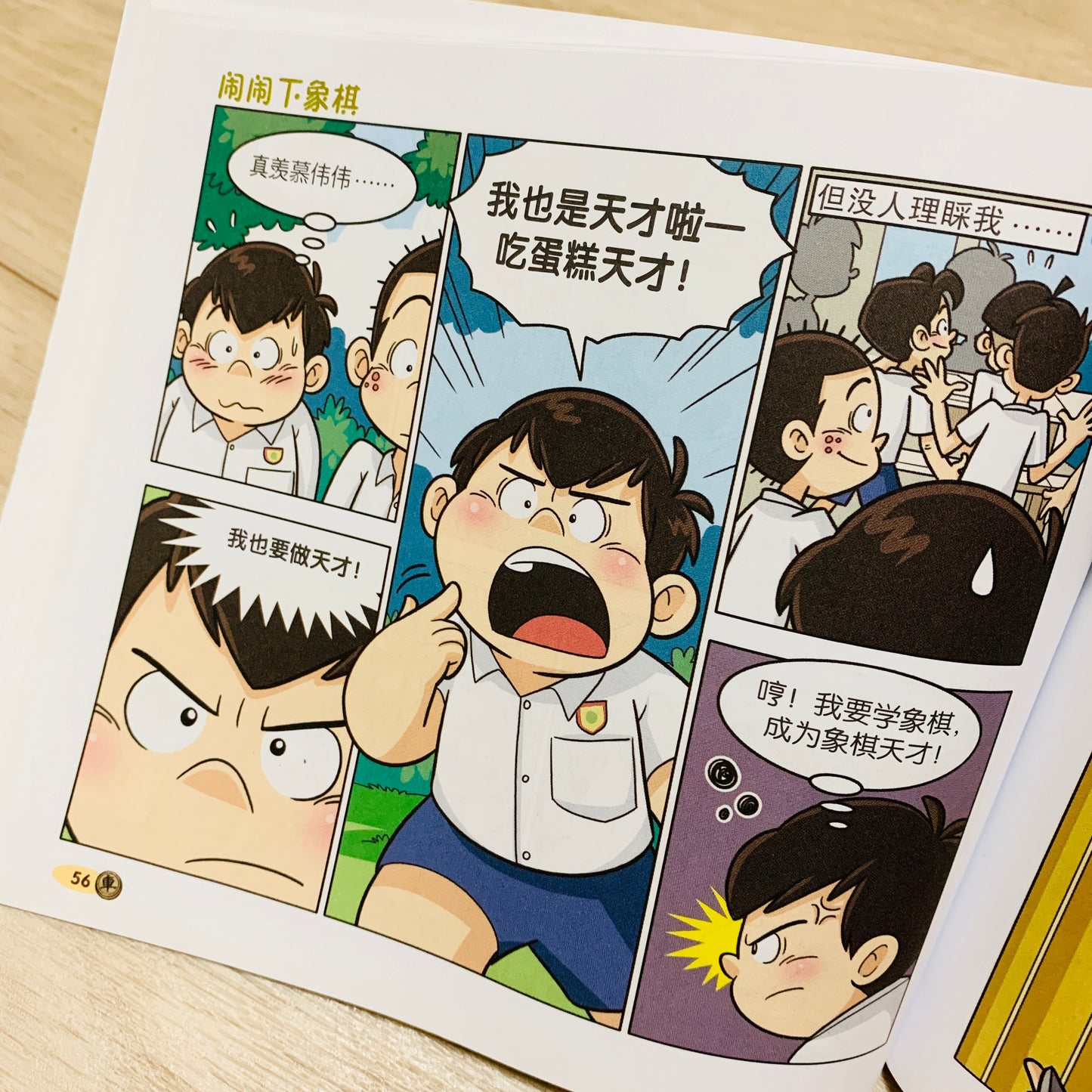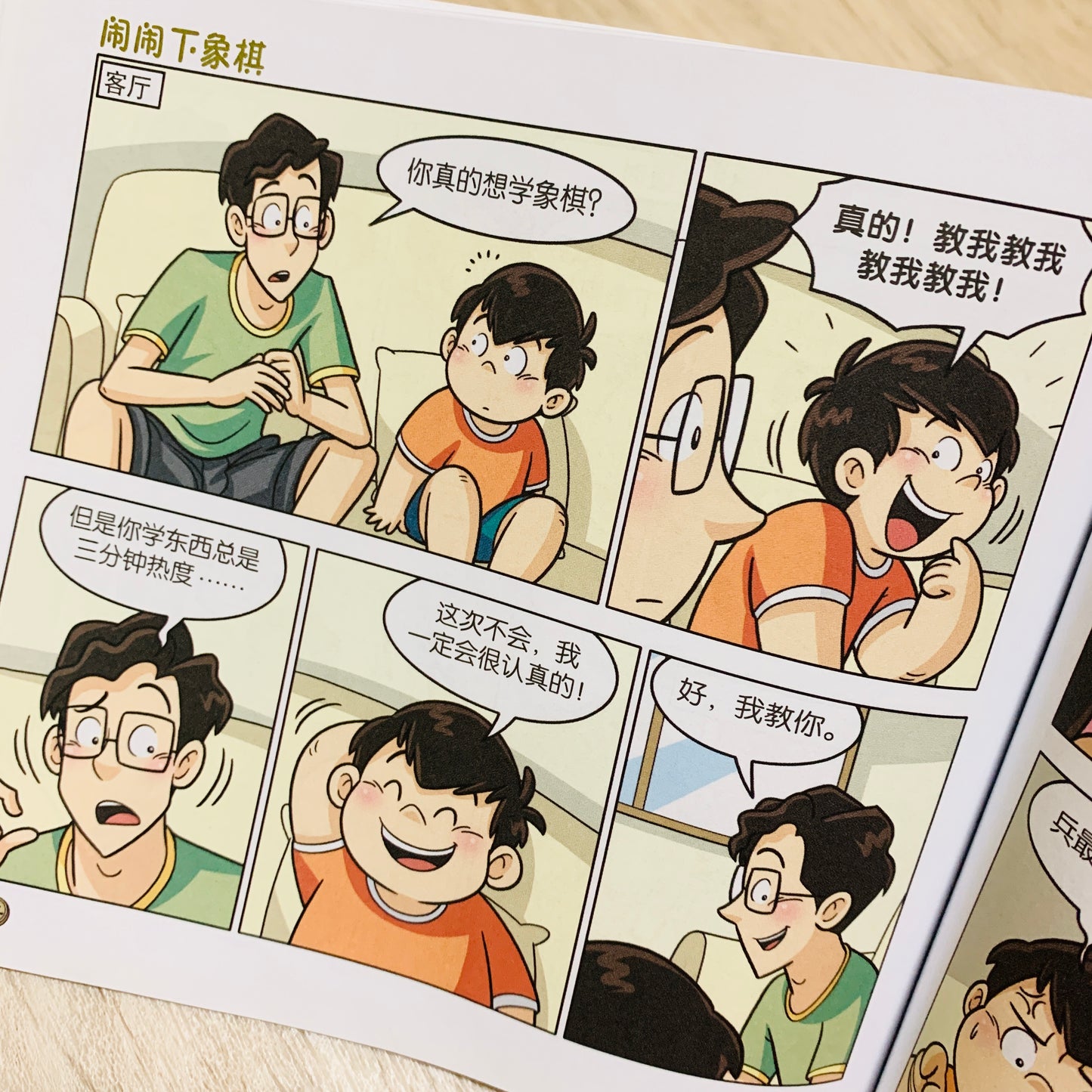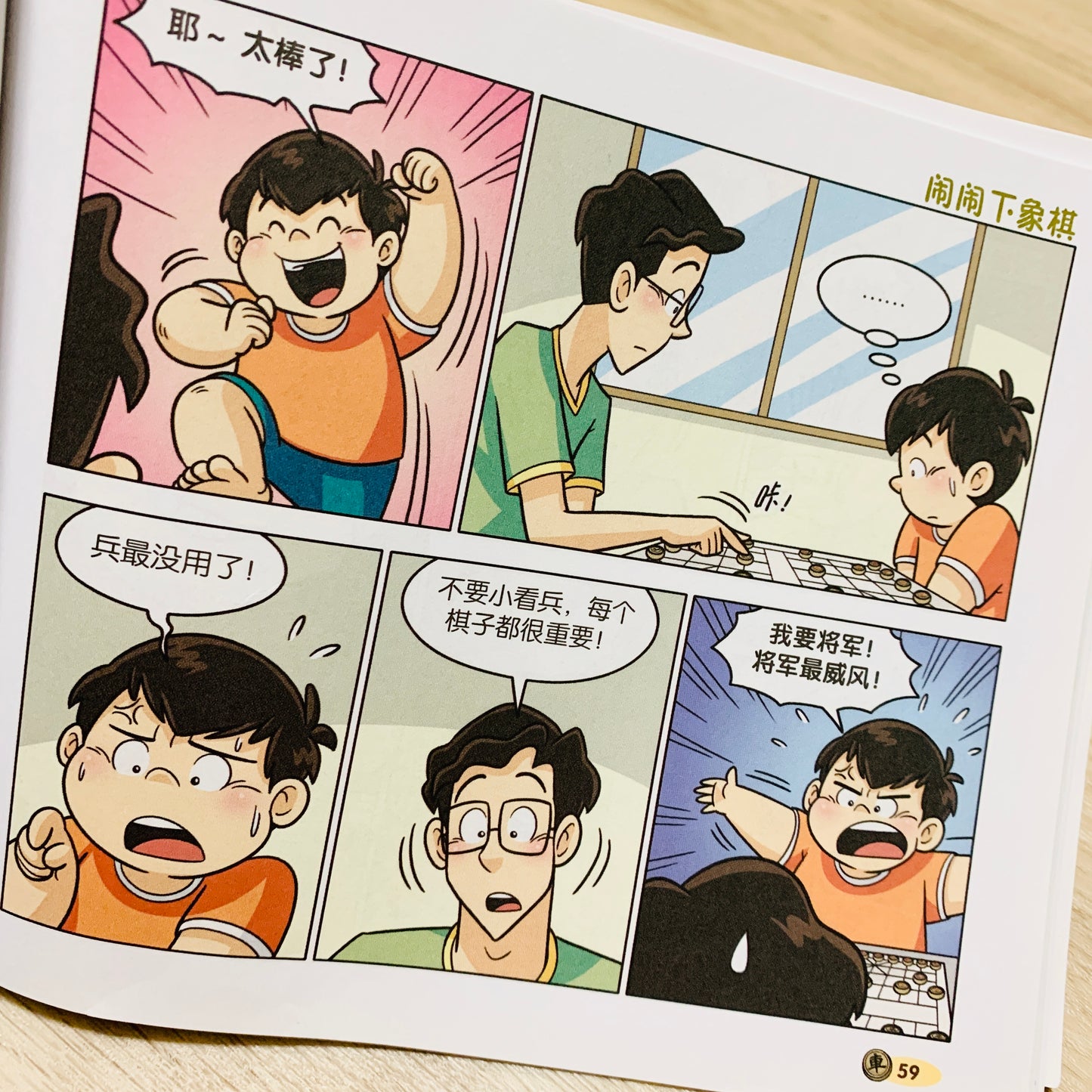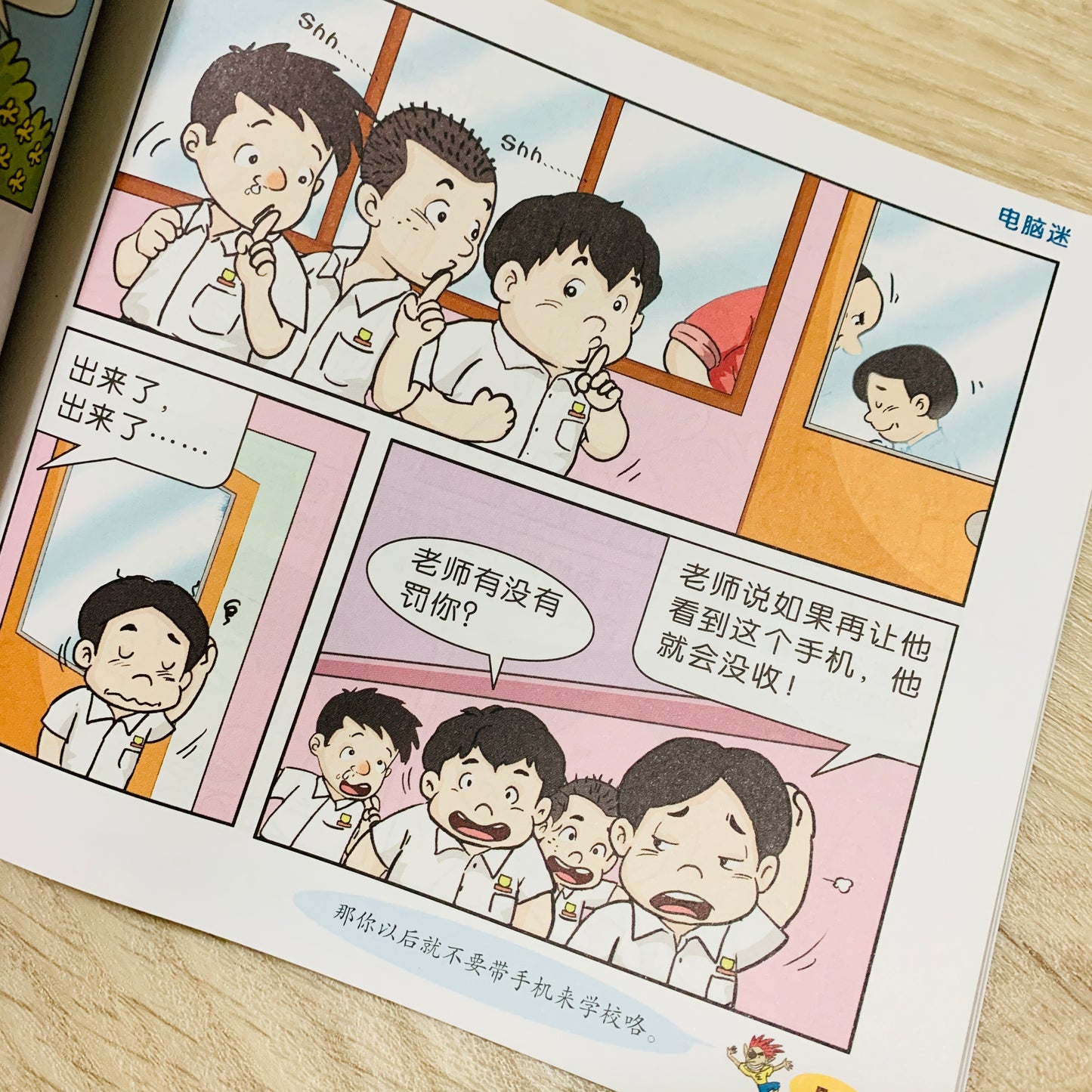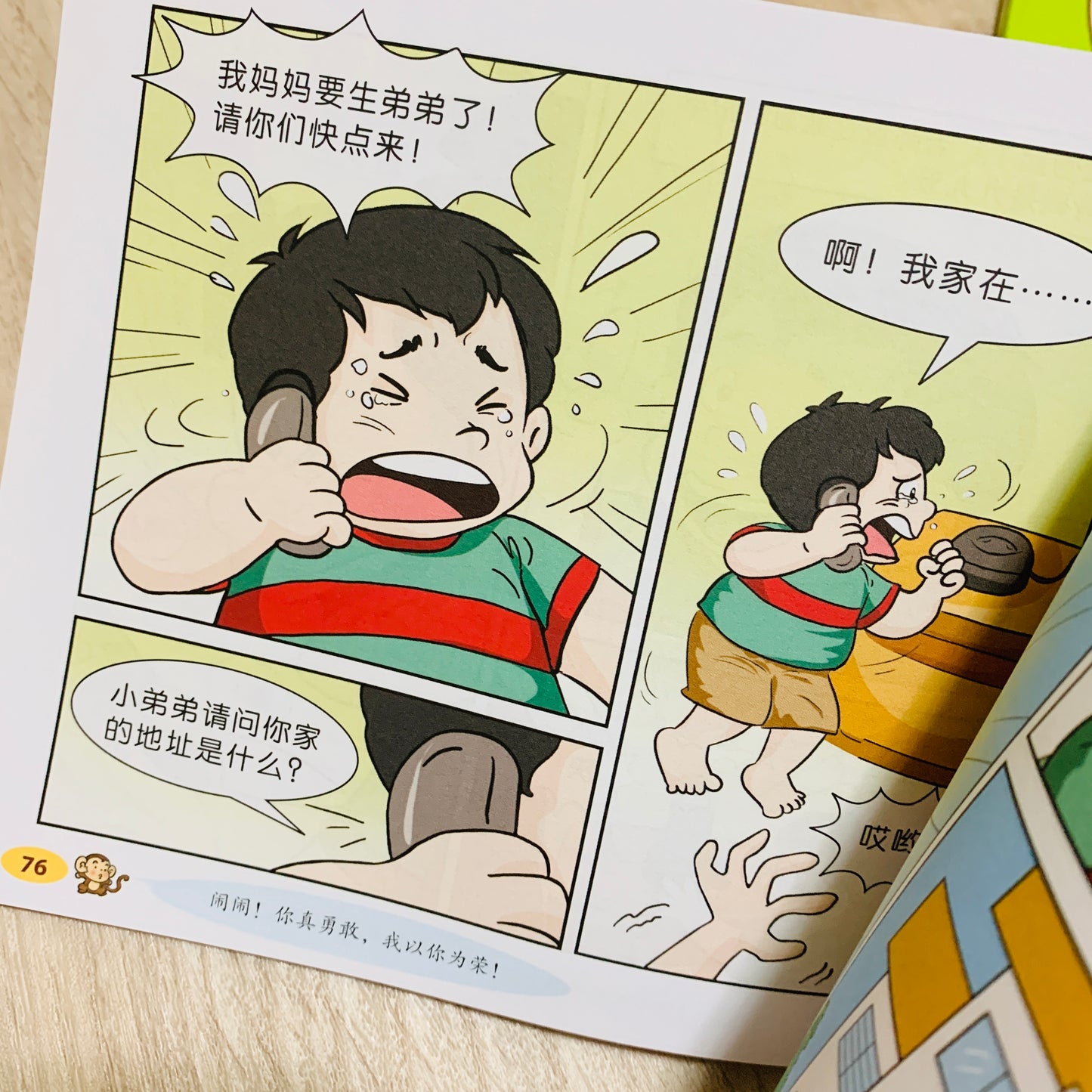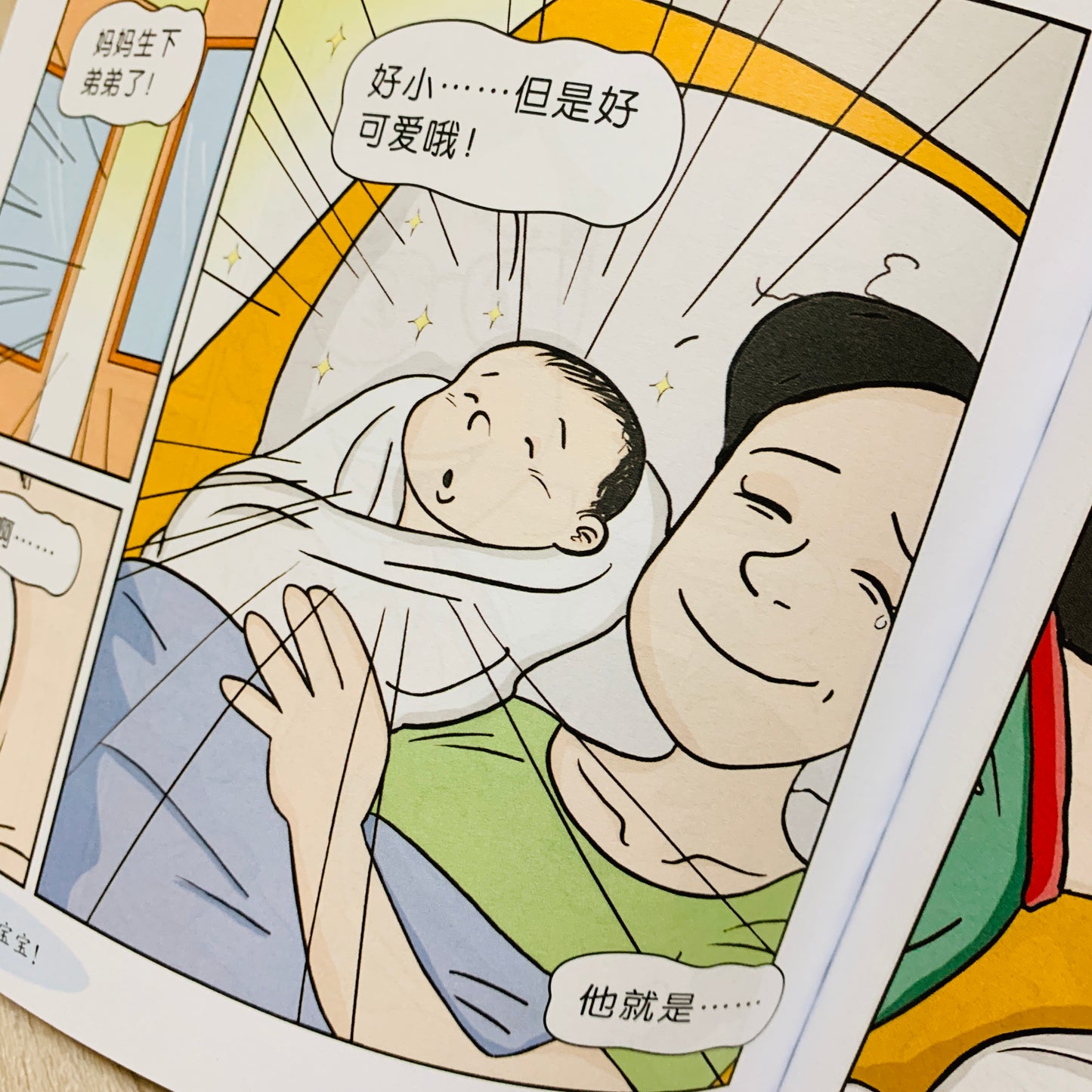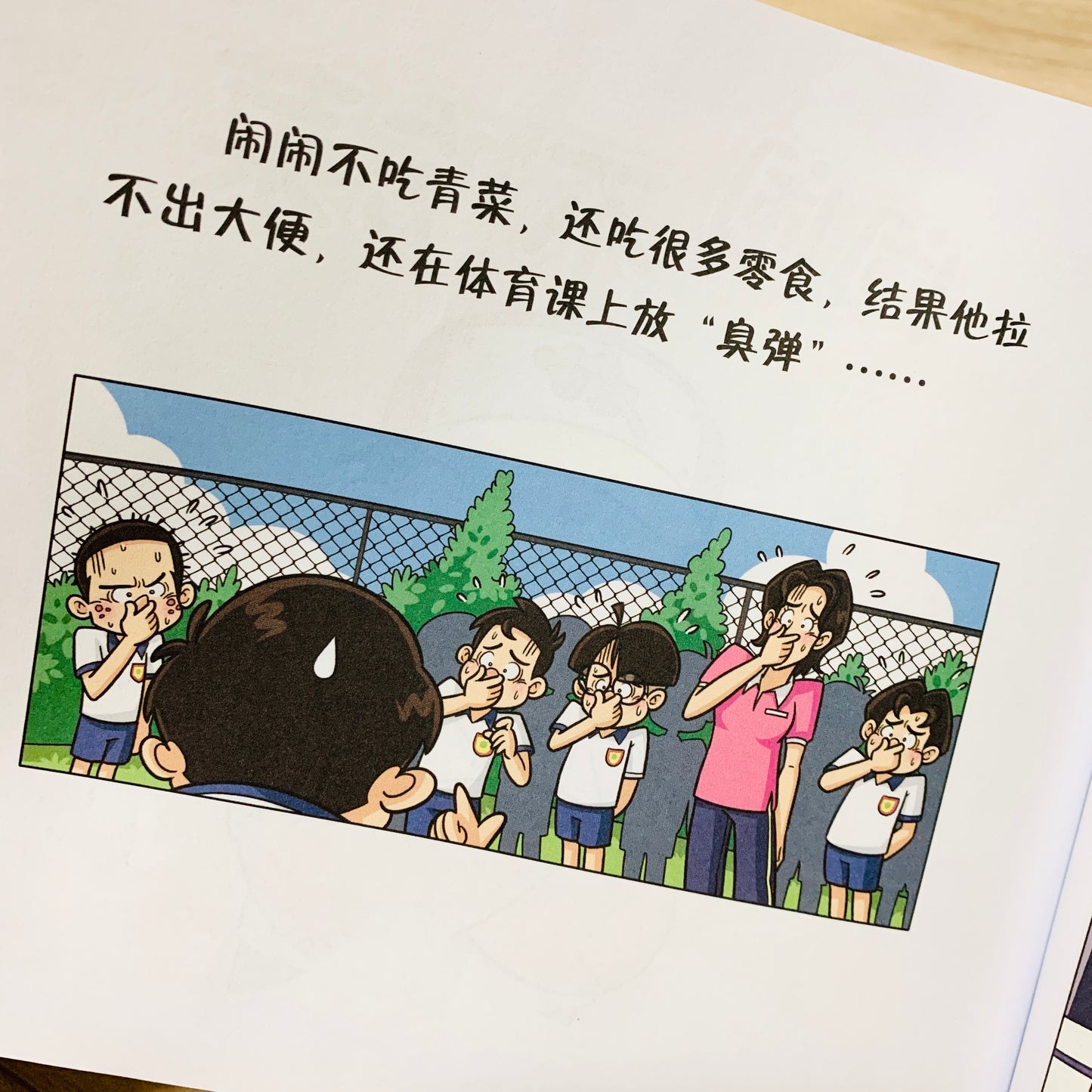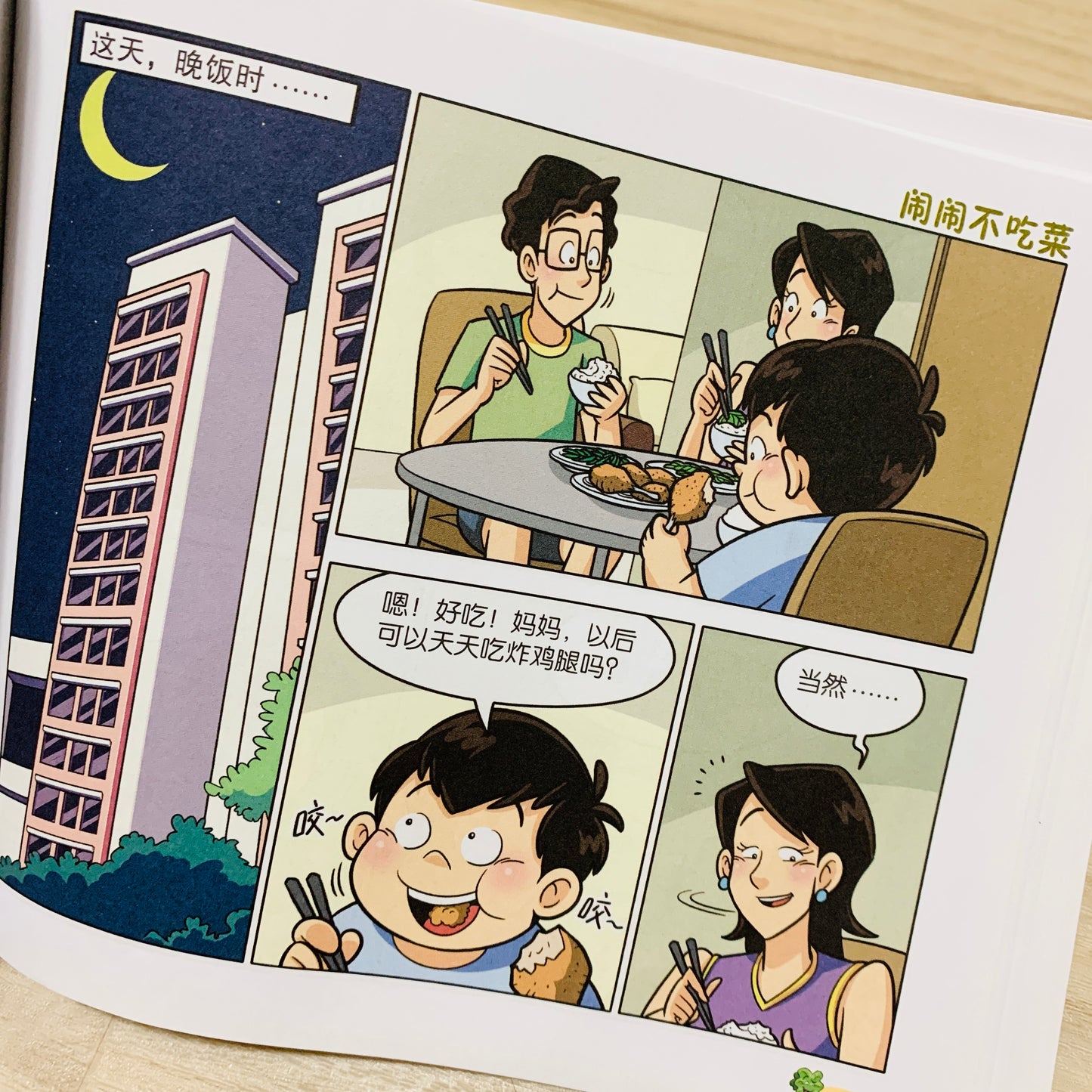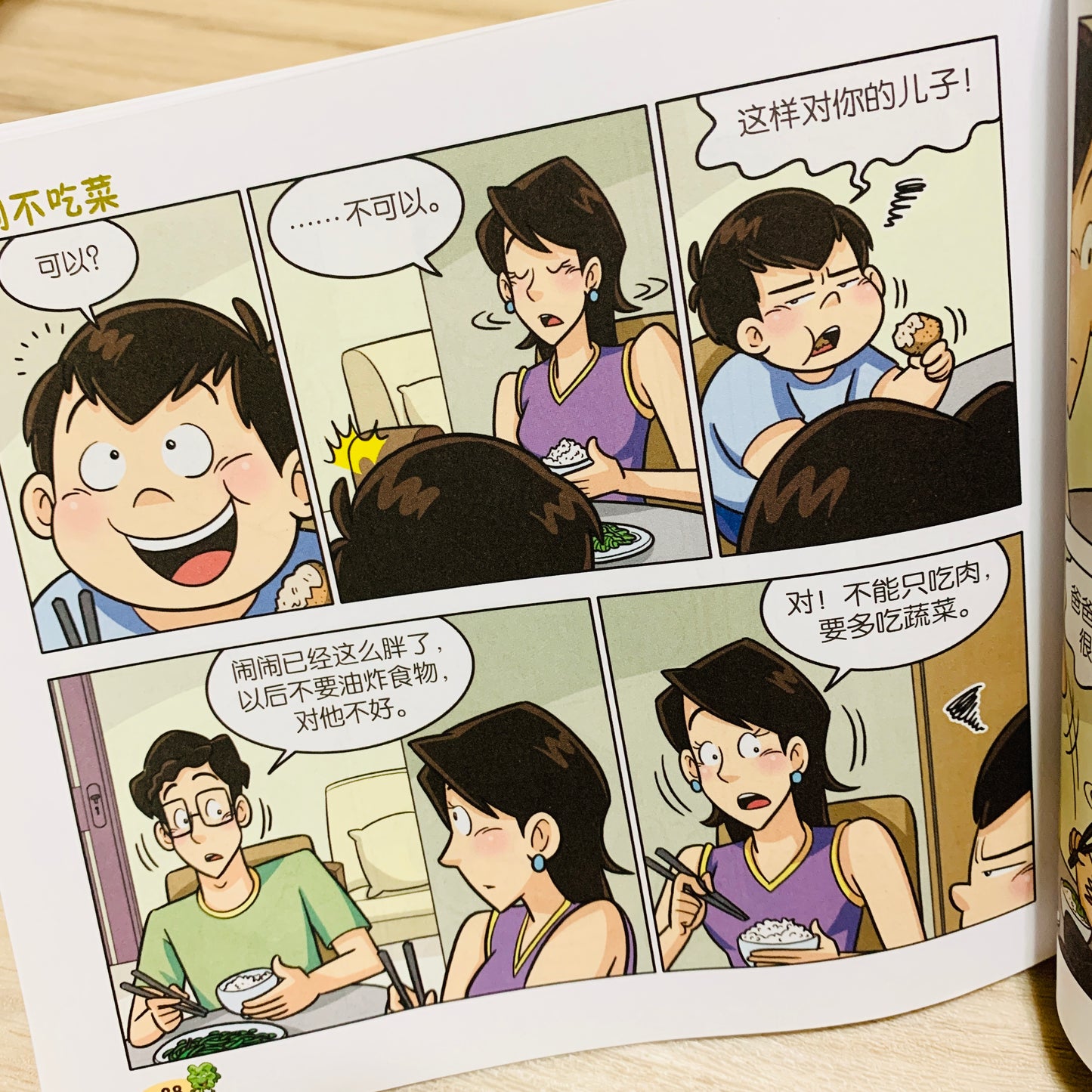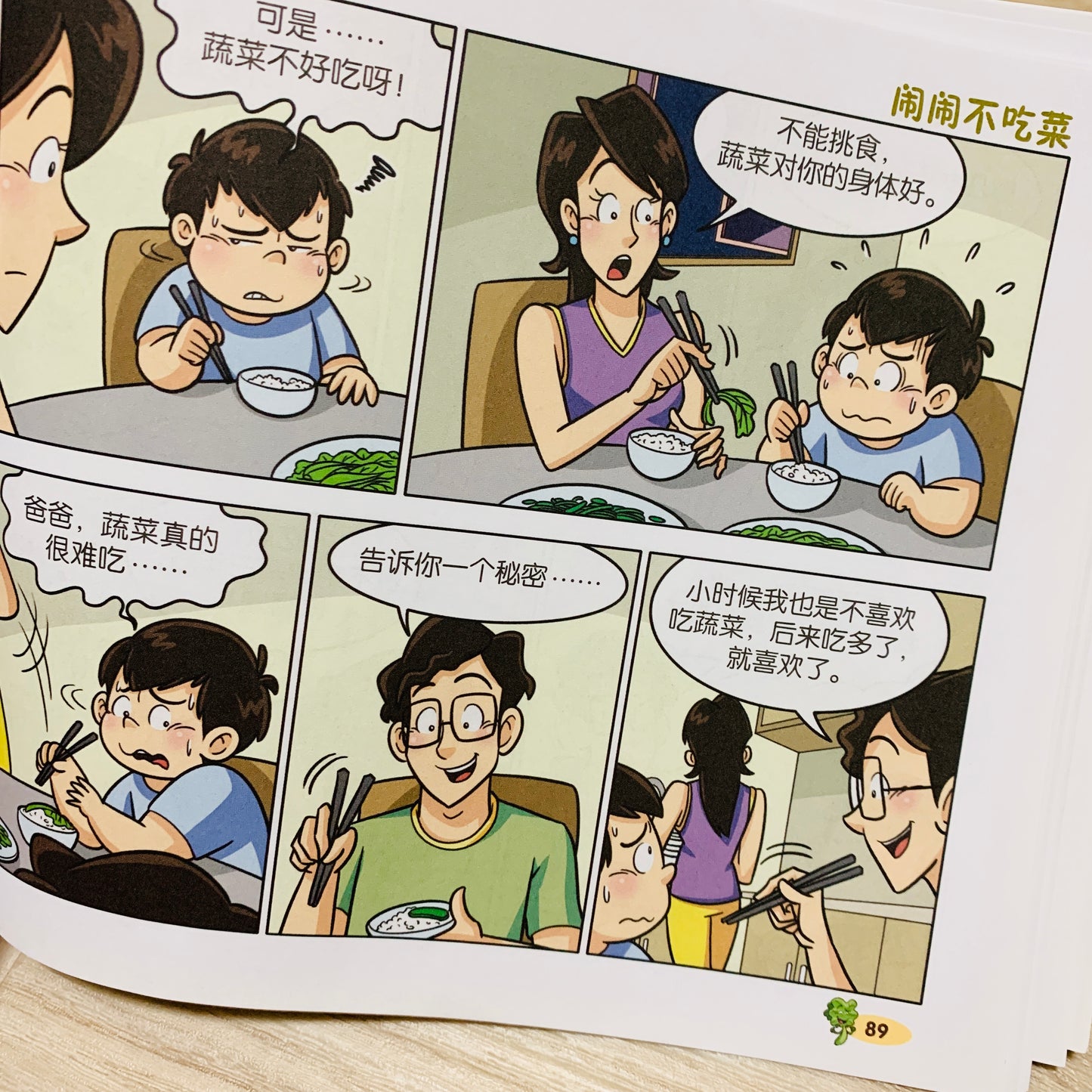 闹闹 set 3&4
Comic is a great way to engage children and also put certain language into their pocket in a non-forceful way. This series is so good! I shipped all the way to Malaysia (oh my wallet 🫣 but thankfully LinXin very nice help me weight and tell me the shipping upfront). The series is pretty much in primary school setting so it is a good read for my going to p1 boy as it prepares him things that could happen in p1 by catching a glimpse of what happen in 闹闹's life。There are some 成语slot into the story in between the day to day conversations. I am going to get the set no.5 of 闹闹!
Great for a start!
Bought this set of comics after reading all the positive reviews, and I had to agree with all that it is indeed a great way to gain the kid's interest in trying to get them to start reading Chinese books!
Initially when we first received the comics books, my 7yo son flipped over the pages and he said "I dont understand",and he never touched the books thereafter. So one day when I was free, I picked up one of the books and started reading the pages aloud, while he was playing nearby. Slowly as I read along the pages, I find him sitting right next to me looking at the pages! *Hehe my plan to attract his attention succeeded*
Ever since, he has been asking us to read the comics to him nightly! And he's asking me to get more books! Even my 2yo daughter will say "闹闹" everytime my son asks me to read them.
Do give them a try, if you are looking for some light-hearted books to begin with 😊
Dear Shuling, thank you for the detailed and insightful review! Rejoicing with you on successfully getting this attention and interest (: May this set continue to bring him much joy on his Mandarin reading journey! Grateful to send you guys these gems (:
Relatable and funny
My daughter loves this series. The stories are relatable (Singapore primary school context ) and funny. She often laughs out loud while reading these. Best books for children who are reluctant to read Chinese books.
Funny and relatable
These books are a little hard for my 7 year old, but thank goodness for our dictionary pen! He enjoys reading them and picks out these books to read by himself.. my 4 year old loves looking at the pictures too
闹闹
I have always loved this series. Humourous and very relatable to the daily life of our children. My kids loved them when they were young.