讚美之泉兒童有聲書 Stream of Praise Soundbook (Traditional Chinese)
Regular price
Sale price
$25.15 USD
Unit price
per
Sale
Share
Songs are a great way to learn, especially so to learn about the bible and of God!
These tunes are fun to learn - with some repetition, we'll be able to pick up and memorise some and sing together.
Younger kids can listen to the songs within, press the buttons to listen to the songs.
Older kids can go through the lyrics, word by word and line by line, as we sing along together. We can also discuss what are the characters that are similar or different in simplified and traditional Chinese. 
We've brought these soundbooks to keep kids occupied at the swimming pool, on the car and more. Handy when mama is busy in the kitchen or doing housework too! The kids can choose the songs they like and I can interact with them from a distance.
There are 6 songs per book:
Book 2

別擔心 / 别担心 Don't Worry
耶穌是我的好朋友 / 耶稣是我的好朋友  Jesus, You Are My Best Friend
彩虹 Rainbow
愛我的天父 / 爱我的天父 I Have A Father
新的一天 A Brand New Day
靠主得勝 / 靠主得胜 God Is My Victory



Book 3

一閃一閃亮晶晶 / 一闪一闪亮晶晶 Twinkle, Twinkle
愛是 / 爱是 Love Is
喜樂河流 / 喜乐河流 River of Joy
我是主的羊 I'm Your Little Lamb
敬拜讓世界震動 / 敬拜让世界震动 With Our Praises Shake the World
謝謝你揀選 / 谢谢你拣选 Thank You for Choosing Me



Note: Book 1 is currently out of print
Features of these soundbooks:
Colourful illustrations
Selection of lively songs
Pleasant  and melodious music!
Lyrics in traditional Chinese are bolded and of a bigger font
Corresponding English translation is in non-bolded and smaller font
Has on/off button, volume control +/-, and 6 song buttons
Each song has a related Bible verse reference in traditional Chinese and English

Has coloring pages - we can use dry erase markers for repeated coloring
Requires 2 x AAA batteries (not included)
Please note:
Song lyrics and all text are in traditional Chinese, as it is printed in Hong Kong. At the moment, simplified Chinese version is not available.
Songs are excerpts. The full tracks can be found on Youtube, Spotify or Apple Music
For book 2 別擔心 / 别担心 Don't Worry, the track excerpt corresponds only to part of the printed lyrics
Extra resources:
Links to corresponding full songtracks on Youtube
Recommended for Ages: 1-8
Pages: 22 per book
Format: Boardbook + Soundbook
Language: Bilingual - Traditional Chinese and English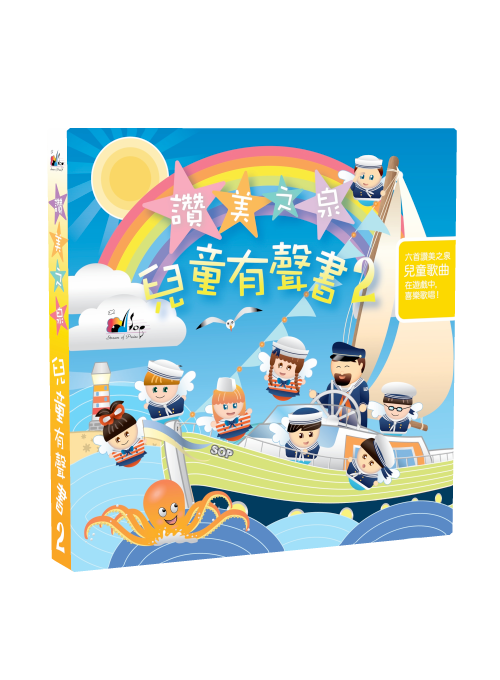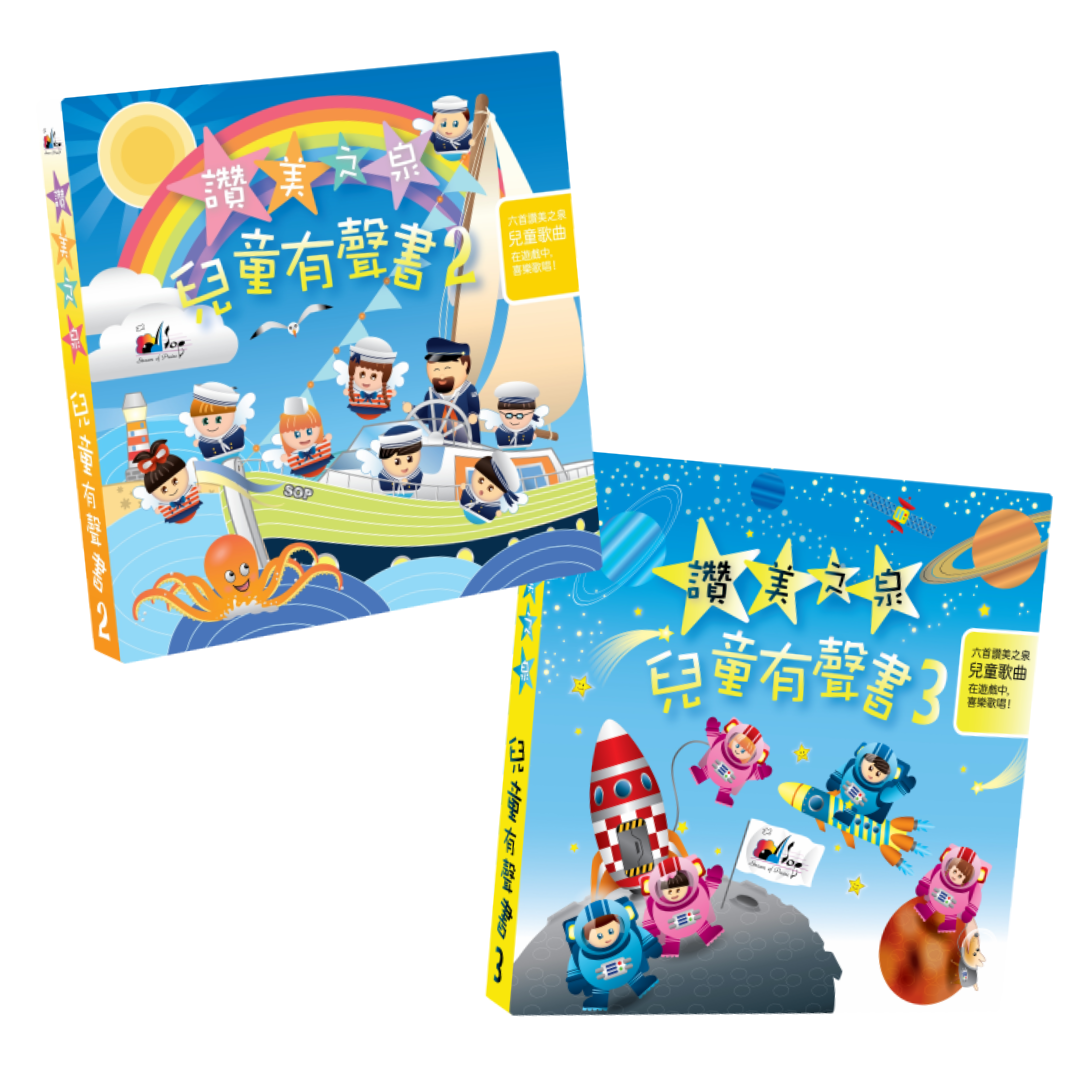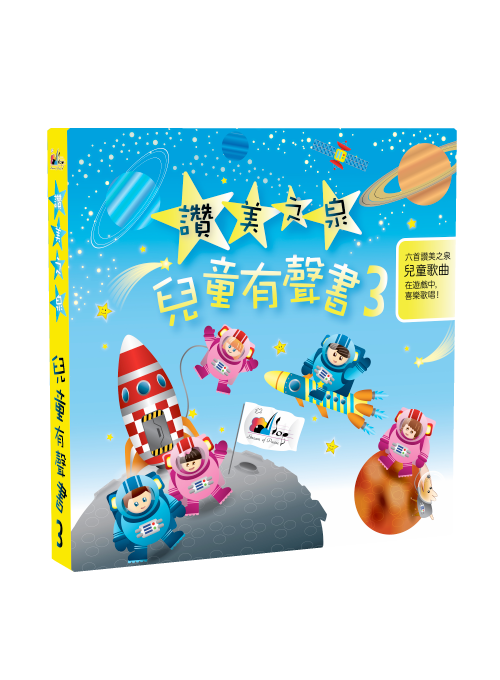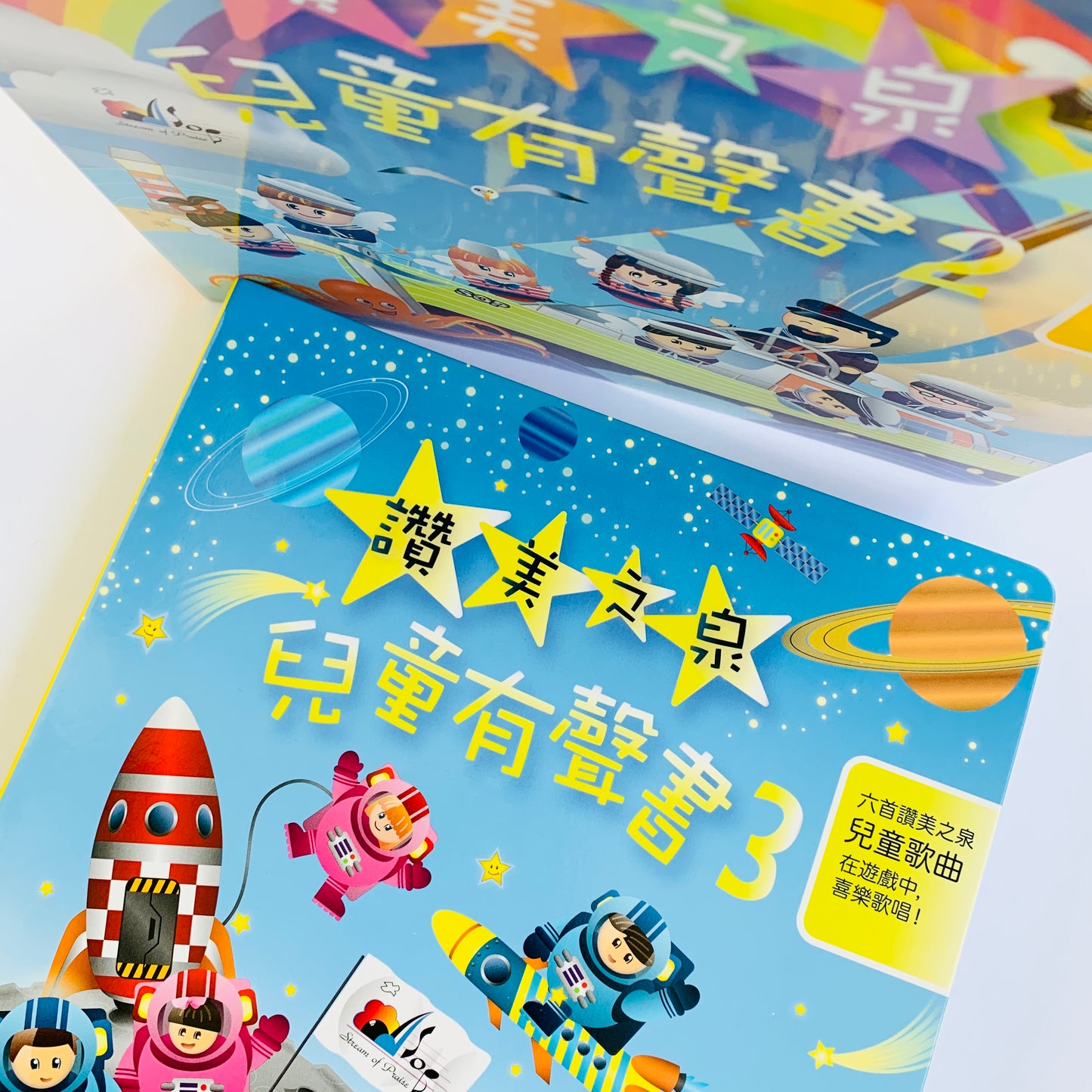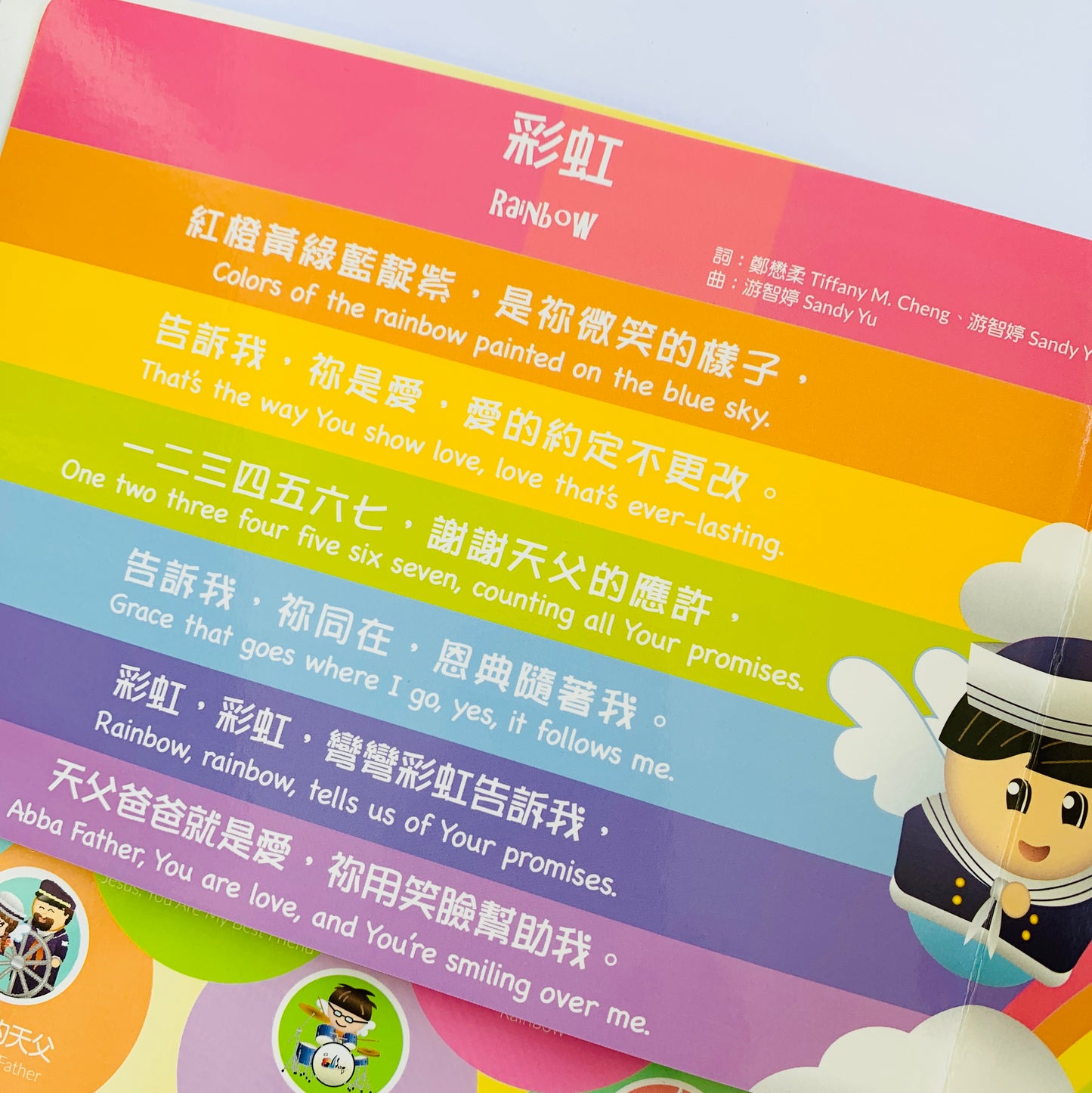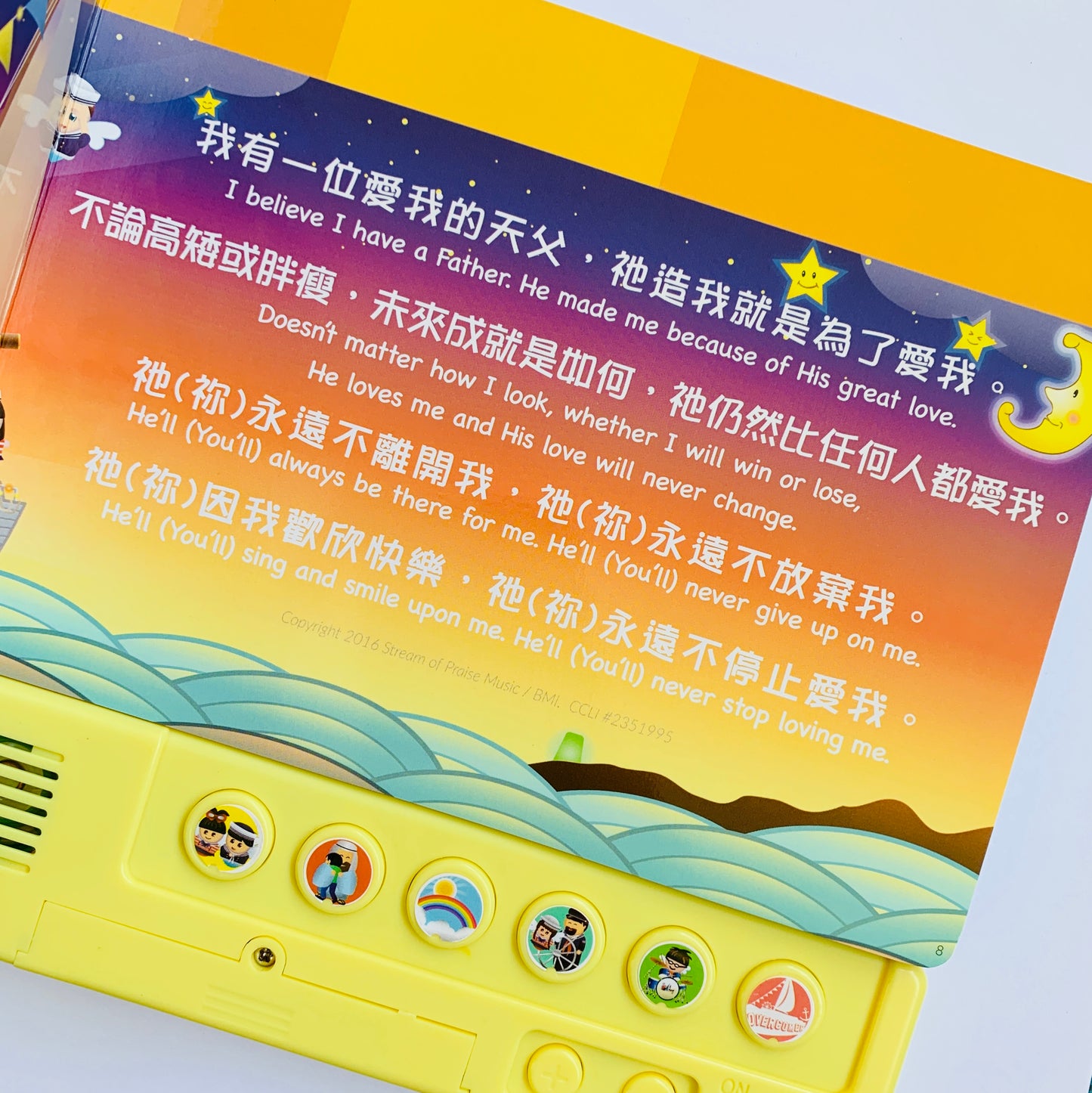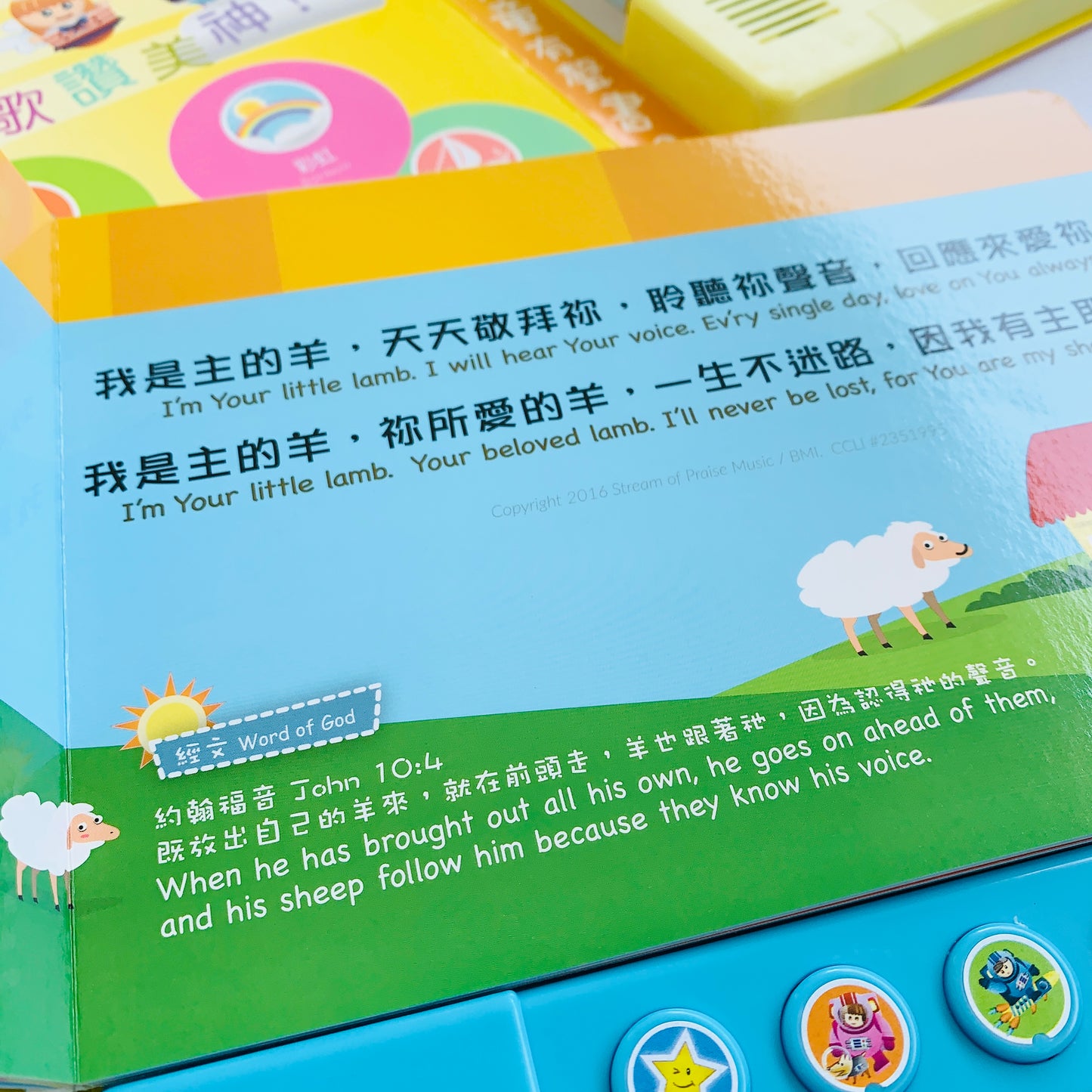 Love it!
My 3 year old son enjoys these song books. As he does not have any screen time, this is a great way for him to still be able to choose and enjoy songs as well as to learn about God! Have been getting extra copies to give away as gifts too!
Fastest way to learn a song without my input!
2 year old uses the songbooks everyday, and one day to my surprise, she sang the whole song with lyrics (approximated but pretty good still!) and I was so surprised because I have only learnt the tune and not memorise the words yet. Their absorbent mind is truly amazing.