四五快读 Si Wu Kuai Du - 4, 5 Quick Read
Regular price
Sale price
$30.42 USD
Unit price
per
Sale
Share
四五快读 is a comprehensive reading curriculum, after more than ten years of research and improvements after using it with countless children.

The original meaning of 四五快读 was "学习四,五十字就进入自主阅读" loosely translated to be, after mastering 40-50 characters, the child can start reading on their own! It has also come to mean a set of books that can help kids of ages 4 and 5 learn reading quickly.
What we like about this set
✓ all-inclusive materials consisting 8 books and perforated flashcards
✓ comprehensive curriculum that is graded, introduces simpler and commonly used words before moving onto more difficult and less known words
✓ from the start, the child not only learns the characters, but quickly learns terms, phrases, sentences, paragraphs and short passages, soon even moving onto short stories and fairy tales! A great confidence booster
由"识字到读词组,读短句,长句,短端,长段,读短文章到长文章" 编程的课本
Note:
This reading curriculum requires the parent to be actively involved and be able to read and understand the 30 pages of full mandarin parent guide, in order to use the books effectively. The parent guide in the first book outlines the pedagogy and contains how-to instructions. It is also has tips and tricks for building literacy, even for babies and toddlers who may not be starting to read just yet.
A kind parent has translated parts of the 30-page manual, on the Kiasu Parents forum here.
 For parents who may not be proficient in Mandarin and need Hanyupinyin, lots of illustrations and to move at a slower pace, this leveled Mandarin readers is an awesome alternative!
Some detailed reviews and how other amazing mums have used this series in their kids' learning journey:
🎉 Exclusive!
Also check out our free 汉字练习 resource for practicing of the Chinese characters featured in this set.  
Recommended for Ages: 4-9
Number of books in set: 8
Pages: 804
Format: Softcover
Language: Simplified Chinese, with Hanyupinyin on flashcards within
Author: 杨其铎
Note: We have received feedback that the older published editions purchased elsewhere contain typos or missing information. Ours is the updated version!
Here's how we extended our 四五快读 learning with word studies and fun activities!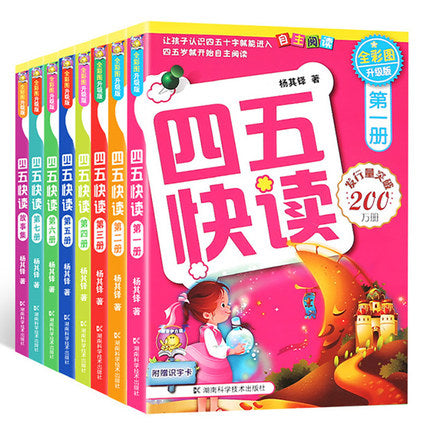 A good set to build foundation
As a first-time parent who does not speak much Chinese at home, we are so glad to follow the structured curriculum in this book! The concept is simple, to build up a basic vocab to allow children to recognise characters and progress from words to phrases then sentences and paragraphs and whole stories. The included word cards are a good size for little hands and help with more tactile learning of the characters.