加一笔变新字 Add A Stroke, Make a New Character
Regular price
Sale price
$4.45 USD
Unit price
per
Sale
Share
After my kids have learnt some Chinese characters,
I was looking for a way to teach them to analyse the characters they know,
to make connections, notice similarities and differences,
for example
recognise which characters are 独体字 simple characters, or 合体字 compound characters
identify the typical configurations of compound characters
combine math and mandarin

if we add only 1 stroke, what new character can we form?
if we subtract 1 stroke?
what radicals or words can we add to form a new character?
if I multiply this character, can I form a new character?
This versatile set of 100 characters is a really fun way
to help our child find meaning in the characters they learn!
If you have 一, what will you get by adding a stroke?
Maybe 二,十,丁,厂,七 or even 乙!
How about 王?
If you add a stroke, you can get
玉,主,五,丑! Did you guess them all?
Why we love this set:
very versatile - many ways to play
handy to bring around - box is only about the size of an adult palm!
encourage higher order thinking to help our kids to learn to analyse and manipulate characters, not just rote memorisation

allow hands-on learning, perfect for kinesthetic learners
can be used by a parent-child duo with guidance,
slightly older child on his or her own, 
or as a game with a sibling or friend!
Items included in set:
100 word cards with re-writable surface

3 whiteboard markers with eraser tip
1 mini whiteboard duster
Suggested answer key
with hanyu pinyin of answers
Metal box with lid
Examples of characters in set
and more!
Ways to play, tried and tested by My Story Treasury
with children from ages 3-10, and adults too!
"Proper" way to play - add 1 single stroke to the character, to form a new one
Single player, or double player to compete who can complete more cards or in a shorter timeframe
On a piece of paper, challenge each other to write out all the different characters we can think of, 1 point for each answer
Lay out a selection of the word cards, and use them to 造句 make sentences!
eg 天 + 上 + 白 + 云 = 天上有白云,地下有小草。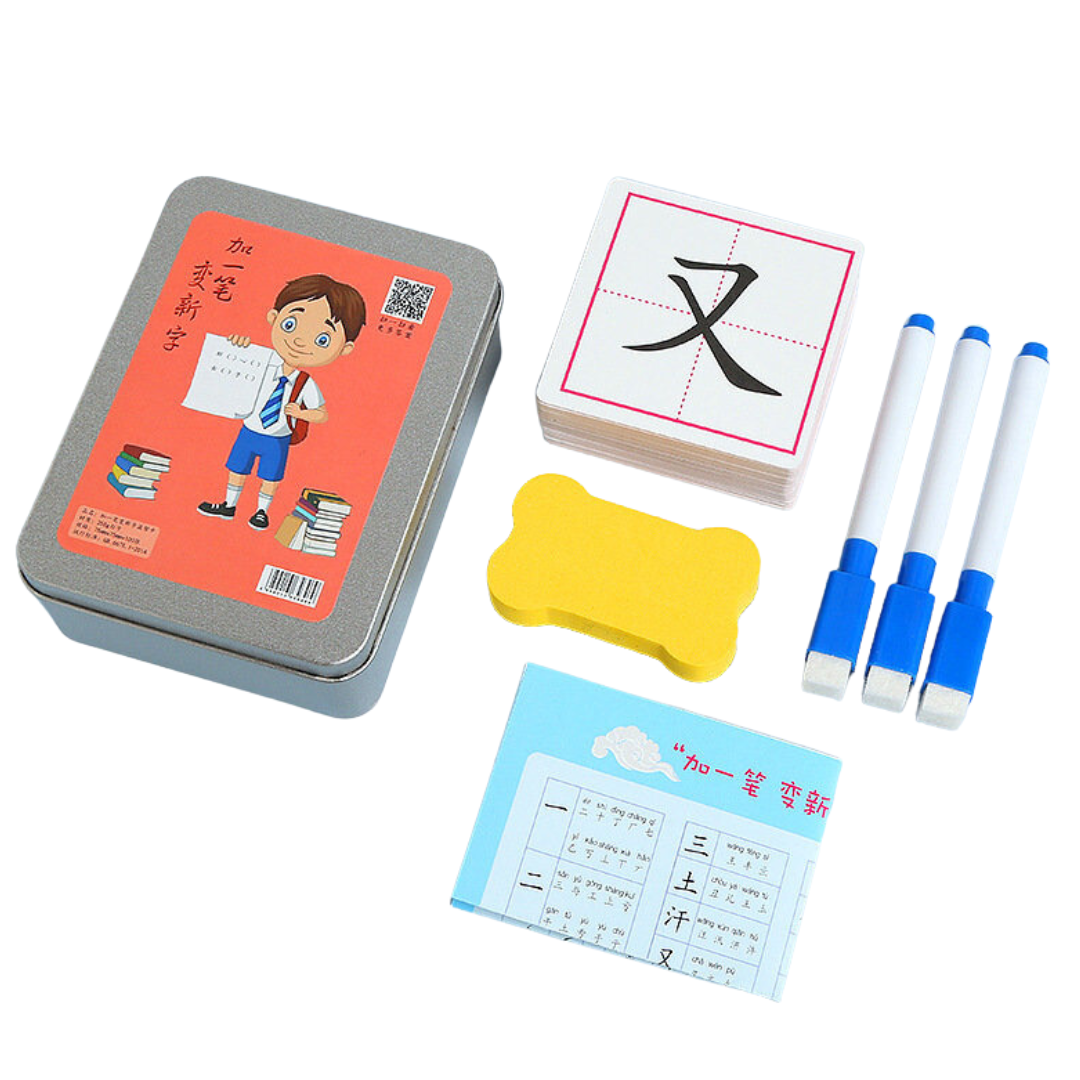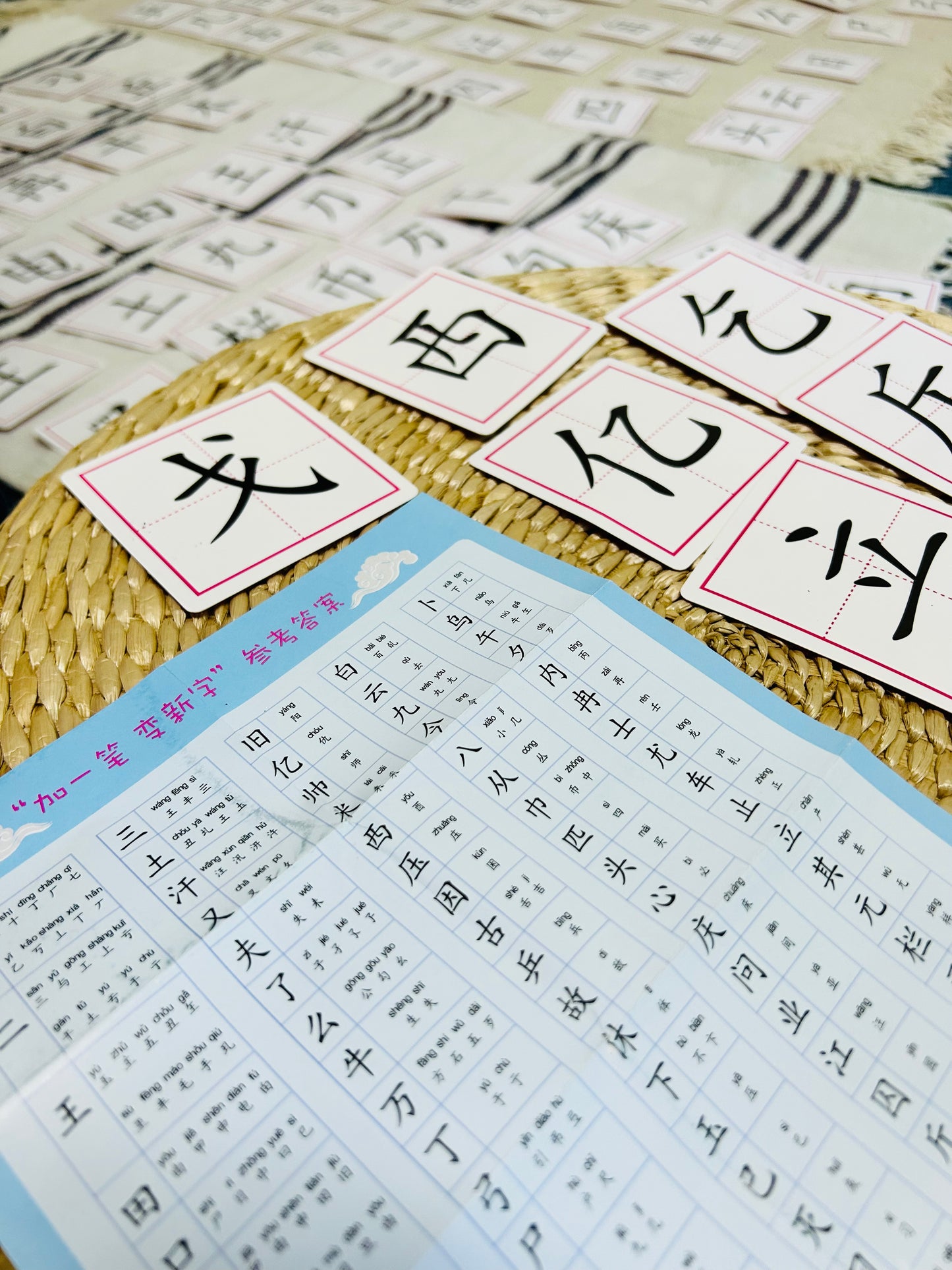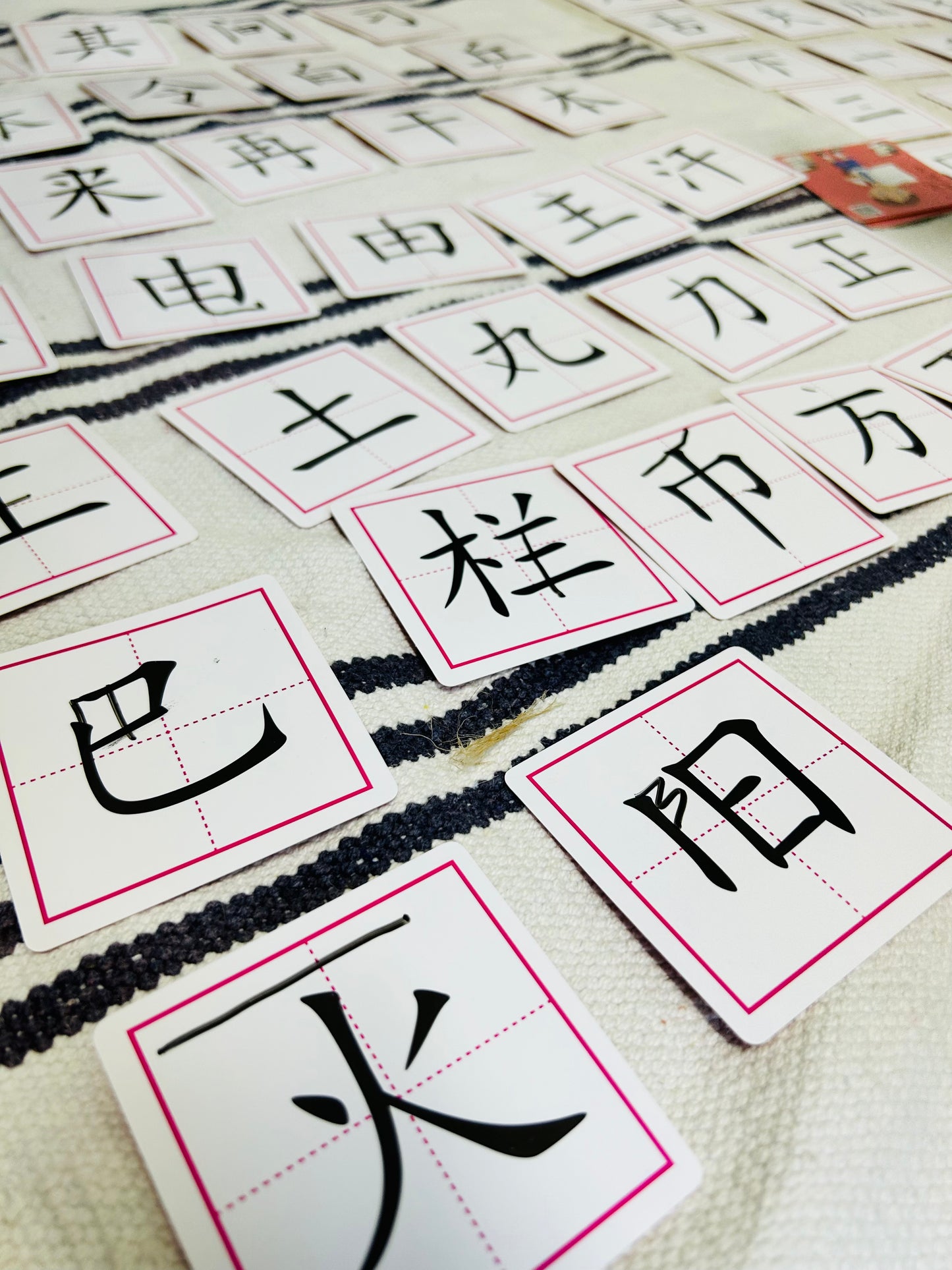 Compact, fun set of game cards
This set of game cards is compact and it includes everything you need in a little tin box. Makes it very easy to pop in the bag, and keeps the children occupied while waiting for food to arrive. I can see it being used in various settings (eg during commute)
It's versatile and can be played in more than one way. It's quite a good brain exercise as some requires more thought. Learnt a few new words in the process.
Discovered my younger child tracing over the characters one day and realised it makes a good writing practice card for simple characters too.