小熊很忙系列 Bizzy Bear Series
Regular price
Sale price
$30.50 USD
Unit price
per
Sale
Share
If you have been with us for a while, you would probably notice that we don't have many flip flap books with bells and whistles. We prefer more 耐人寻味 kind of picture books, with beautiful illustrations and a deeper, perhaps timeless message.
We have received several requests to expand our collection, and bring in interactive books to engage the kids more in Mandarin. When we chanced upon this Bizzy Bear set with tons of interactive flaps, turning wheels and things to pull, we had to get our hands on it!

My boys love the Bizzy Bear series after seeing them in the local library, but the moving elements are often in poor condition, and at times (gasp!) we found dried food and unknown stains on them. I see it as a testament of how well-loved these books are, by countless kids here.

This is a great bookset if you are looking to build your young one's bilingual bookshelf with interactive books for busy fingers, or find interesting birthday gifts at a great price.
Titles include:
小小救护员 Ambulance Rescue
赛车小冠军 Race Car Driver
万圣节派对 Spooky House (Halloween)
城堡小骑士 Knights' Castle
圣诞小帮手 Christmas Helper
寻宝小海盗 Pirate Adventure
深海潜水员 Deep-Sea Diver
欢乐农场日 Fun on the Farm
参观恐龙园 Dinosaur Safari
快乐的假期 Off We Go! (Holiday)
树屋建筑师 Do-It-Yourself Day (DIY)
小小宇航员 Space Rocket
动物管理员 Zookeeper
工地小帮手 Let's Get to Work! (Construction Site)
公园欢乐日 Let's Go and Play (Park)
小小消防员 Fire Rescue! (Firefighter)
Recommended for Ages: 1-6
Pages: 160
No. of Books: 16
Format: Board book with flaps, wheels etc
Language: English and Simplified Chinese
Author: Nosy Crow
Illustrator: Ben Davies
Translated from: English
Translated by: 喻之晓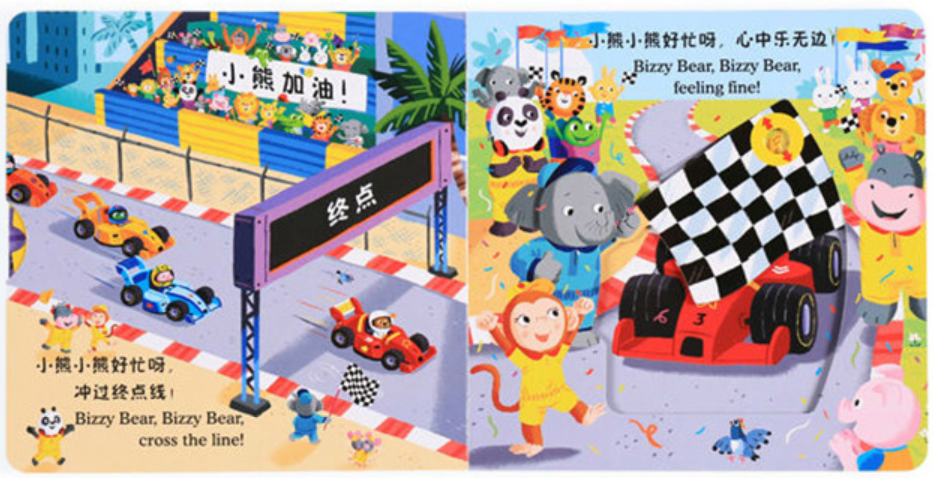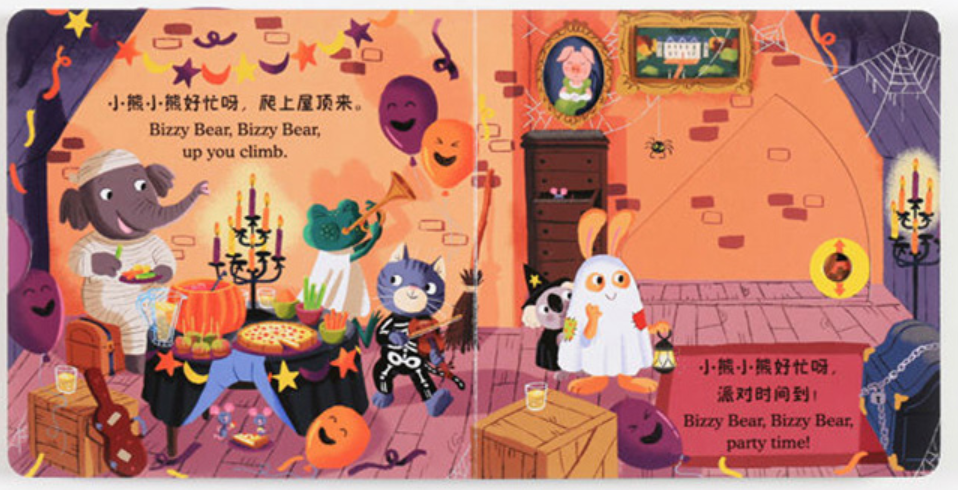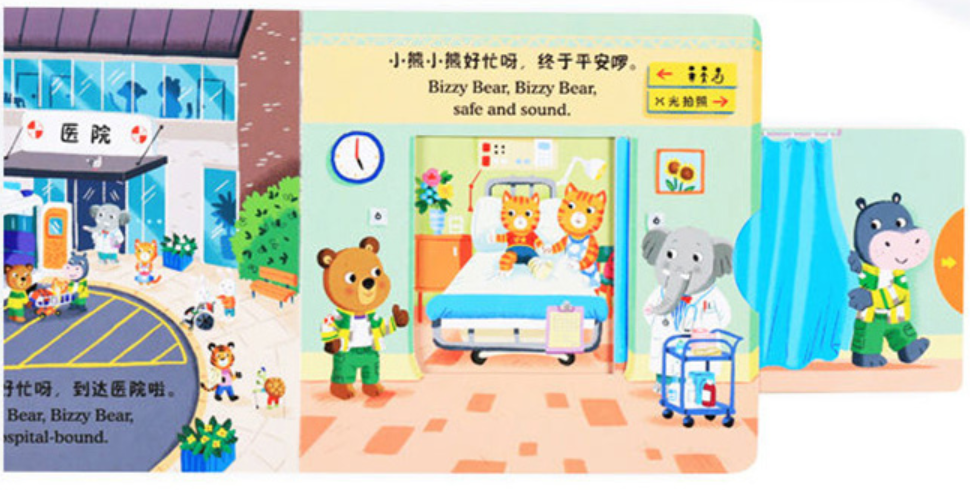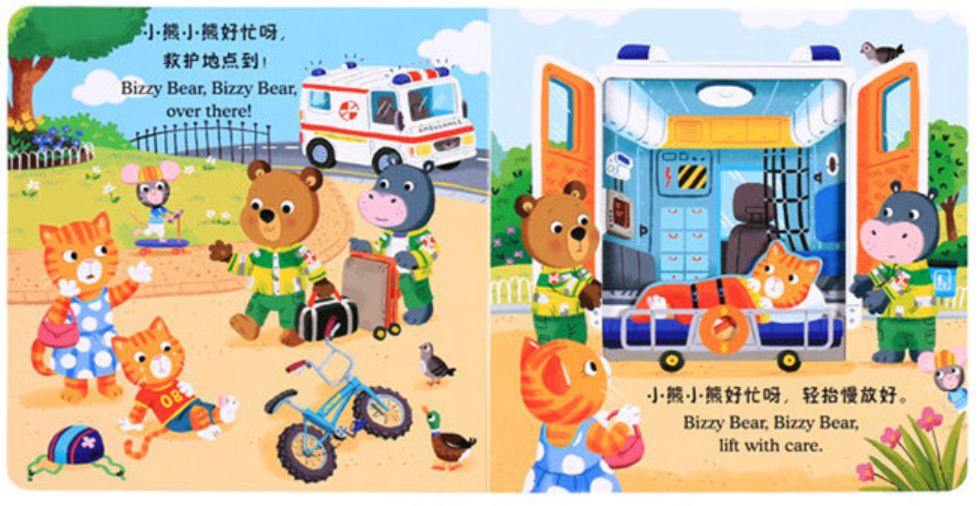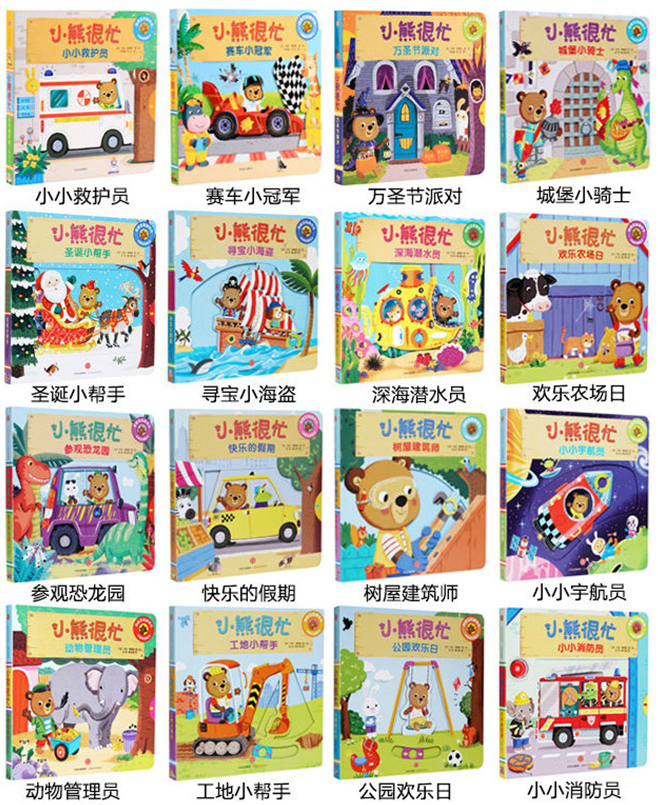 Bizzy Bear is Great for Bizzy Toddlers
The Bizzy Bear series is well loved by my toddler. I gave her her first book at 12mo and she enjoyed laughing whenever the slides/pop-ups occur. Now at 15m she is happy to sit with her Bizzy Bear collection to work the sliders herself. I like to bring them on staycays so she can have some quiet time with interactive books which also work her motor skills.
Interactive book
My daughter likes the book and likes me to move the tabs and spin the wheel. Great book for kids and for them to explore!
Bizzy bear series
Thanks for the prompt delivery. My son and nieces love the books with bright coloured pictures and interesting pockets to interact. Very entertaining. Thanks