欢乐中国年 传统节日立体书 Chinese New Year - Pop-up Book
Regular price
Sale price
$28.86 USD
Unit price
per
Sale
Share
Parents have been requesting us to bring in more 3D pop-up books on Chinese festivals, as they find their kids really love this genre of books. This pop up book's highlights are its intricate paper art, which is so special to Chinese culture.⁠

⁠For families with slightly older kids, or for parents who would love to admire amazing artwork, this book is definitely for you! The first reaction when kids and adults open this book is usually "Wow!" with ooohs and aaahs.⁠
⁠
Imagine holding in your hand beautifully cut 3D pop-out pieces, and soaking yourself in the Chinese New Year atmosphere, without needing to leave your home, all through the year!⁠

Features:
Many small interactive elements, with a few beautiful big pop-ups
Showcases Chinese New Year preparations and celebrations
Comes with a lantern craft and traditional paper cutting-style decoration to further enjoy the festivities!
Can be enjoyed regardless of your proficiency in Mandarin - there's so much to explore!
Conversation starters:
- Why do Chinese like to decorate and dress themselves in red during CNY?⁠
- Why do people like firecrackers during CNY? Are there any hazards?⁠
- Why does Singapore ban fireworks and firecrackers?⁠
- What shall we prepare to bring for reunion dinner?⁠
⁠
Suggested extension activities:
- Watch videos of how people light firecrackers⁠
- Make CNY decorations out of red packets⁠
- Outing to soak in the CNY atmosphere:⁠
Huayi Chinese festival of arts at esplanade,⁠
River Hongbao at The Float, Marina Bay,⁠
CNY festivities at Chinatown and more!⁠
⁠
Pair the reading of this book and involve the children in some activities mentioned within the pages, and you're all set to usher in the new year in a really memorable way!⁠
Format: Hardcover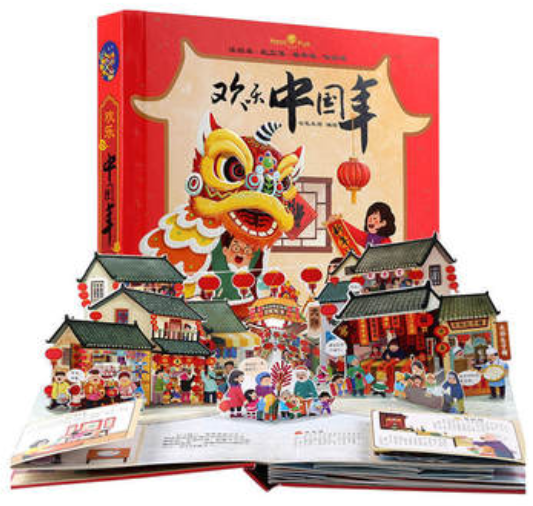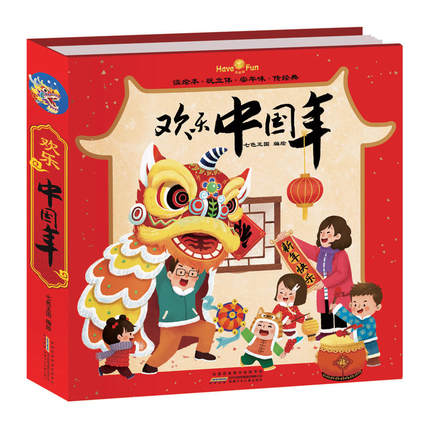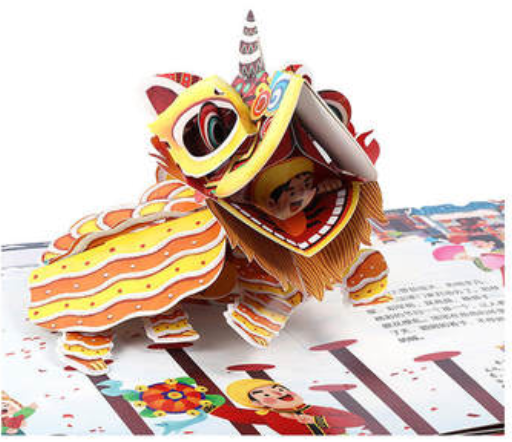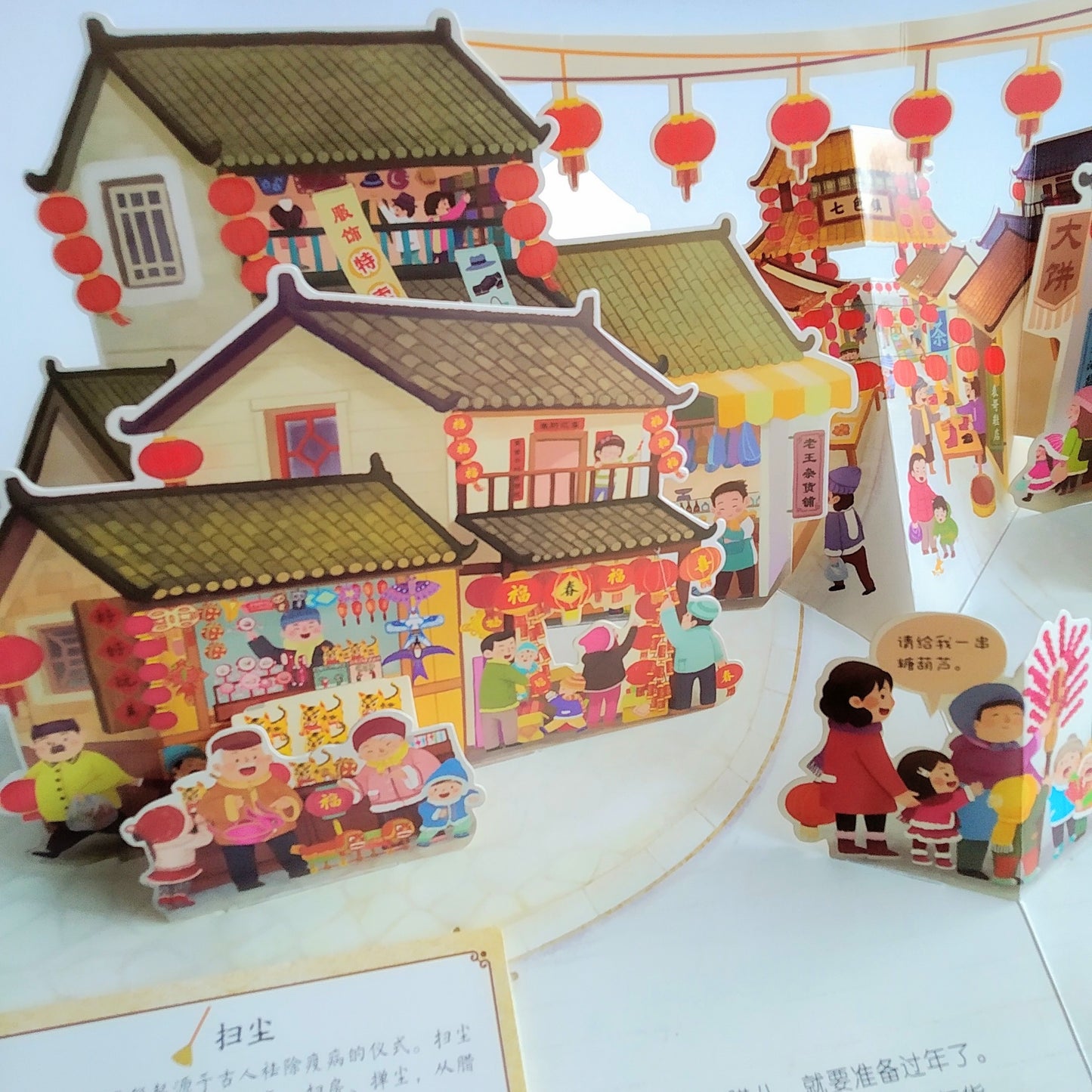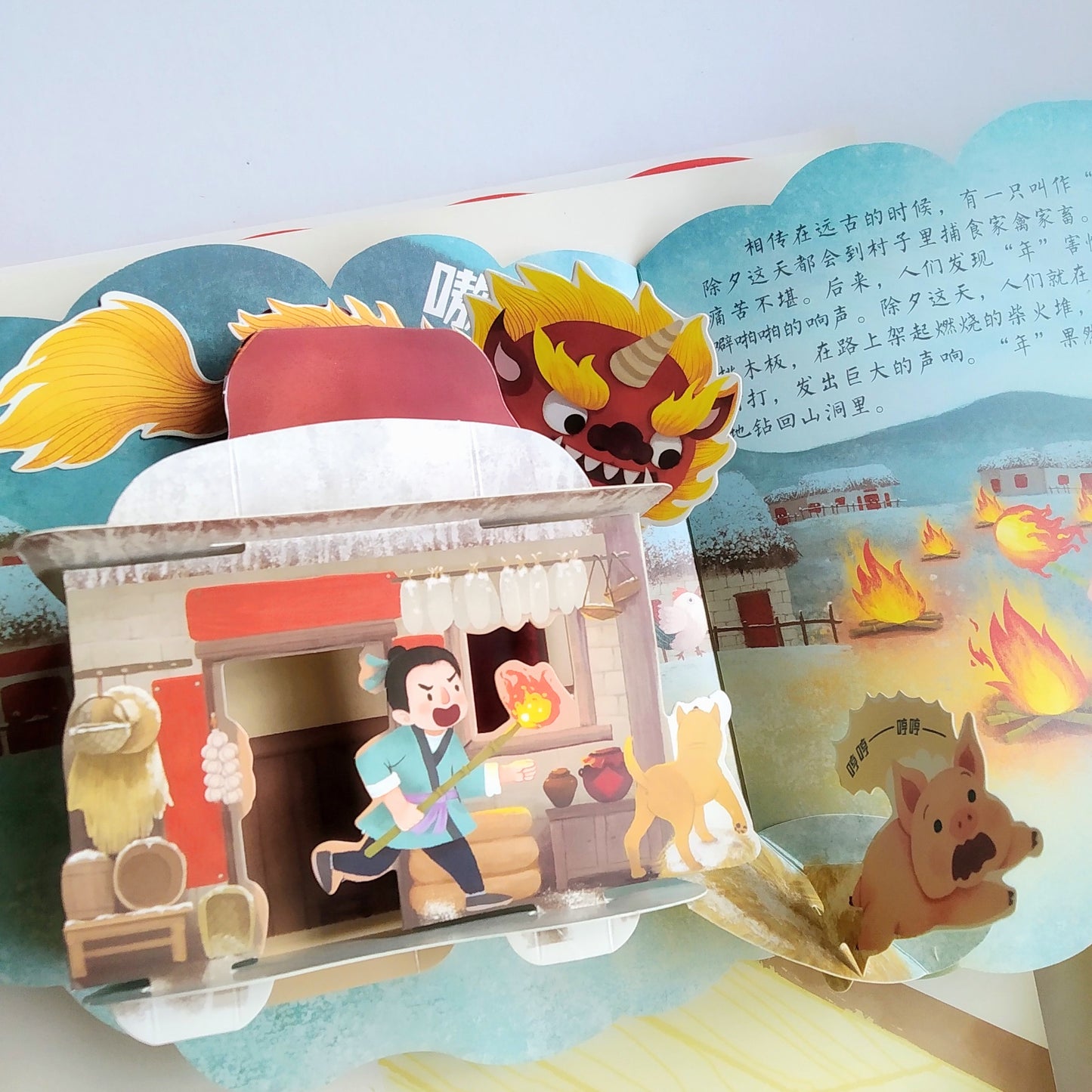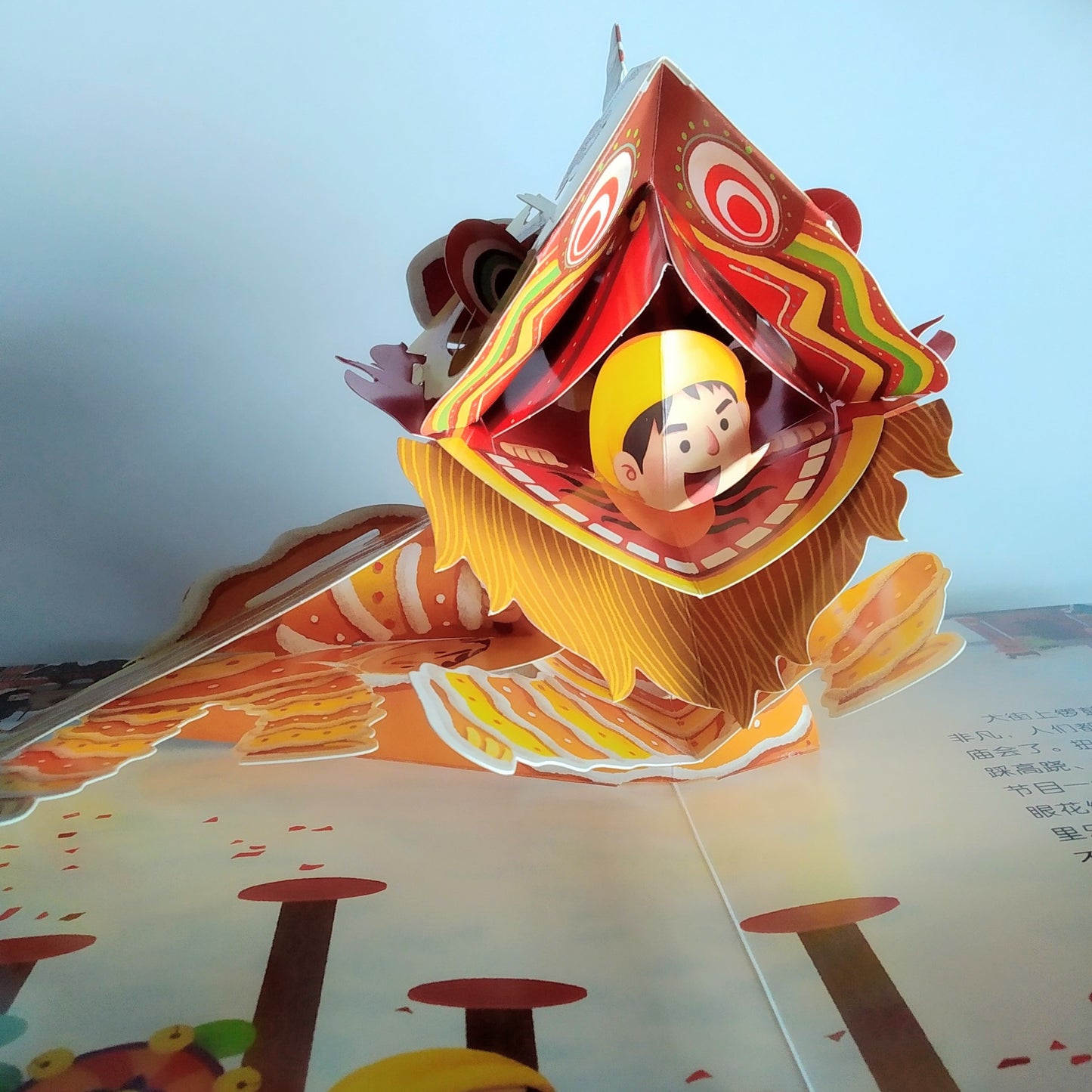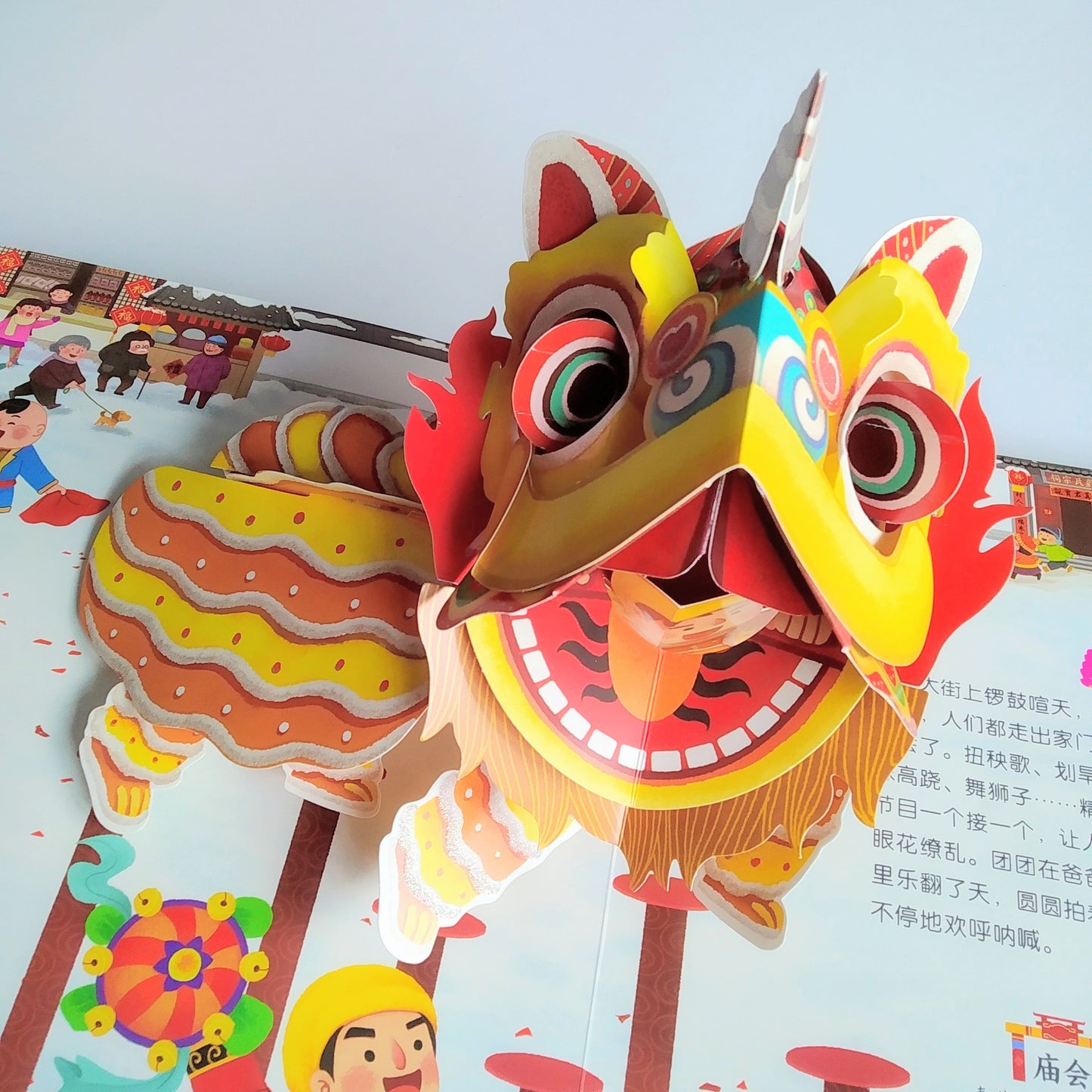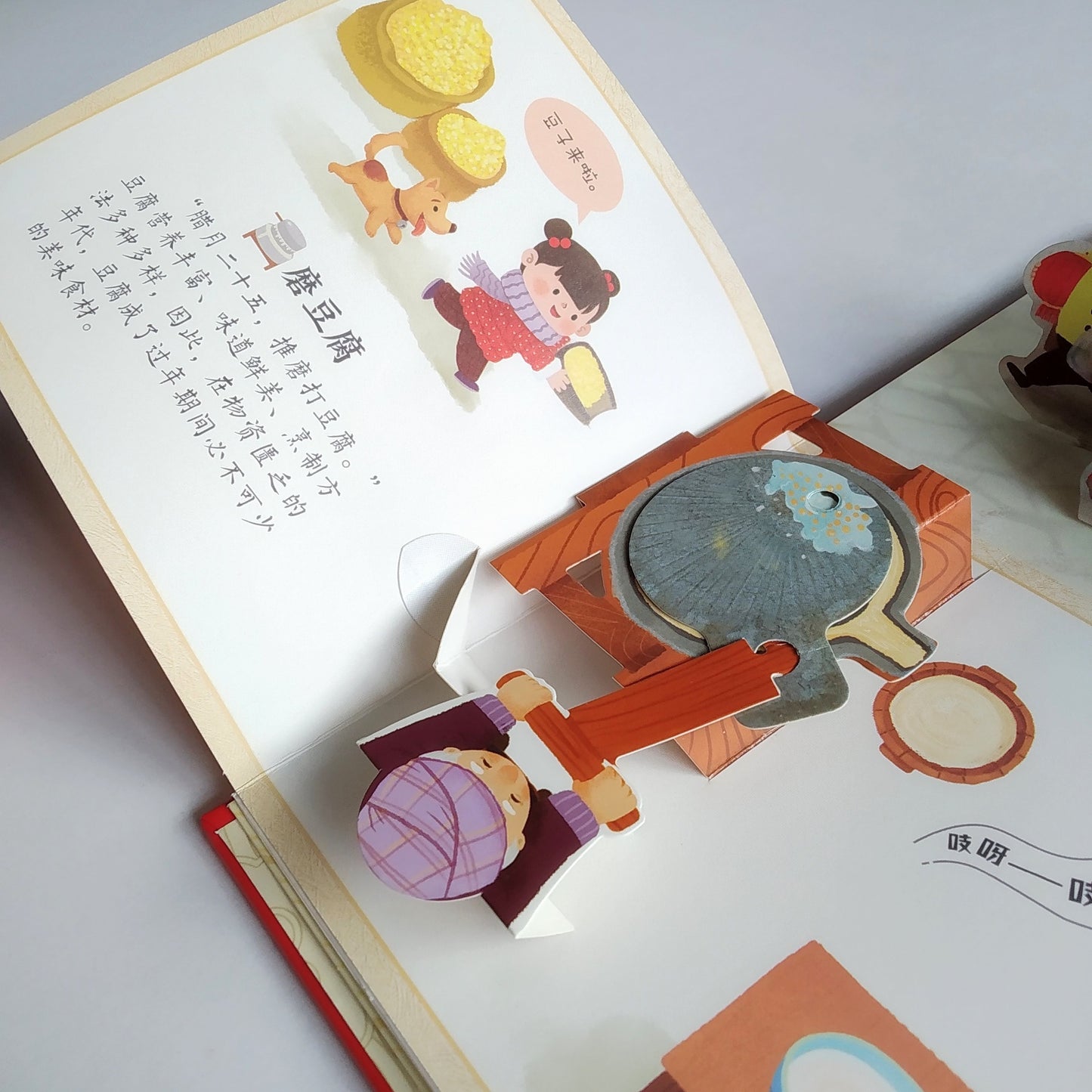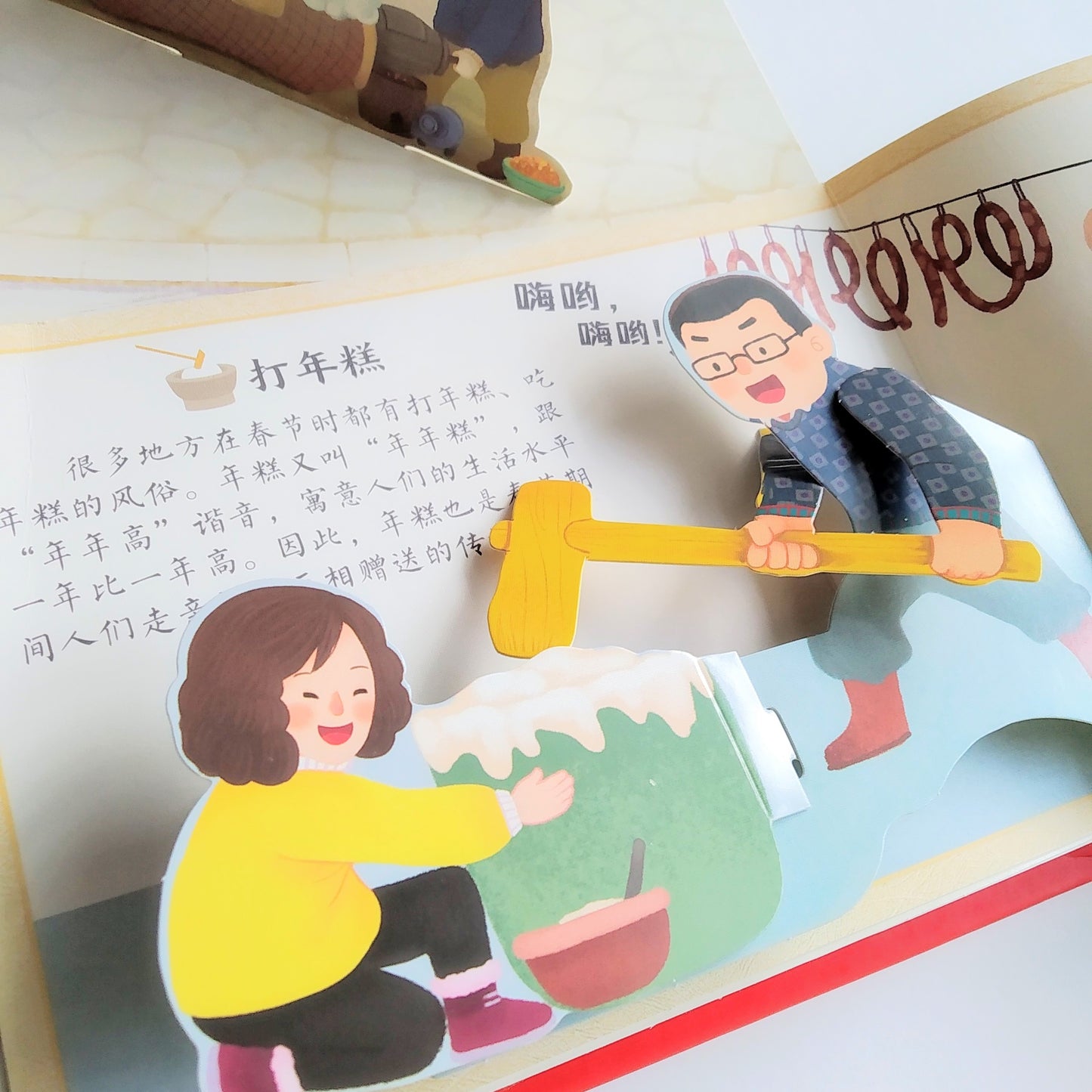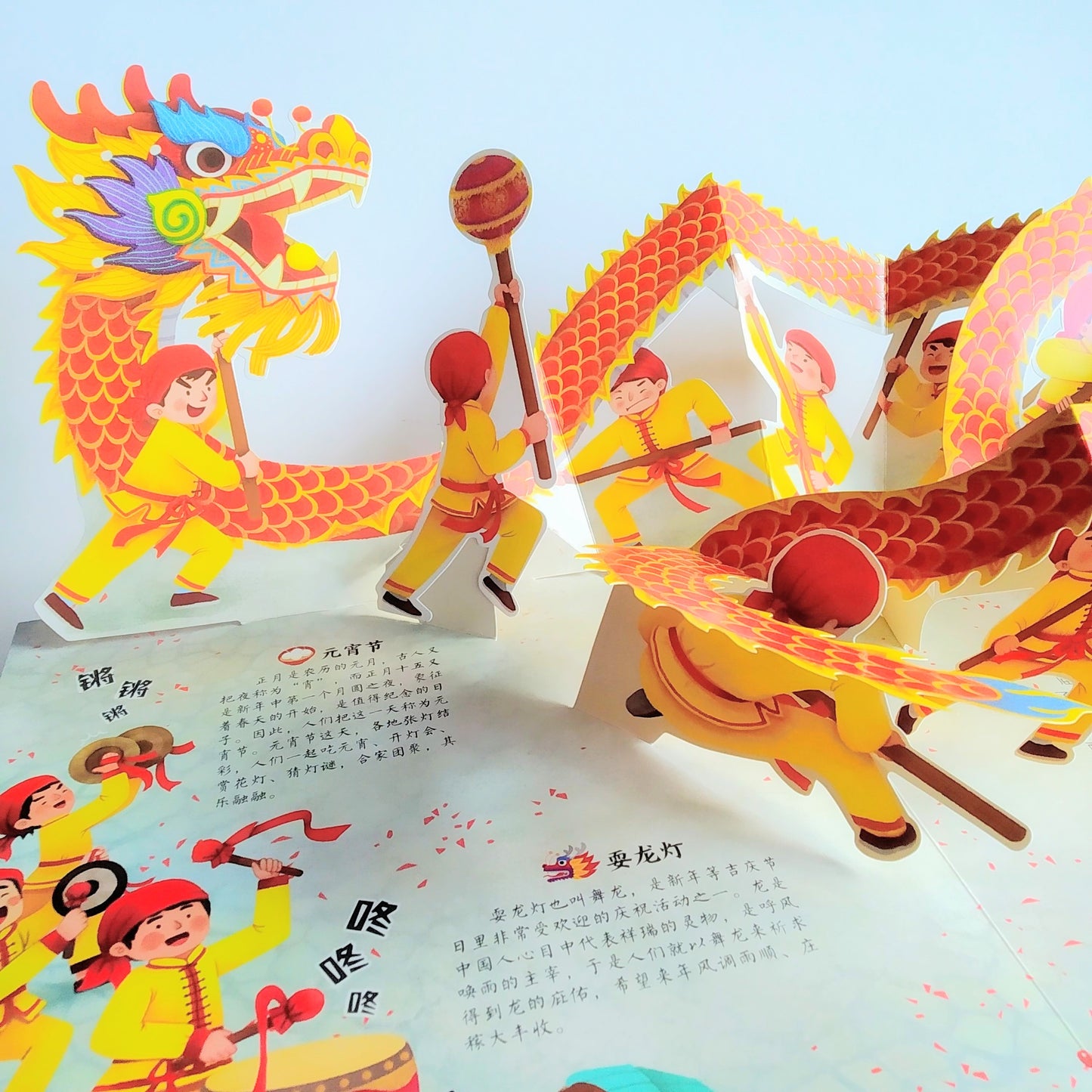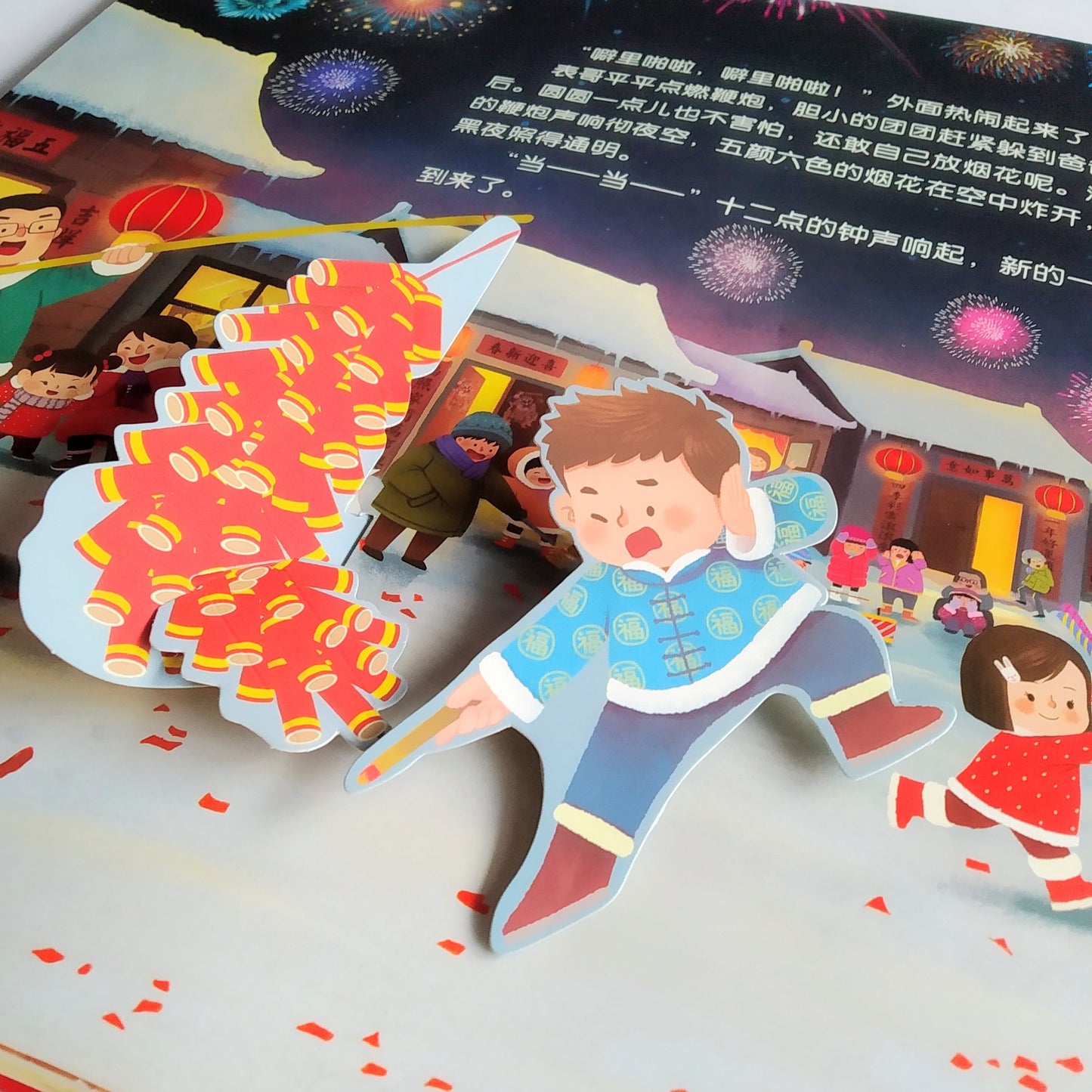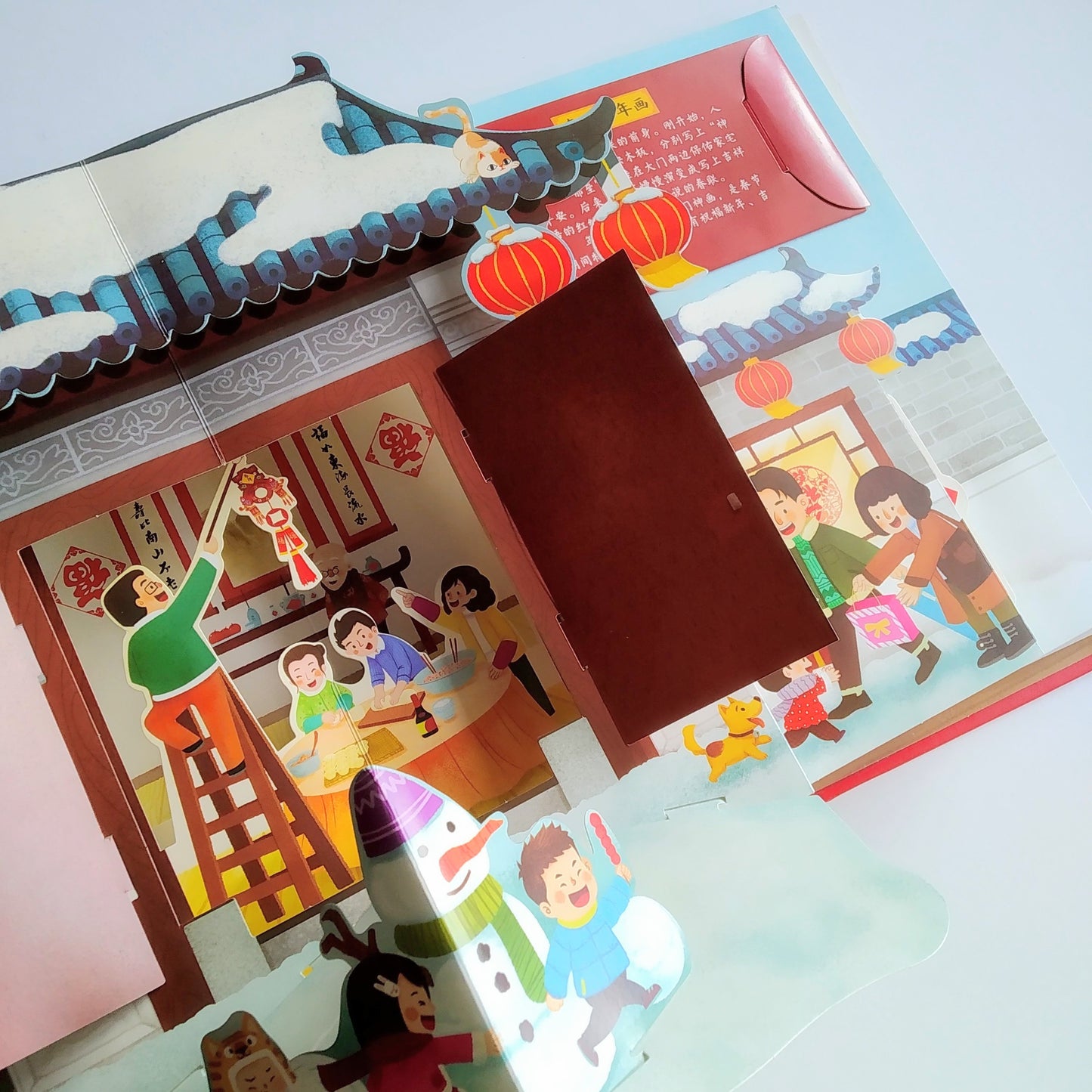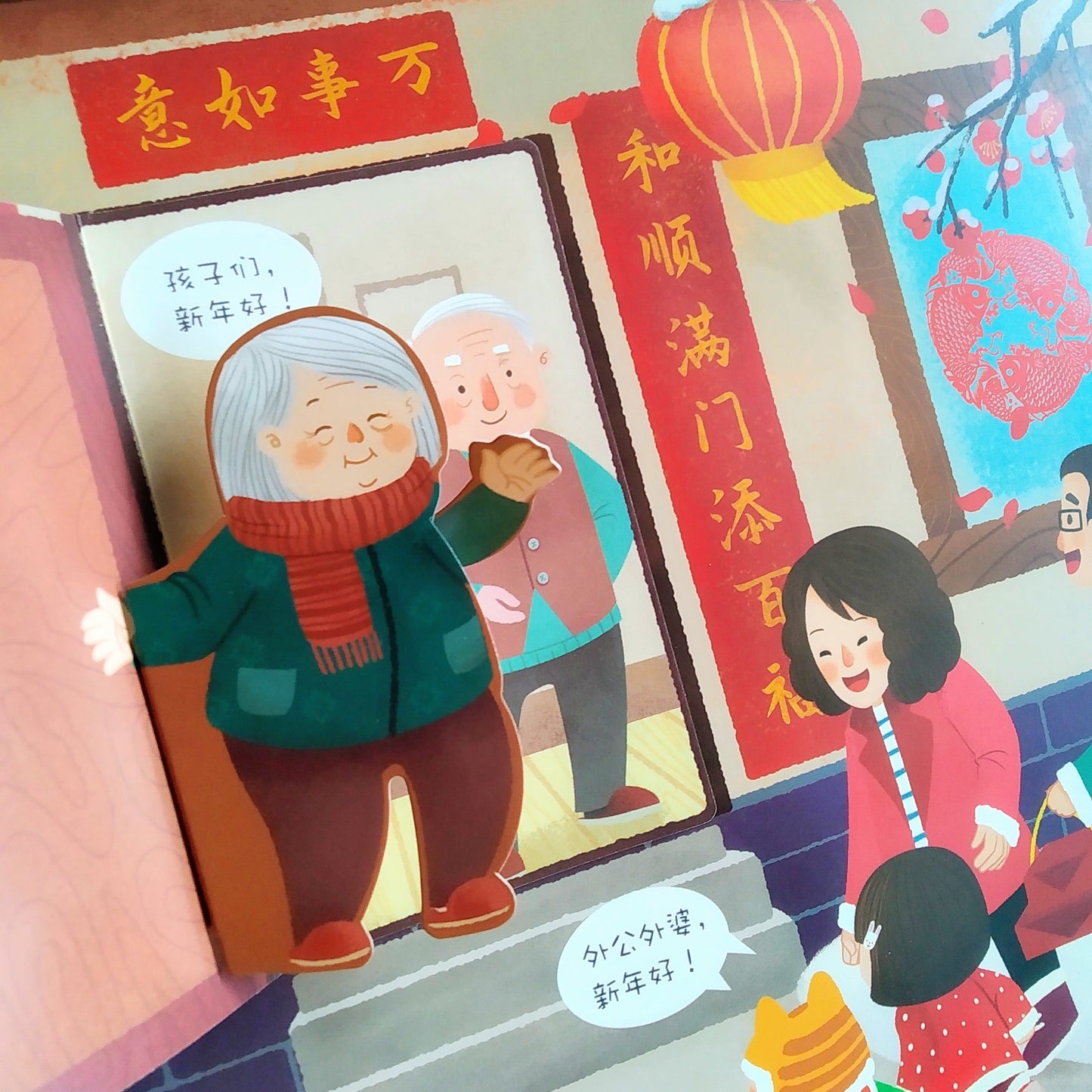 Beautiful intricate pop-up and materials to decorate your home!
I am so pleasantly surprised by all the extras that came with the book! Everything mentioned in the book they try to have ways for the children to see and touch and experience it, be it in the book or even a live sized for our homes. Watching the book come to live after going to Chinatown really helps to commit all the learning to memory. Will recommend!
awesome recommendation
got this book and a few others delivered to friends in Perth.
and their 4 year old absolutely loved it! mom says its a good selection!
Very interactive pop-up book
I can say this is my family's first Chinese pop-up book and it has so many surprises. We stay in 1 page for longer time just to admire the story and pictures inside it before we open other pages.
My origin country is Indonesia, but now we live in Japan that has no Chinese tradition at all.
This book helps me to explain and also learn about how Chinese New Year tradition that I used to do with my family, even more..
I can't thank you enough for My Story Treasure & Chalk Academy who give us this special Chinese New Year (and also birthday) gift for my daughter.
Gorgeous and Interactive
This is truly an amazing Chinese New Year book because it's interactive and has great detail about traditional customs. Although we live in a small town in the United States, we are grateful that we can learn about the holiday through this beautiful pop-up book!
Intricate pop-ups and interactive elements embedded within
My son loves this book (I bought this book a year ago when he was below 1 and now he is almost 2)!!! I love how it was visually attractive and stimulating for him when he was 1 and now that he is 2, he is interacting with the book so differently, he initiates (and gets very excited) to pull out the "slides", move the pages back and forth to see the pop ups move. This book grows on you and with each developmental stage, your child can interact with it differently. The book pages and pop ups are of very good quality but with any excited toddler, there is wear and tear over time but we've just been taping them up over and over again! Please bring in more of this series on other festivals!