父与子 Father and Son Comics - with Hanyu Pinyin
Regular price
Sale price
$9.57 USD
Unit price
per
Sale
Share
Vater und Sohn (Father and Son) is about a plump, balding father and his son in everyday situations. Lots of humour, sure to elicit giggles.
Gift this to a child who resists Mandarin and he will be begging you to read this to him to find out what happened!

Can't find the book in the house? Perhaps Dad has sneaked the comic away in a corner and is enjoying the read! Fun for adults too. Perfect gift for a father too, newly minted or otherwise.
Who says Mandarin books are boring? No way!
Fun fact:
This was originally a pantomime comic, without any words,
and featured weekly in the Berliner Illustrirte Zeitung from 1934 to 1937.
Note: There are 2 versions of the book -
A single, thicker softcover book
in light brown
Suitable for reading at home
Set of 6 thinner, lighter softcover books
in various colours.
Suitable for bringing out, or to school for Primary School Silent Reading.
Additional feature: QR code that links to an audio readaloud for each story
Both versions contain
similar stories
hanyu pinyin
Also do note that there are instances of smoking within the comics,
reflective of the social norms in the times and setting of the publications.
Recommended for Ages: 3-99
Illustrator: E. O. Plauen (German cartoonist)
Pages: 276
Format: Softcover
Language: Simplified Chinese With Hanyu Pinyin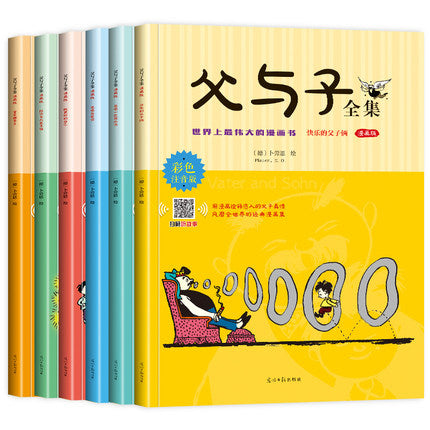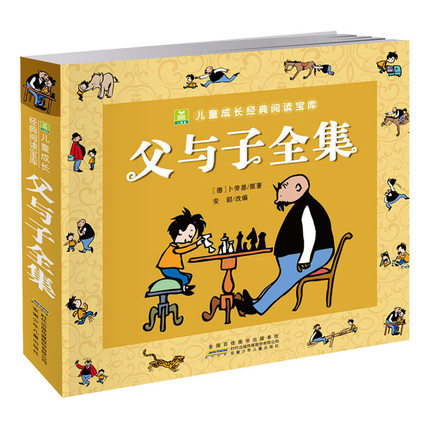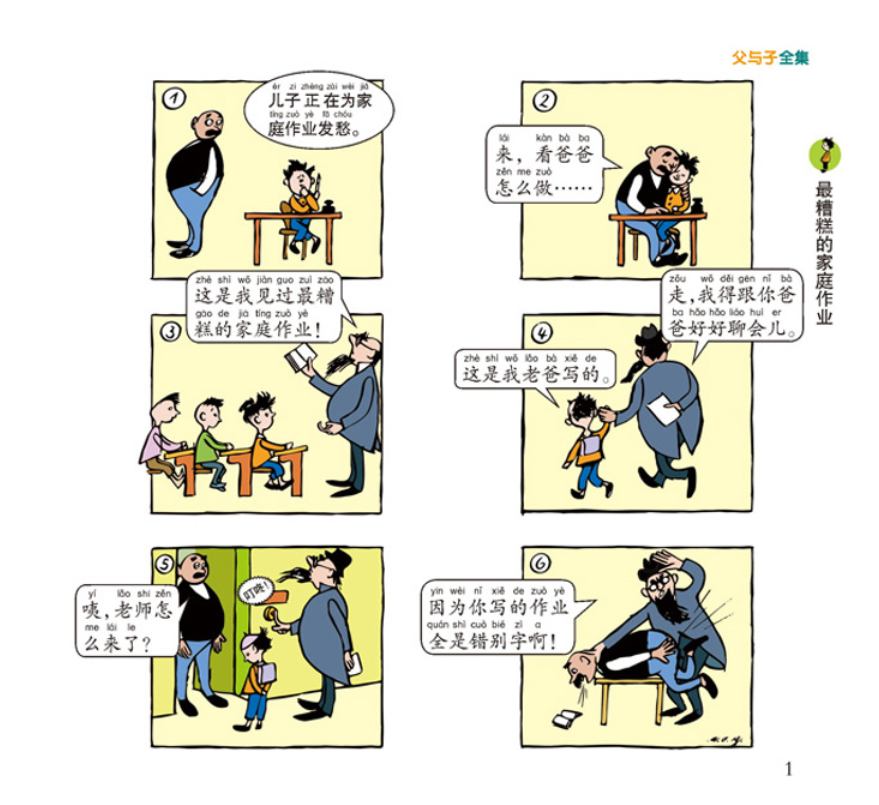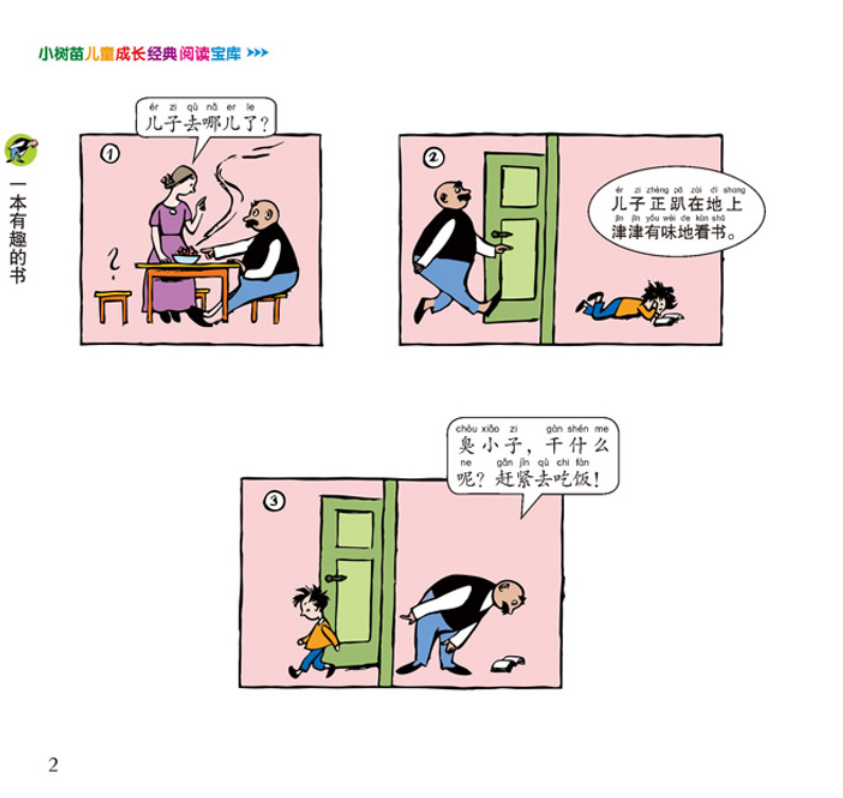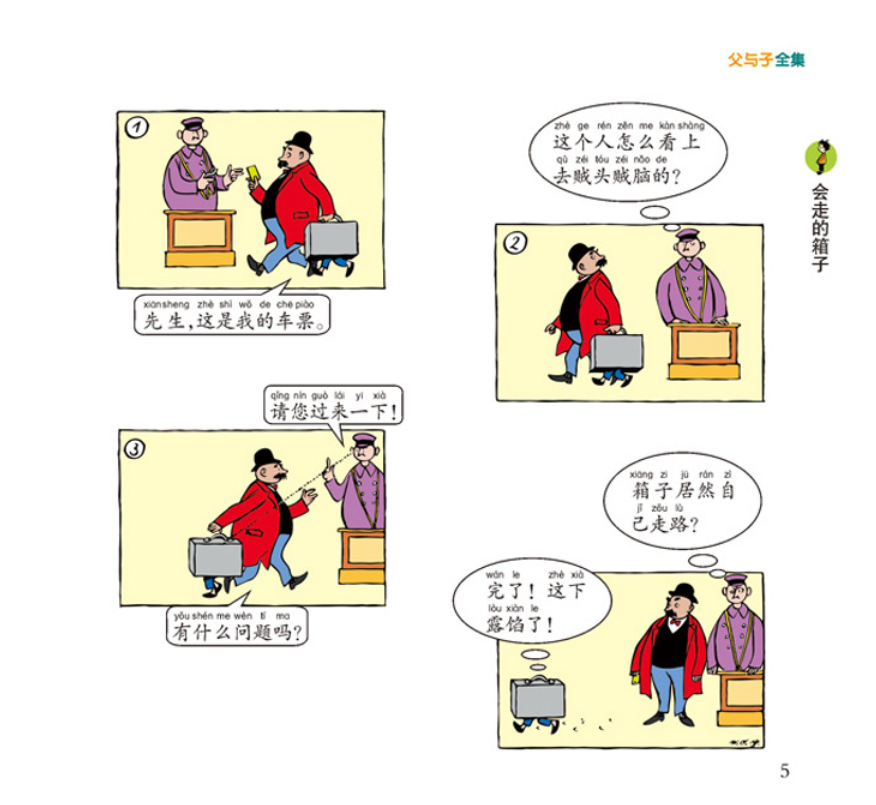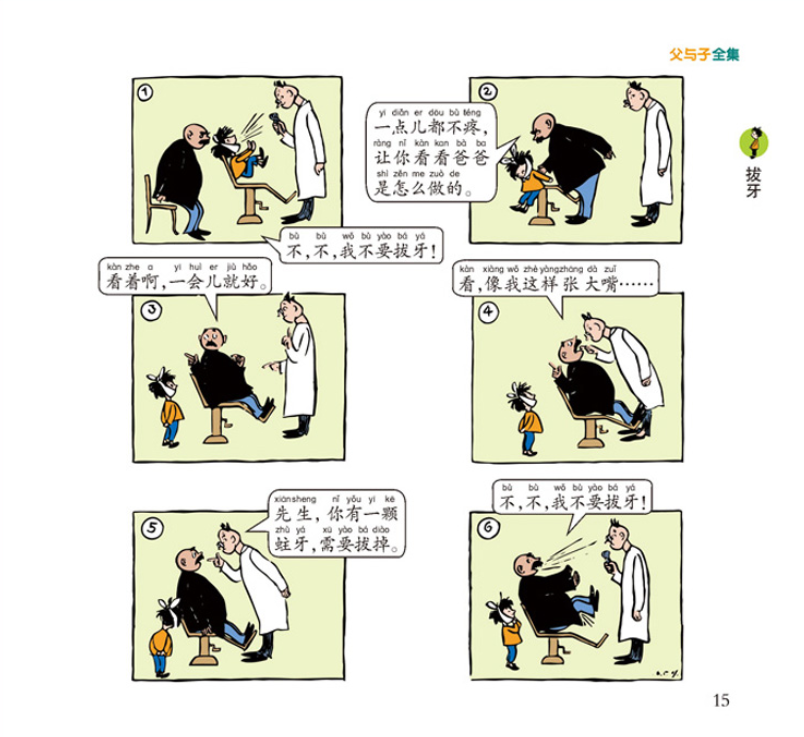 Evergreen stories that stand the test of time
My 6-year old enjoyed it, my 25-year old cousin enjoyed it, and so did we parents! Just amazing how these stories were written in pre-war Germany but still very much relatable.
Great way to encourage self-reading
Lately, my 8 year old boy would resist reading Chinese books on his own... until now. With age appropriate stories (where the dad usually does something funny/wrong) and of course, HYPY to help, he surprised me by not only browsing through the book when it first arrived, but continuing to flip through and laugh at it for days after. Please find more books like these! Thank you so much for the recommendation.
父与子 Father and Son - with Hanyu Pinyin
Very funny and entertaining! With hanyu pinyin, it's relatively easy for my girl to pick up and read it on her own. Definitely one of her favourite Chinese book.
Much enjoyed
Prompt delivery. Lovely seller. Son hv read book over & over. Cld hear him chuckling many times. Heart warming n hilarious father & son situations. Great way to get son to read Chinese ;-)
Seller pls bring more similar books!
Thank you so much for taking the time to leave a review! Brings my heart joy to know that your son has enjoyed Chinese through our book (: Will continue to work hard to find books that are entertaining and fun!
Thumbs up!
I was very pleasantly surprised to find that the comic was very engaging and captivating, even to me as an adult! There were a few moments I couldn't help but laugh out loud myself. Having the HYPY also made it much easier for my son to try to read on his own.
Thank you Sarah for your review! This comic has brought a lot of giggles to our family too!