猫咪寿司店 Kitty Sushi Shop
Regular price
Sale price
$9.53 USD
Unit price
per
Sale
Share
If your child loves cats and sushi, this book will be right up their alley!
A group of fish-loving cats were dreaming of all sorts of sushi,
when suddenly, a fish-shaped sushi shop on wheels came by!
The cats help to set up the cutlery while Big Brother prepares their sushi.
Excitedly, the cats ordered plate after plate of delectable sushi,
and soon realise that they have no money to pay!
The cats then follow Big Brother to catch more fish by the sea,
and WOW! the car turns into a boat and then a submarine!
With their fresh and bountiful catch, they head back to shore.
This time, the cats want to learn the ropes of how to make sushi,
and opened a second sushi store on wheels,
complete with sushi delivery on motorbikes!
Extension activities:
Eat sushi
Make sushi
Visit a cat cafe
Observe cats in the HDB neighbourhoods
Check out different kinds of food delivery vehicles
Visit a food truck
Recommended for Ages: 2-8
Pages: 30
Format: Hardcover
Language: Simplified Chinese
Author: 【日】铃木守 Mamoru Suzuki
Translated from: Japanese
Translated by: 宋三三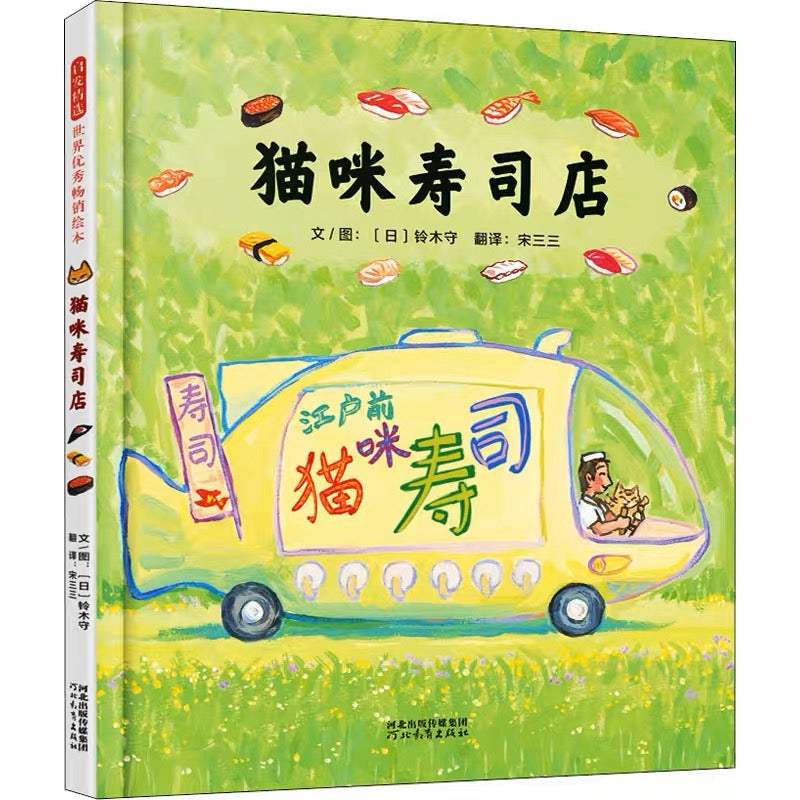 Perfect book for my sushi and cat loving son
Learnt lots of Chinese names of seafood. Very cute and wholesome story!
ICYMI Uniqlo has a sushi cat pajamas set too
Kitty sushi shop
Perfect book for us because i love sushi while my daughter loves cats. The story is very interesting and the illustrations are very cute. My daughter and I really enjoyed the book.