揉一揉啊捏一捏 Knead and Stretch
Regular price
Sale price
$9.59 USD
Unit price
per
Sale
Share
Let's guess! What is the boy kneading?
It's white, it's soft, is it a cloud? Is he baking bread?
Knead, knead, knead.
Pull, pull, pull.
Pinch, pinch, pinch.
It gets bigger and bigger...
Till it becomes a trampoline?!
And it explodes! What happens next?
Let it sit down, dance with it, hug it, kiss it, play with it, and tickle it!
This is super adorable and such a special book for our family!
Always ends in giggles and tickles.
As our children grow a little older, they still have sensory needs!
To manipulate things between their fingers, to create,
and to to receive physical affection from us.
This is a perfect way to encourage imagination
and enjoy some fun moments with our kids!

This book is also excellent to learn a variety of verbs / action words
like 揉一揉 knead、拉一拉 stretch、戳一戳 poke、揪一揪 pull、碰一碰 touch、拍一拍tap、摇一摇 shake、滚一滚 roll and many more,
that we can remember and use to enrich our daily conversations.

Extension activities:
Make or buy some playdough and play with it while following the actions from the book!
Pretend that our child is the dough, and do the actions! 
Make Mee Hoon Kuey together
Watch chefs make 小笼包 at 鼎泰丰 restaurants
Recommended for Ages: 1 and up
Pages: 28
Format: Hardcover
Language: Simplified Chinese
Author: 【日】吉竹伸介 Yoshitake Shinsuke
Translated from: Japanese
Translated by: 毛丹青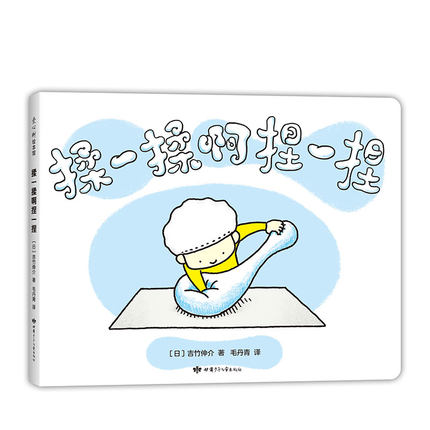 Fun book
This book is fun especially when we look at how we can play with the dough at hand! Following the moves in the book creates so much laughter.
A delightful book!
This simple book is so much fun to read! There is not much of a storyline and words are mostly onomatopoeia. I had to use the Pleco app to find out how to pronounce some of them. But my 2.5yo loves it! Now whenever we interact with dough, she would go, "揉一揉,拉一拉!" So cute!