逛商店街 Let's Go Shopping
Regular price
Sale price
$14.05 USD
Unit price
per
Sale
Share
37 stores are open 24/7 - come join our window shopping trip to see a
bookstore 书店
toy store 玩具店
vegetable shop 蔬菜店
bakery 面包店
stationery store 文具店
and more!
Why we like this book:
Adorable and brightly coloured illustrations 好温馨的画风
Lots of details to pore over
Great for building oral vocabulary
Scenes are suitable to write short compositions of few sentences!
We can go shopping anytime, anyday, without even leaving our home
Great for reading on a rainy day, or while waiting at a restaurant
Conversation starters / Things we talked about:
Difference between wants and needs
How to earn, save, spend money
Where does money come from? ATM? Credit Card?
Budgeting
Extension activities:
Go on an outing to neighbourhood stores, and let the child take some photos. When back home, compare the photo against a similar store in the book! What are the similarities and differences?
Write a shopping list, and brief child on what to say / how to buy in  Mandarin, and let the child lead the way!
Words to learn 好词好句:
欢迎光临 huān yíng guāng lín - Welcome to our store
谢谢光临 xiè xiè guāng lín Thank you for coming to our store
琳琅满目 lín láng mǎn mù - Dazzling array, full of beautiful things
应有尽有 yīng yǒu jìn yǒu - Having everything one would expect to find
垂涎欲滴 chuí xián yù dī - Salivating
Recommended for Ages: 2 and up
Format: Hardcover
Language: Simplified Chinese
Author: 【日】齐藤忍 Saito, Shinobu
Translated from: Japanese
Translated by: 郭孚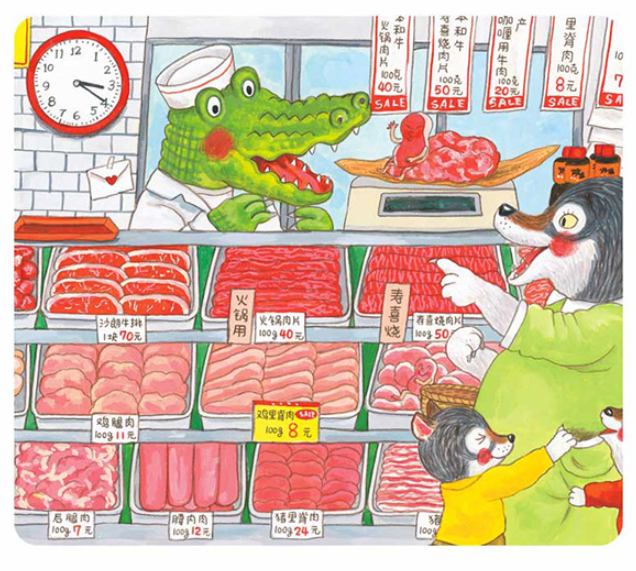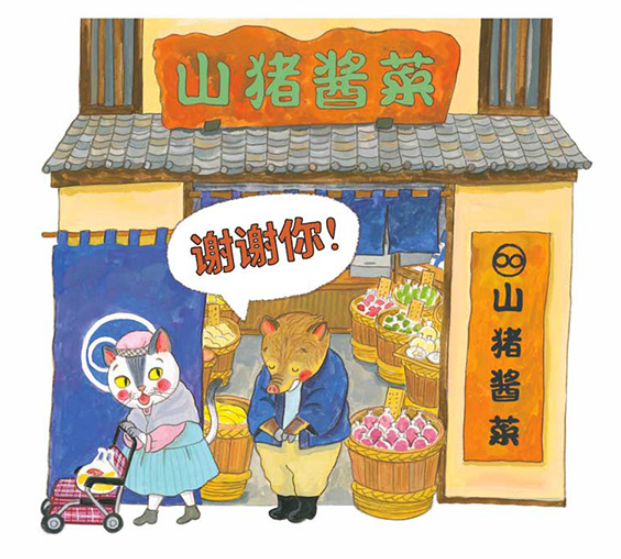 Fun way to learn vocab
This book introduces a variety of different stores and the items you can buy at the stores. The beautiful illustrations are a plus. I didn't notice it, but my 3yo spotted that there was a fun "I spy" game for each store. Makes learning fun!
Value-for-money purchase!
This book is small, handy and reasonably priced yet chock full of vocab that we can acquire at our own pace. Definitely a keeper! The illustrations are captivating such that when we read the book, we feel like we are actually at the store. It comes with a little booklet of suggested activities to do with the book. I have tried asking my 7yo to think about which items she can purchase with a given amount of money, and how much change she will be given - learn math and Chinese at the same time! 😄. The illustrations in the book are an inspiration for doodlers as well.
Thank you Joen for your review! It's true that the illustrations are so rich and detailed that it seems like we're there at the store. Love your extension activities post-reading too!
A visual treat
Love the illustrations! Many, many details to pore over. And we can go window shopping anytime and anywhere. Learning new words from the labels in the stores which is helpful when we go actual shopping and point out the items available.
Best of both worlds
Striking two birds with a stone with this book. You get to explore slightly different culture of a Japanese market yet in learning terms in Mandarin which is more day to day. The cute size of this book caught my attention, great for toddlers and rich in illustrations.
逛商店街
This book caught my eye because the shops depicted really reminds me of my travels to Japan and Taiwan pre-pandemic. so glad to be able to share the scenes with my daughter even though we can't take her to travel at the moment. There is so much to talk about in the book and the illustrations are fun! Believe we can read this book for many years to come :) thanks for the recommendation!