蜡笔小黑 Little Black Crayon
Regular price
Sale price
$10.33 USD
Unit price
per
Sale
Share
The crayons start dancing all over on a big white drawing paper. First butterflies, then flowers. First the yellow crayon, and then the red, and pink. Then they need leaves, trees and the ground. So they call the green, brown and golden brown crayons. While all this is happening, the lonesome black crayon sits by himself at the side, because there is nowhere for him to draw. Soon, the crayons squabble and colour all over the paper, creating a huge mess on the paper. The mechanical pencil comes over and whispers to the black crayon. The black crayon steps up and starts colouring all over all the other crayons' drawings until every inch of the paper turns black. And then, the mechanical pencil steps in to play his part in creating a magical artwork. 
Besides learning about the different colours and how to create a picture using crayons, children will also learn about how every colour is unique and has its purpose and beauty. It is right to learn to appreciate the beauty in everyone, even if others look different from us. And when we do, together we can create something amazing. 
| | | |
| --- | --- | --- |
| Author: 中屋美和 |   | Translated by: 朱自强 |
| | Pages: 30 | Type: Hardcover 精装 |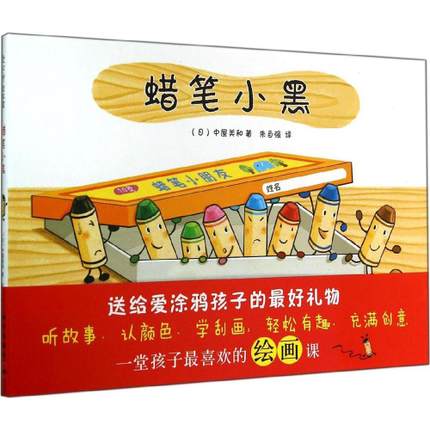 Excellent story, cute characters
Both my kids really enjoyed this story, it is so creative and cute, I love how the drawings are beautiful and it has a good lesson to teach about including others even if you think their contributions are "ugly" or different. My kids want to find more books in this series!!
蜡笔小黑
A nice story that talks about how every individual is special in their own way.
Love the story about the importance of every member
I enjoyed the book very much, and my son shared that his school has the same book so he was really surprised to see it at home too. After reading the book, we extended it into an actual art and craft session. We had those "black scratch" papers that would turn into colorful "lines" using a toothpick instead of a mechanical pencil (like in the book). Kids (4 and 2 yo) were fascinated!
Book about Inclusivity!
This book talks about how crayons found a piece of blank paper and started drawing on it, but leaving a black crayon out because they felt that it had "no reason/use" for the drawing. It ended off showing how a little guidance and creativity can make everyone feel included while creating a beautiful work of art! I really like this book because the drawings "made by the crayons" in the story are actual drawings that were drawn by crayons and printed in high definition.
Enjoyable story
A favourite for both my 1 year old and 3 year old which we read every night.
A very good book to learn to appreciate diversity and develop empathy.
The page showing fireworks is a favourite!