鳄鱼先生立体游戏屋 Mr Croc's 3D Playhouse
Regular price
Sale price
$23.56 USD
Unit price
per
Sale
Share
This bilingual 3D playhouse with a mini soft toy Mr Croc is incredibly popular with kids!
Everytime we bring this for pop-up sales and play sessions,
kids will be crowding around to explore!
Perfect as a gift for any occasion, and especially helpful to engage kids for a long time.
Easy to store! Just takes a few seconds to assemble or disassemble.
There are 4 themed play areas
厨房 kitchen
客厅 living room
卧室 bedroom
卫生间 washroom
Tried and tested ways to play and learn with this 360° playhouse:

Learn the English and Chinese terms of the items within, and then use them in our daily conversations!
For toddlers, we can go through some terms, and ask if they can match the real item in our home to the book. This helps them relate what is on the page with real life.

Go beyond labelling things (nouns), to learn about actions (verbs) and descriptive words (adjectives) - slowly expanding our sentences and building their confidence in speaking Mandarin!
Eg The door opens, Mr Croc is home. First he puts his green umbrella down, then sits on the soft, purple sofa to take a rest. Ring Ring! Suddenly the phone rings. Who can it be?
门打开了,鳄鱼先生到家了!它先把绿色的的雨伞放下,然后到紫色的沙发上休息一会儿!沙发软软的,好舒服。丁铃铃!突然,电话响起,会是谁呢?
Read aloud the sentences in the book and use Mr Croc to act it out.
Pretend play with sound effects! Always fun and makes for quality time with our little ones.
We can

 

use our own toys

 

- like Lego / Duplo figurines, people figurines or small toys in the play scenes as well!
For slightly older kids, we can describe an item, give some clues and get them to guess the item on the page. This is a great way to encourage their listening and analytical skills in Mandarin!
Eg in the kitchen - I am cold on the inside, I keep food and drinks cold. People open me when they feel hungry, Who am I?
在厨房里 - 我身体里面是冷冷的,收着很多食物和饮料。人们肚子饿的时候,会把我打开。我是谁?- 冰箱 fridge
Recommended for Ages: 1 and up
Pages: 4
Format: Hardcover
Language: Bilingual - Simplified Chinese and English
Author: 乔·洛奇 Jo Lodge
Translated from: English
Translated by: 乐乐趣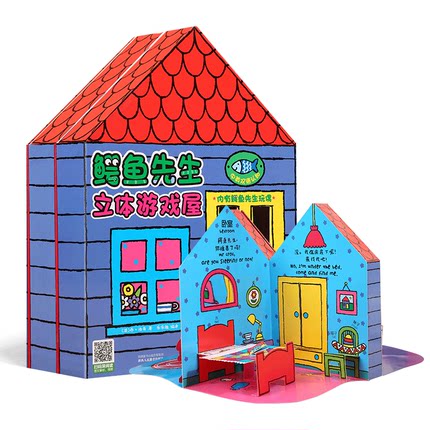 Toddler loves this!
My almost 3yo loves this! It has sustained some damage since it's made of paper, but otherwise it's been great for supervised/interactive play. Thanks for the tips in the product description too - it's given me lots of ideas to elicit simple Chinese phrases. Also happy that this is fairly compact :D
An engaging book for role play
Highly recommend this book to engage your little ones for role play and learn the chinese characters in the book. The book is split into four sections of a house and it encourages the little ones to role play with the crocodile soft toy in various parts of the house.