怕浪费婆婆 My Frugal Granny
Regular price
Sale price
$8.83 USD
Unit price
per
Sale
Share
Do you have that someone in your family who is always reminding you to finish all the food in your plate, to turn off the tap when not in use, not to waste paper?
I remember in my childhood, my grandma used to nag at us for not finishing the food, she'd shower with cold water, have a tiny notebook where she'd write her important contacts and their phone numbers, use little handkerchiefs instead of tissue paper, and more!
Perhaps coming from their decades of living with little, often the elderly in our midst are more aware of wastage of precious resources they didn't have freely.
Perhaps we have taken potable water, clean tap water, meals on our table, paper to write on for granted! They aren't very costly, we may think, but they can be over time! Wastage definitely taxes the earth and is not a sustainable nor responsible way to live.
This is a book of a little boy and his grandma reminding him not to be wasteful, but to be more mindful of his little habits.
What we love:
Bright, bold illustrations that really pop up - my 1, 6 and 8 year olds enjoy the drawings!
Adorable characters in the home setting, which is really relatable
Simple storyline to follow
The cute ending! When the sky is dark, Granny prefers to turn off the light! It's time to sleep anyway, and it definitely saves electricity.
Additional resources upon purchase:
🔊 Audio narration 

💡Extension activity ideas

🗣️ Conversation starters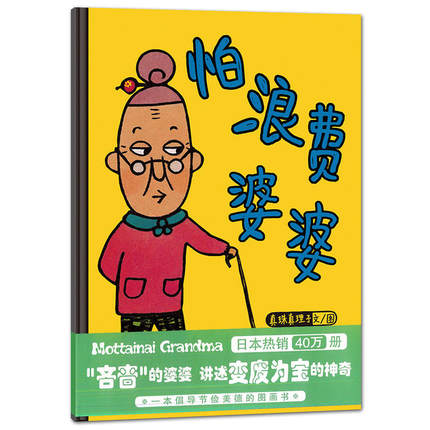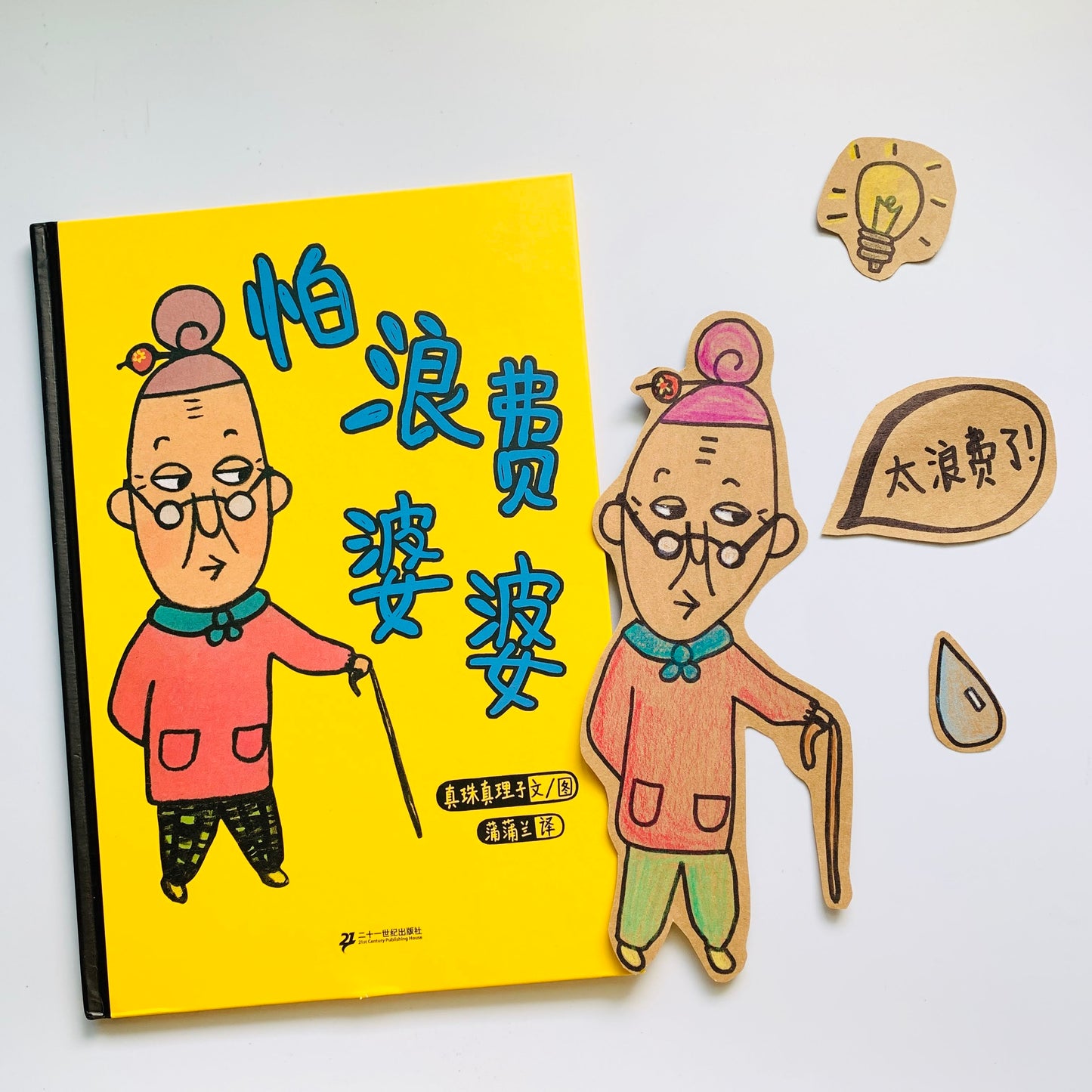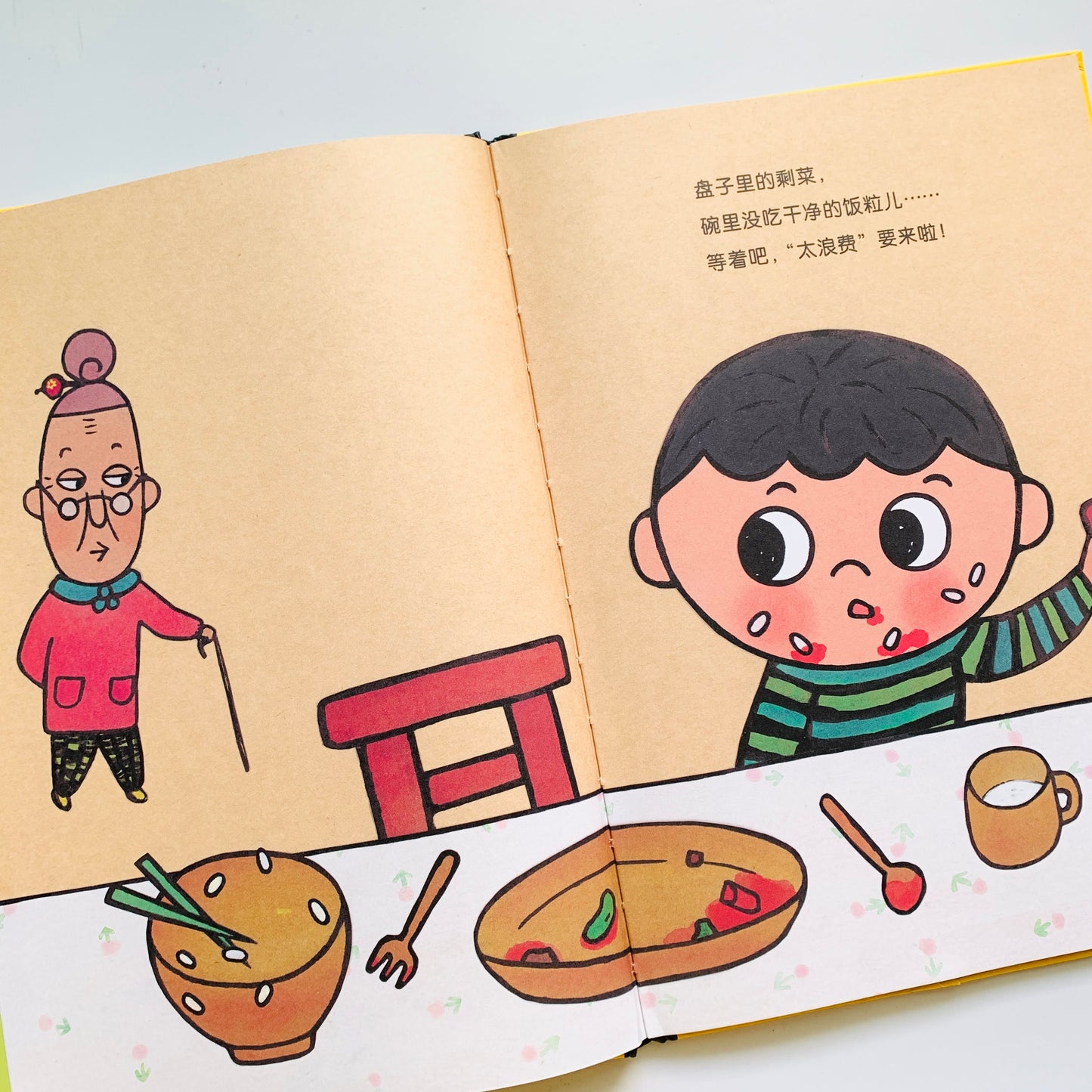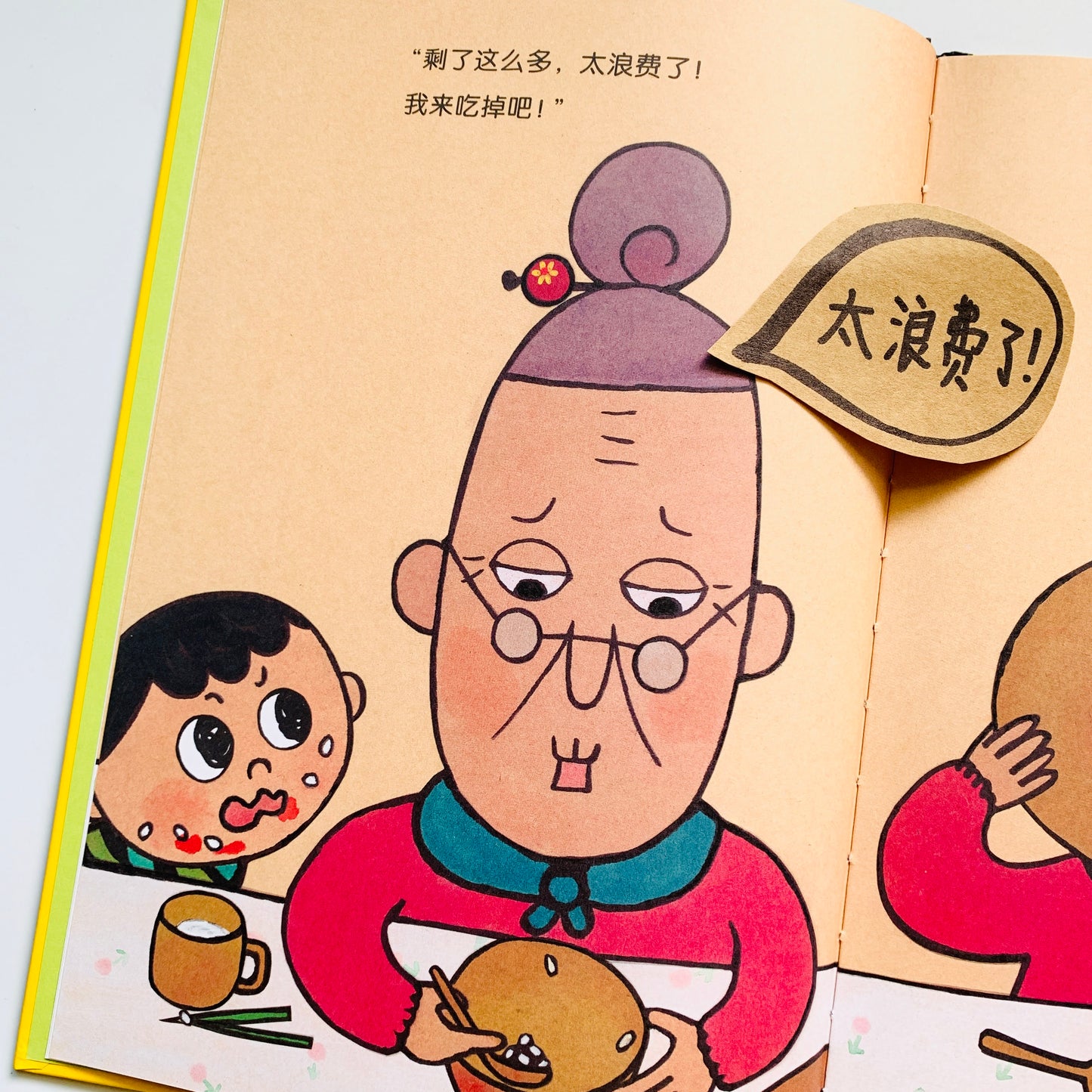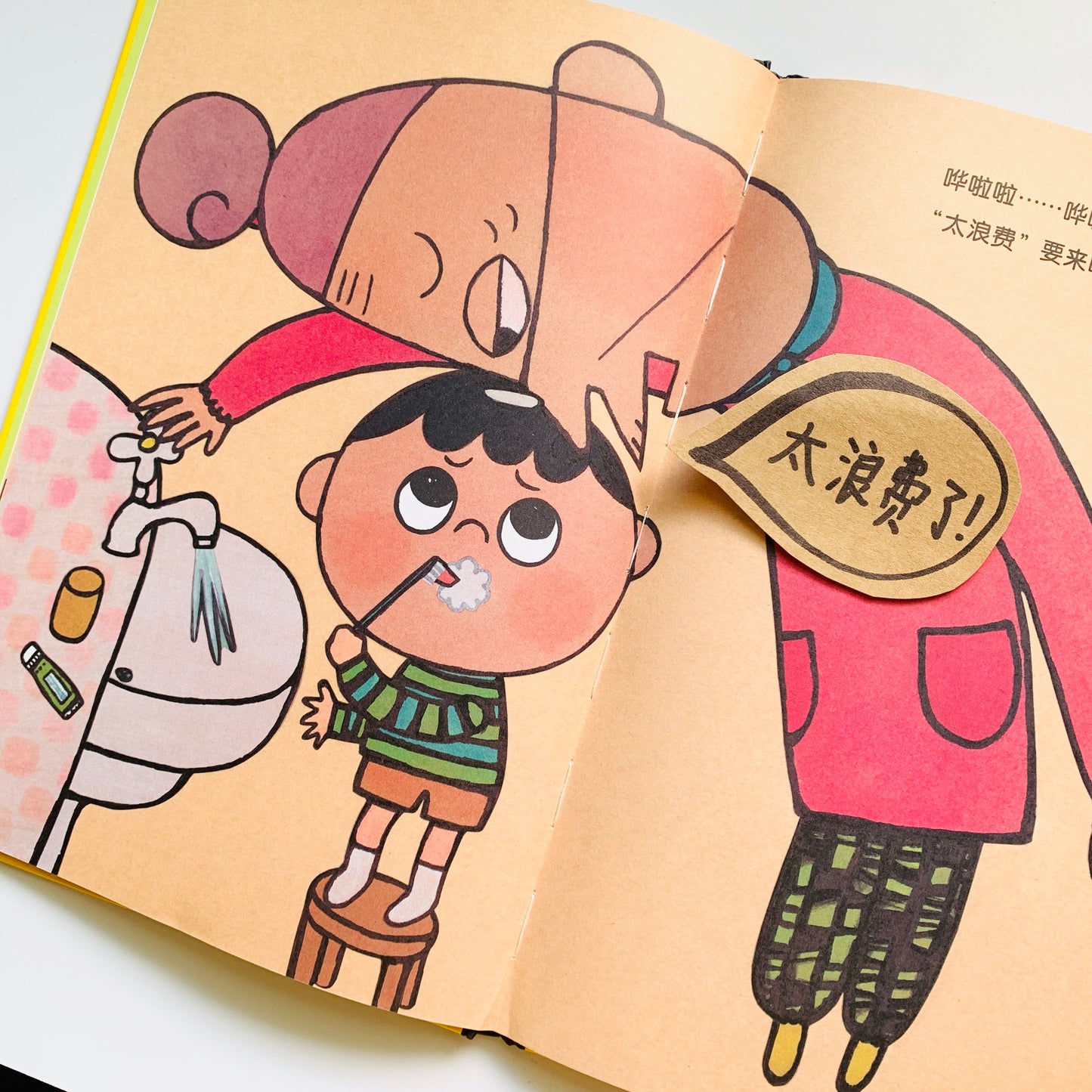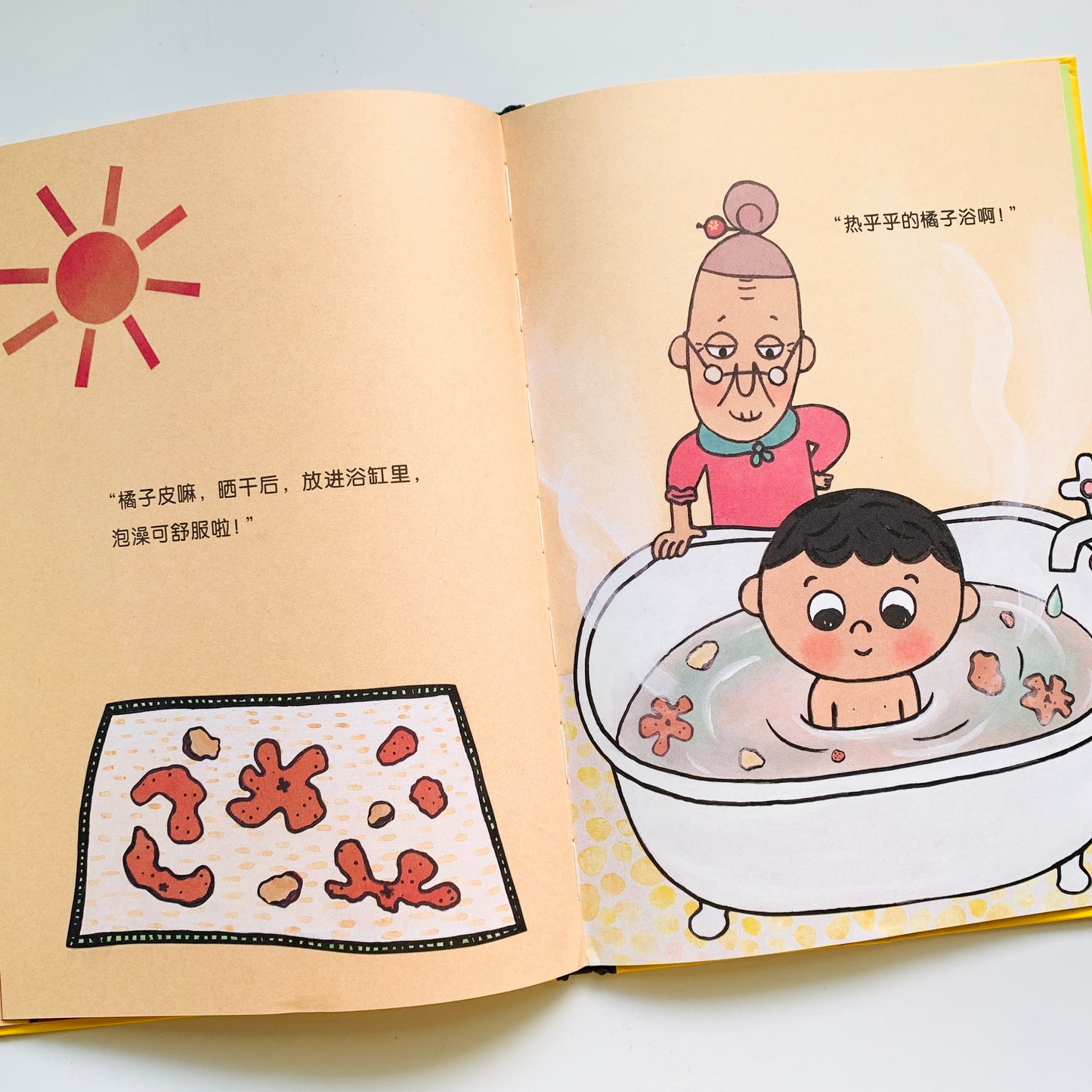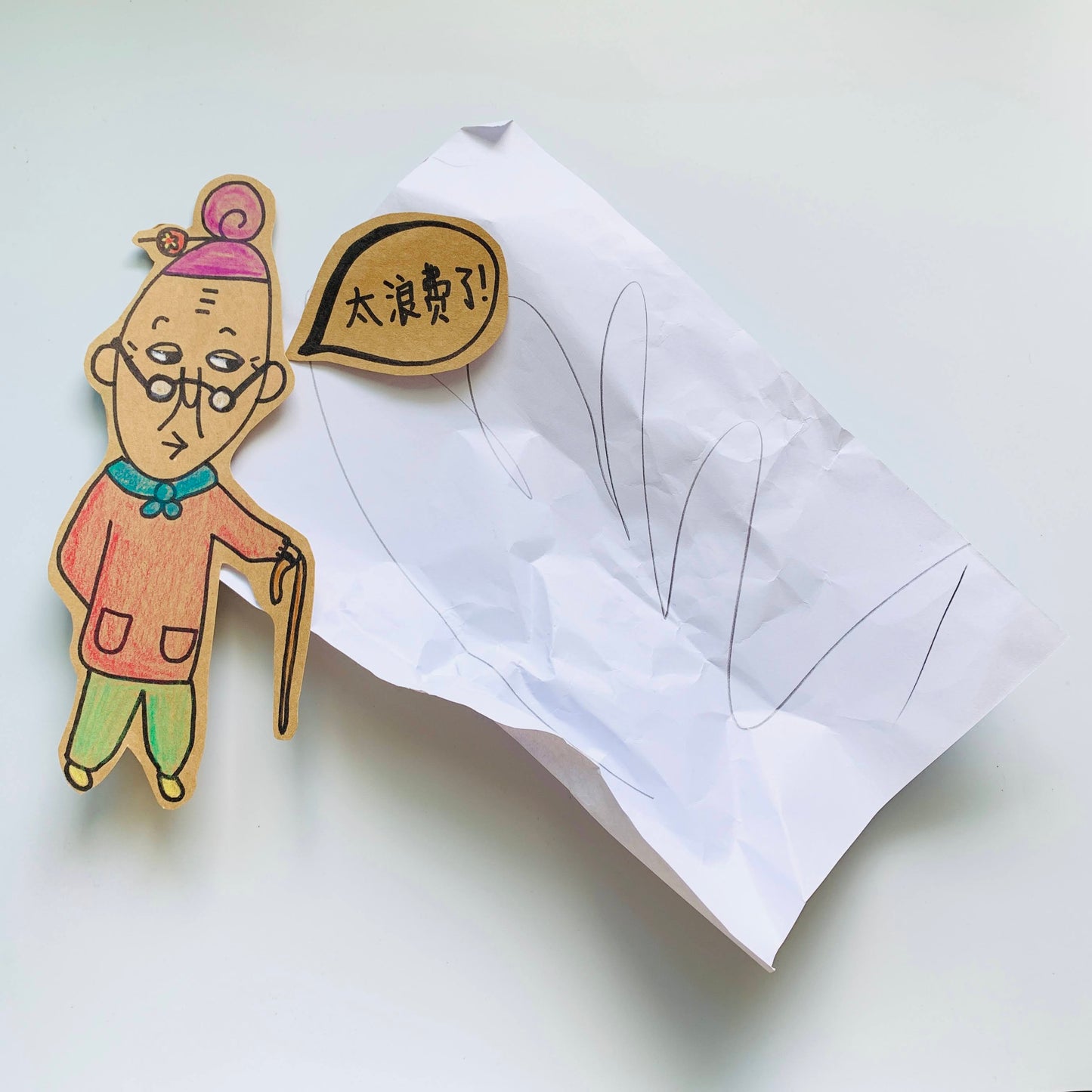 Hilarious but with a good message
My 2yo daughter loves this book and it has lasting power. She is amused by the granny's actions altho sometimes they are a bit extreme. In any case I think it models a warm intergenerational relationship. The illustrations are really lively too with lots of different angles so it's quite easy to dramatise the reading for greater enjoyment.
Never judge a book by its cover
My 4yr old son initially didn't want to start on the book based on the cover drawings. He was interested in a story about a granny. So I opened the book and started reading while he was playing beside me. I pointed out the funny drawings and asked him what he thought about someone licking rice off his face 😱 He started to come over and laugh with me as we continued reading the book. We enjoyed ourselves and he even asked to bring the book to school for reading time.
Good for discussing problem of wastage, teaching frugality
Somehow the way this story is told (choice of words) is not that appealing to me. I also find the name of the granny too lengthy and is such a mouthful to say it. It is, however, a good book to discuss the problem of wastage. I also like the illustrations. Definitely a book to keep around the house.
Funny and educational book!
We love the quirkiness of the 婆婆 and my younger girl likes to act like the 婆婆 to "terrorize" us. As the reading is accompanied with lots of laughter, the kids tend to ask for it again and again. There's also lots of opportunities to discuss ways we can reduce wastage at home.
Silly, relatable book with a moral story behind it!
Bought this book because it seemed like a good book on teaching children about waste - which is what it is! It has many examples of how we can reduce waste, but also comes with a silly twist of how the granny wanted to lick her grandson's face because he had rice grains all over. Made both adults and kids laugh while we learned about ways we can reduce our waste (like only putting just enough amount of food that we can finish)!