幼儿圣经 小孩子自己能够阅读的圣经 The Early Reader's Bible (Bilingual English-Chinese)
Regular price
Sale price
$24.46 USD
Unit price
per
Sale
Share
The Early Reader's Bible is written for budding readers to read on their own, using ~250 words used in early reader books and ~200 new words including Bible vocabulary, in English. The Chinese translation is relatively simple too.
Not only are the 64 stories simple enough for little ones to understand, but they also contain enough details for age-appropriate discussions.
I especially appreciate the stimulating questions and real-life applications that help us not only be hearers but also doers.
Features that I find really helpful for every single story:
Easy-to-read stories in simple English and Simplified Chinese over 3 pages
Colorful and gentle illustrations
原文 Original passage referenced - so we can check out the adult's English or Chinese for the full and accurate passage with more details.
认新词 Words to Know - A short list of 1-5 new keywords to learn from the story!
问答题 Something to Ask - Reading comprehension-like questions to revisit the story and recall main points. This is fun to do with the kids after we read the story. We also use this section to recall what we learnt before.

思考题 Something to Do - Thought-provoking questions, to reflect on the story and encourage us to apply the lesson in our lives. Perfect for post-reading journaling too!
Note: As this bible is edited for simplicity to allow kids to understand at their level, and to give a sense of accomplishment when they read it by themselves - inevitably the stories will be slightly watered down. Our role as parents would be to observe our children and add in clarifications and details from the original passages as needed.
Recommended for Ages: 4-8
(My 5 and 7 year olds enjoy it, and I'm still learning new things in Mandarin from it in adulthood!)
Pages: 526
Format: Hardcover
Language: Bilingual - Simplified Chinese and English
As Told By: V. Gilbert Beers
Illustrated by: Terri Steiger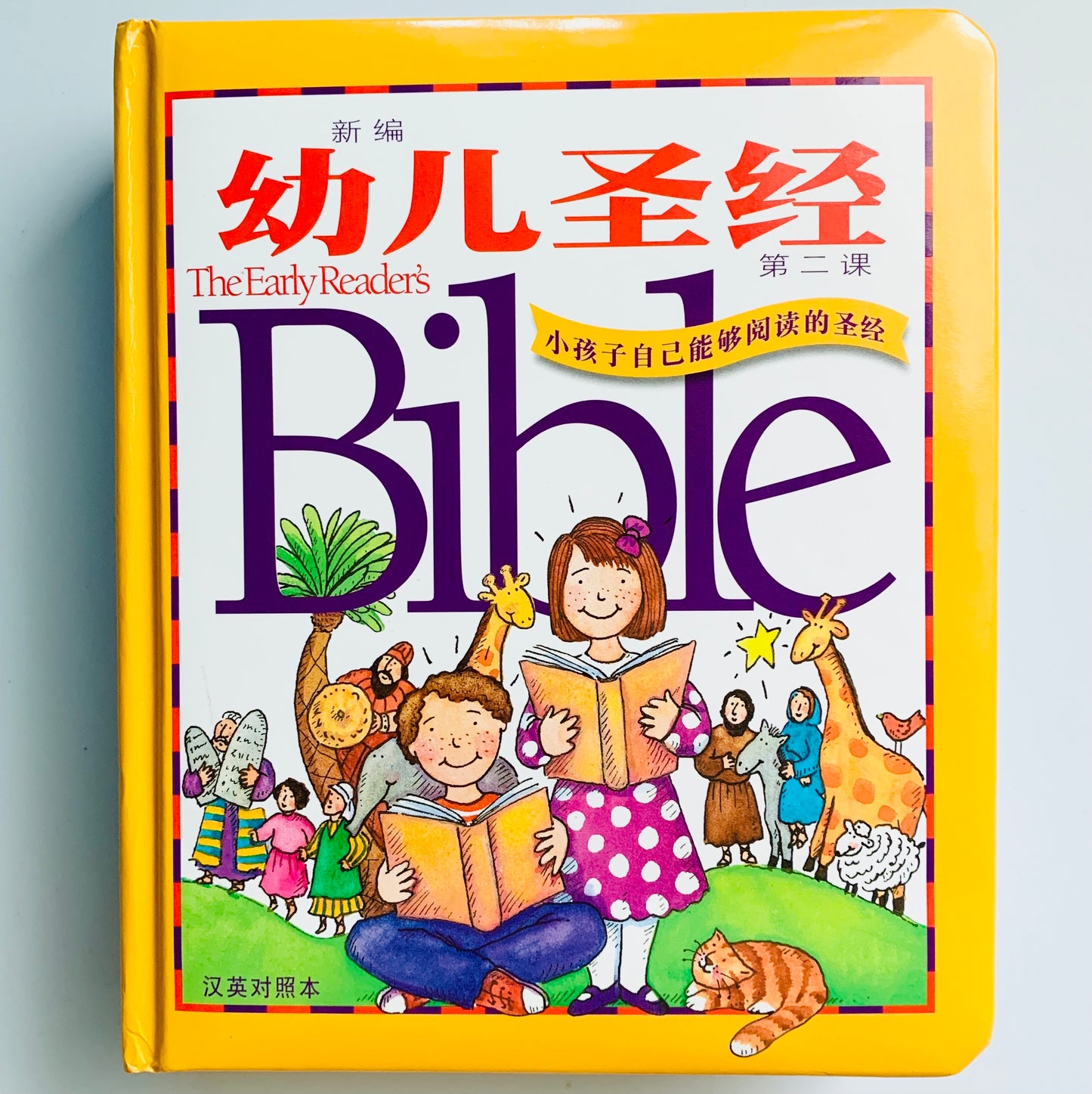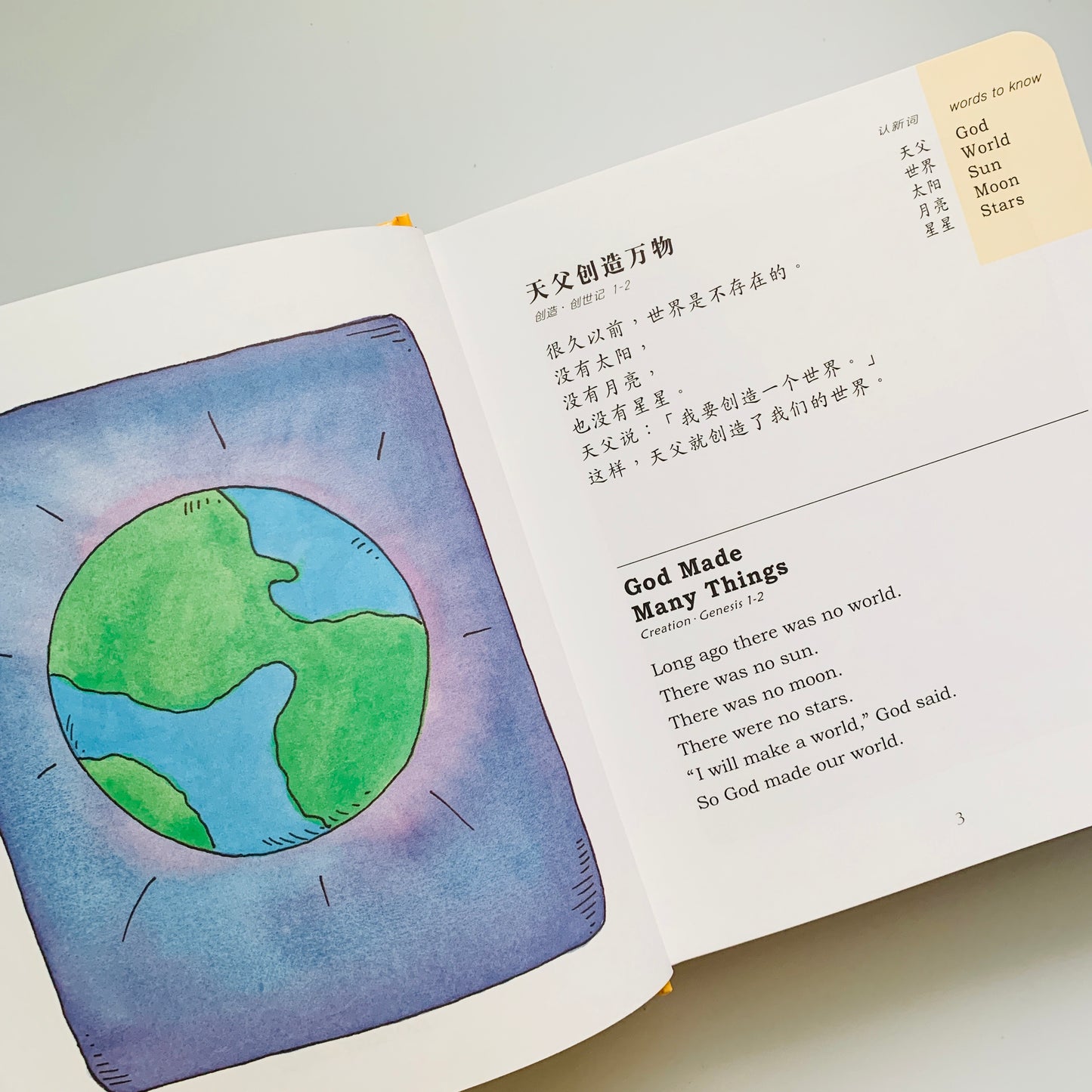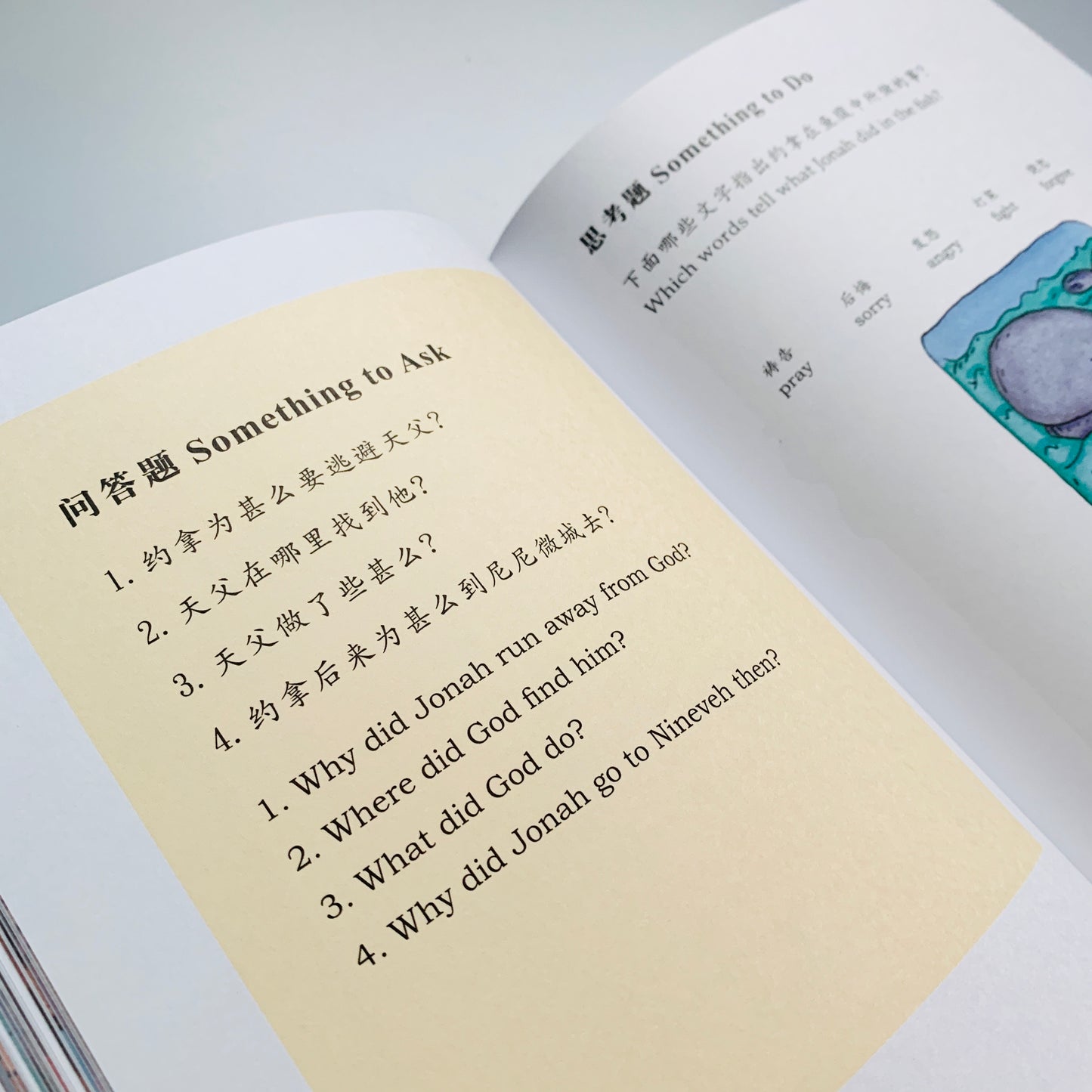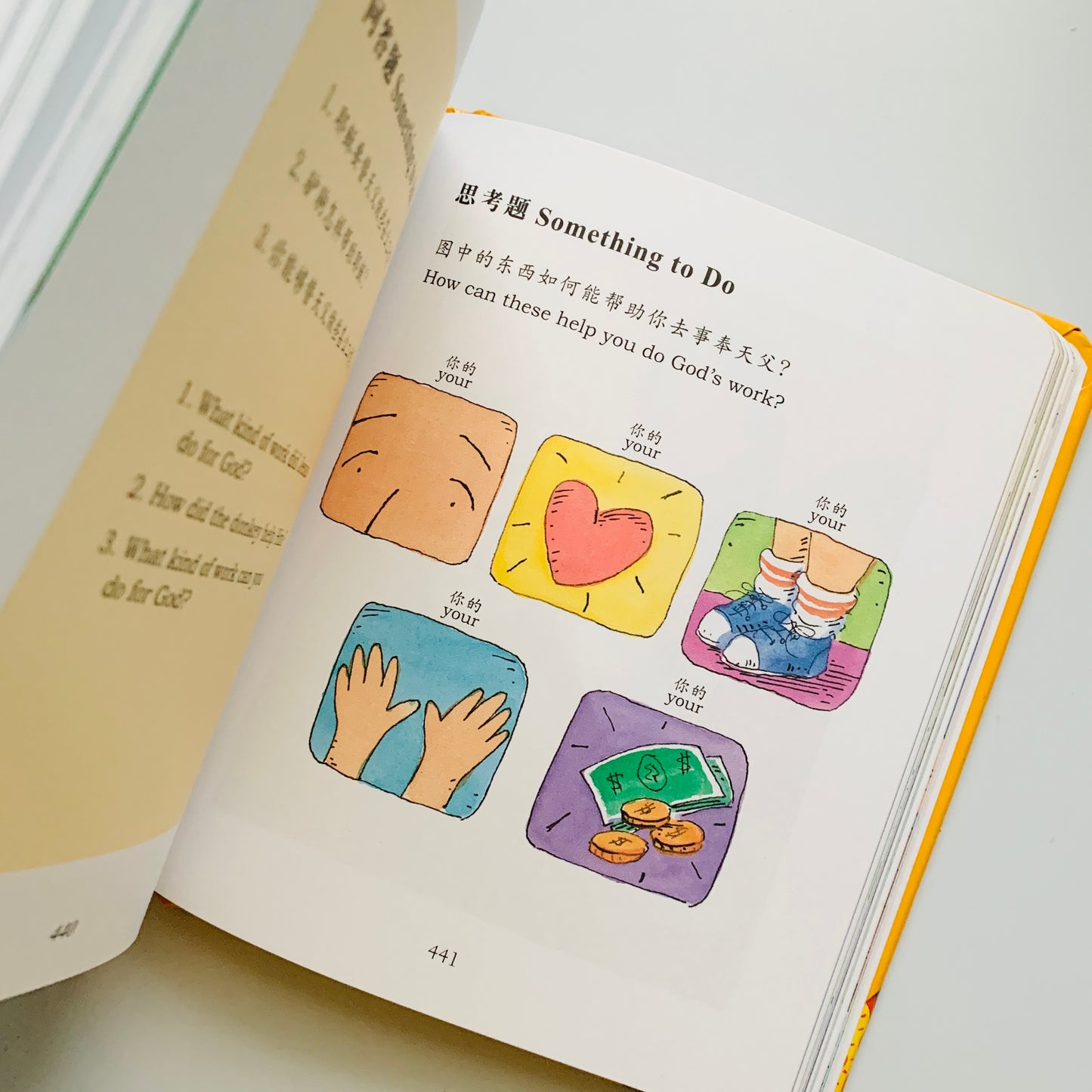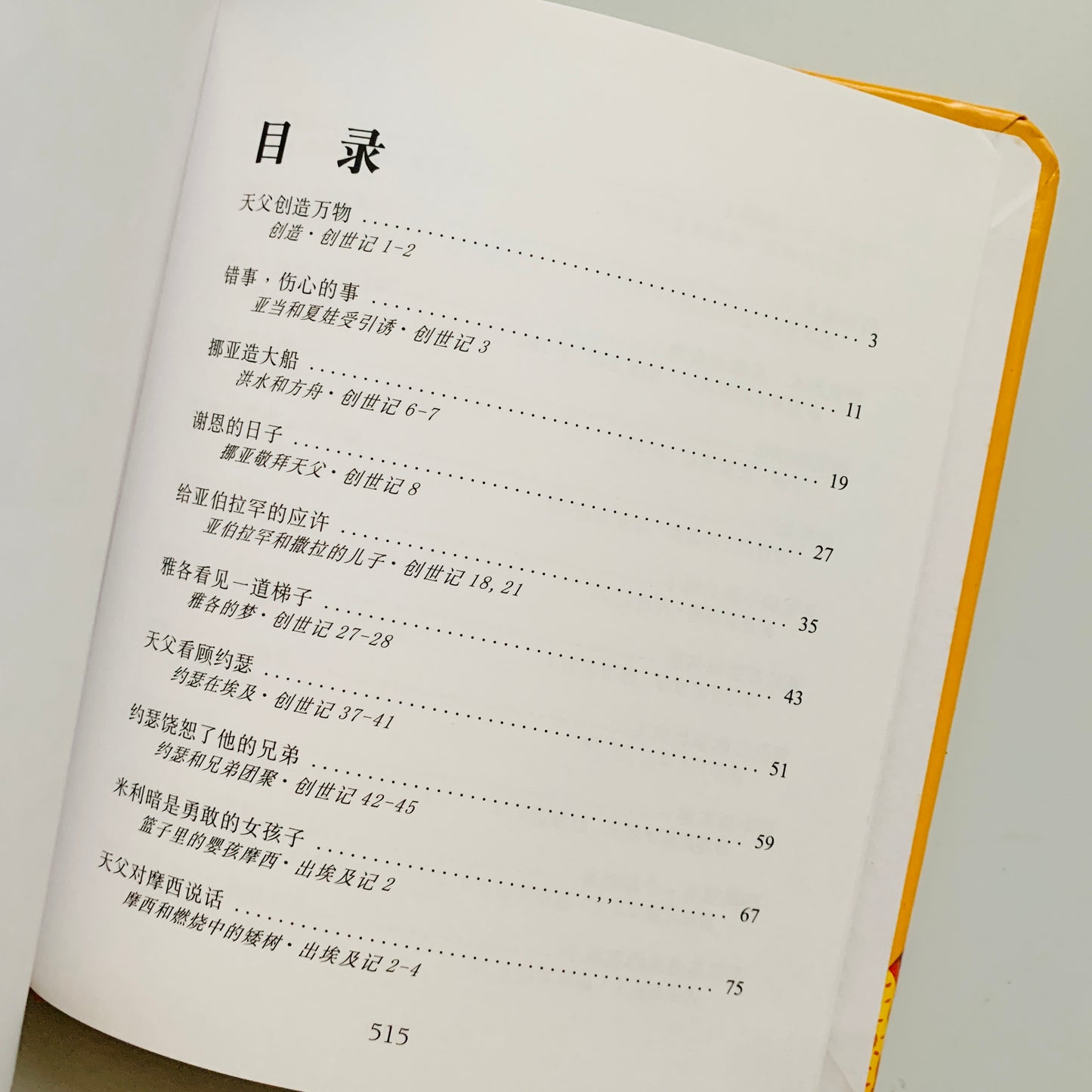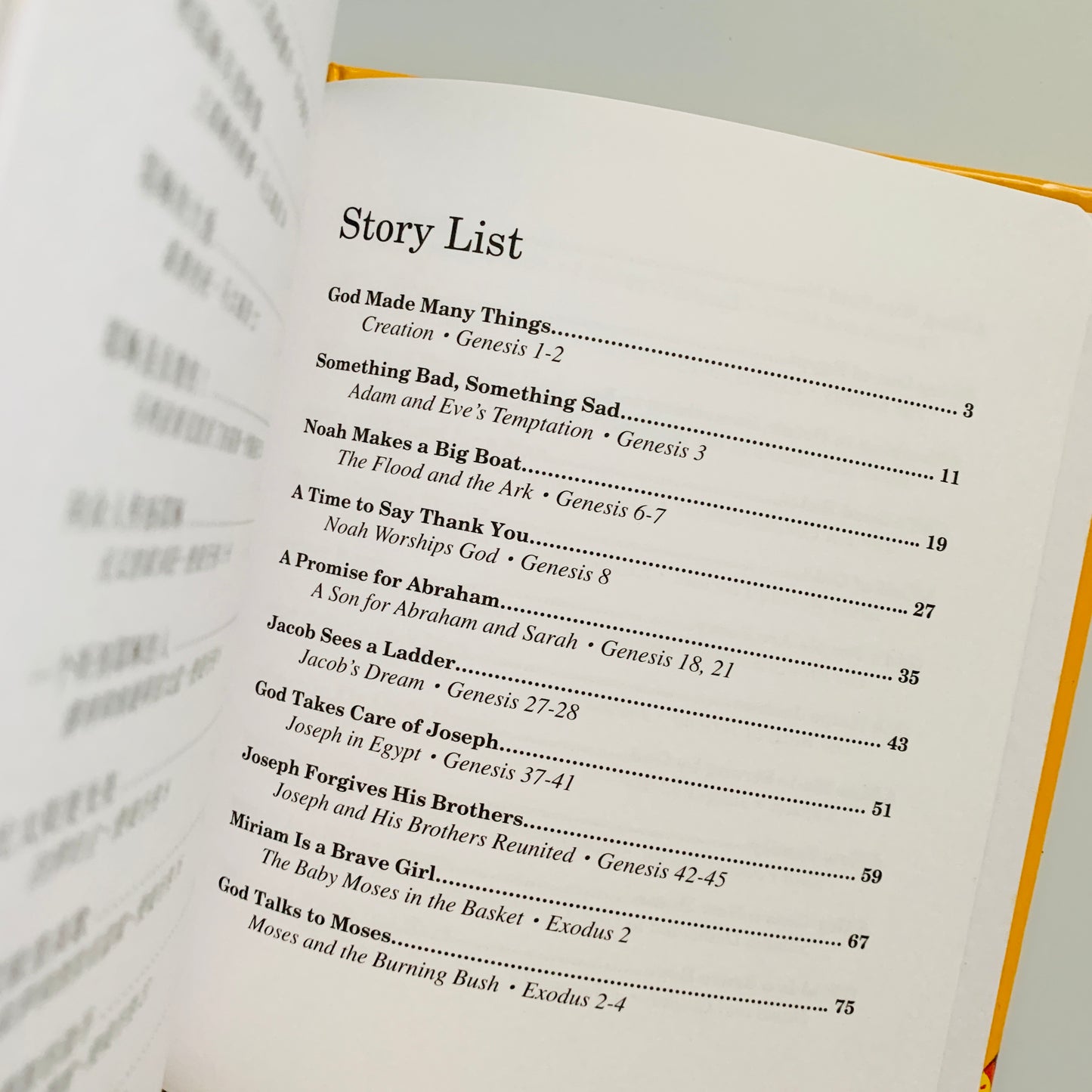 Best children's bible out there
This is part of our bedtime routine every day for more than 3 years.
The Chinese and English language is written in a way that is easy for my toddler to understand, written in grace, pictures are captivating and makes a really great gift too! A MUST BUY!
Love this!
Using this as our daily devotion with 4 and 6 yr old. Its easy to understand and short enough to keep them interested. Love the discussion questions at the end!
Good book to buy
Bilingual and easy to read
Love it
Definitely appropriate for the recommended age of 4-8 year olds.
I really like the illustrations and the translations. One could read a sentence in Mandarin, and follow after with the English (vice-versa) seamlessly. The questions and visual-aids at the back are thought-provoking enough for the little ones. I personally really appreciate that scaffolding.
Highly recommended
This children's Bible was highly recommended by my friend and I was delighted to find it here on MST. It has beautiful illustrations and a food for thought section with actionables for us as parents to discuss with our child. The level of English Language is suitable for children around 4 years old and above, with short, clear sentences that your child will be able to follow. Also a great way for parents to brush up on their Mandarin!
Yes, and excellent packaging and effort taken to ensure that our purchases arrive in perfect condition for our little ones (: Thank you!