老虎来喝下午茶 The Tiger Who Came to Tea
Regular price
$9.84 USD
Sale price
$9.07 USD
Unit price
per
Sale
Share
What would you do if a tiger invited itself to your house for tea?
A little girl named Sophie was having tea with her mum in the kitchen, and then the doorbell rang. It was a tiger! And it proceeded to eat and drink everything in their home. They had no water for a bath, and no food for dinner! Papa came back and suggested that they have dinner outside. The next day, Sophie and her mum went grocery shopping, even getting some tiger food... but the tiger never did come back.

I find this story charming in that the incredulous happenings occurred amidst extremely ordinary circumstances!
My kids find it funny that the tiger is anthropomorphised - taking on human traits.
Did you know?
This title has been translated into many languages, including Braille!
Sharing our Mini Study on Tigers with my 2 year old girl 👧🏻
#funplaywithchinese

🐯 Look out the cover of the book 《老虎来喝下午茶》
🐯 Focus on pages she stops at / like - we didn't read the whole book
🐯 Have a pretend tea party
with soft toy tigers 外公 got from @essosingapore
🐯 Sing 《两只老虎》song and recite 《一二三四五》rhyme
🐯 Play peek-a-boo with tiger just like in the book!
🐯 Bring tiger soft toy and book to 阿嬷家
🐯 Show 阿嬷 the photos we took that looks like the book
🐯 Watch 阿嬷 sew an orange-colored cushion cover
🐯 Gather orange stuff from around the house
and learn 橙色 chéng sè orange
(Real mandarin orange from 阿嬷's fridge, orange craft, orange cushion, tiger)
🐯 Check the mandarin orange out, eat, describe
香香的、圆圆的、冷冷的、酸酸的、甜甜的
xiāng xiāng de, yuán yuán de, lěng lěng de, suān suān de, tián tián de
真的橘子 / 假的橘子
zhēn de júzi/ jiǎ de júzi
Recommended for Ages: 2-7
Pages: 32
Format: Hardcover
Language: Simplified Chinese
Author: Judith Kerr
Translated from: English
Translated by: 彭懿、杨玲玲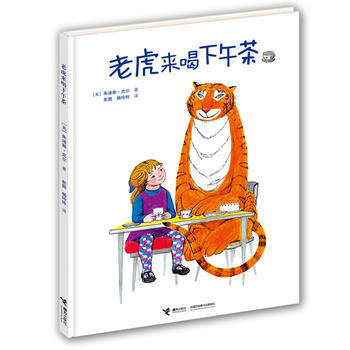 Tiger Year
Both my granddaughters aged 5 years old and 2 years old love the drawings. The elder was reminded of the story she read in English and found the Chinese version delightful. We love the accompanying activity booklet that's stretches our imagination and enriched our conversation about the story! 🐯🫖🍩🍭