请不要随便摸我 Your Body Belongs to You
Regular price
Sale price
$9.57 USD
Unit price
per
Sale
Share
Along with our kids, we learn how to be assertive of our own bodies. It is okay to say no if someone else wants to hug or kiss us, even if it is from someone we love.
Recommended for Ages: 2-6
Pages: 28
Format: Hardcover
Language: Simplified Chinese
Author: [美]科尼莉亚·莫德·斯佩尔曼 Cornelia Spelman
Translated from: English
Translated by: 于水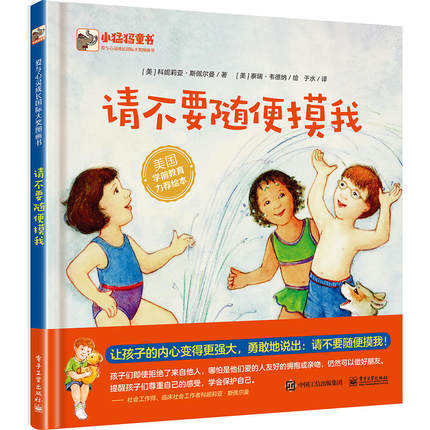 Body safety
This is such a great book on body safety - it is simple yet it covers many aspects of body autonomy (eg: saying no to loved ones when you feel uncomfortable, when are physical touches appropriate etc.). Highly recommended if you are looking for a resource to teach your child on body safety :)
Good book
Simple book to introduce concept of body autonomy. My toddler is drawn to the realistic illustrations. It's simple and even so my toddler is still learning to grasp this concept. As she is older I will supplement with more in depth books but for now it's good.
Great title on Body Safety
We really liked how the book introduces body safety to the kids, and the kids really enjoyed the colourful illustrations and easy-to-understand sentences. Recommended!
Great for teaching kids about boundaries
This book is clear and simple to understand for kids around 3-5yo about body boundaries. I love that they talk about how it is ok to say no to the touch of even people we love - often this is confusing for kids because they are made to think that "if you love me, why won't you hug me?" This books teaches them that we mostly enjoy touch by our loves ones, but it's ok to say no when you don't feel up for it. I also like that it includes the part about when it is appropriate for others to touch their private parts (when bathing them, when doctors need to check them, but only in the presence of a trusted caregiver). This book covered all the scenarios in a way that is easy to understand for little kids. Highly recommend it!
Simple to understand for young children
I like how the book simplifies the topic so that young children can understand how they can apply body boundaries practically in real life. It also helps me as a parent better understand the topic as well, and therefore can support my child in real life scenarios where relevant.